Environment
Santa Barbara Zoo and CSU Channel Islands Celebrate Conservation Partnership
CSUCI to Lease Zoo 60,000-Square-Foot Site on Campus to House New Conservation Center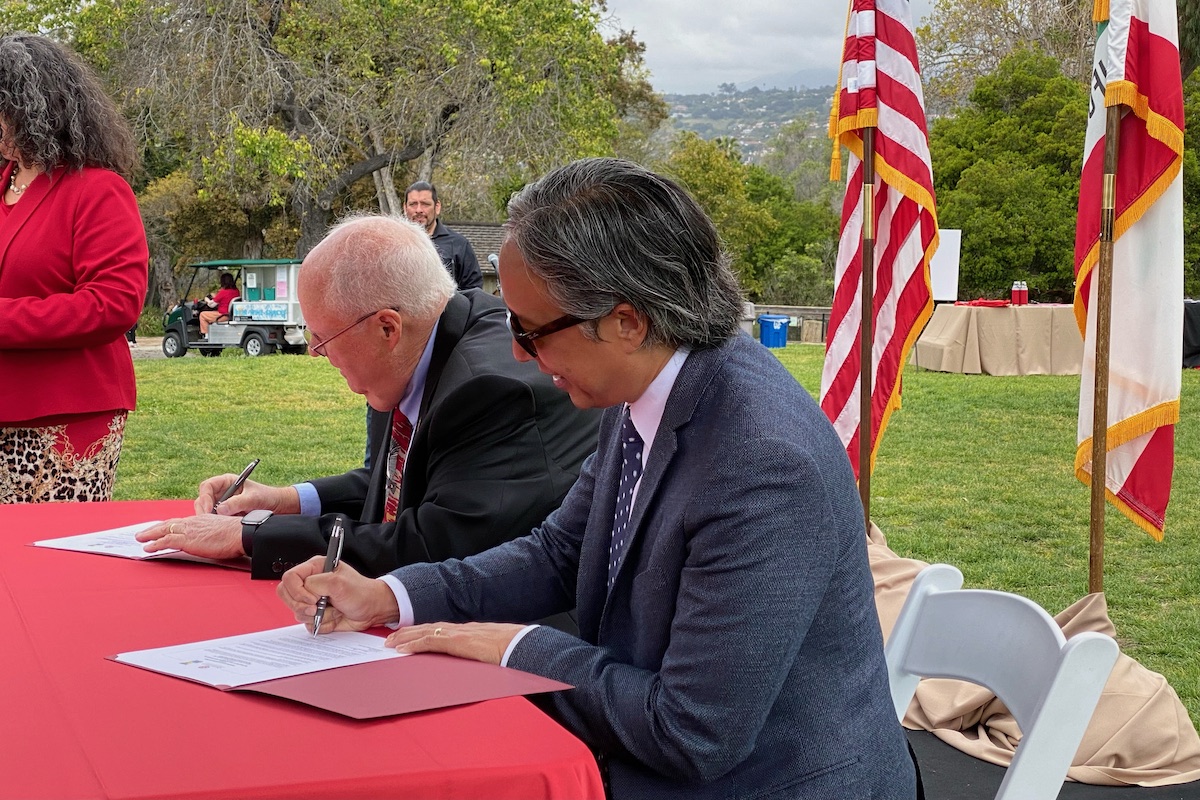 A giant kelp art sculpture — made entirely of debris pulled from the Santa Barbara Channel — set the scene at the Santa Barbara Zoo for celebrating the zoo's conservation partnership with California State University Channel Islands (CSUCI) on Friday, April 14.
To formalize the relationship, Santa Barbara Zoo President Rich Block and CSUCI President Richard Yao signed a memorandum of understanding under the watchful eyes of the zoo's nearby California condors.
The agreement includes plans for a new, zoo-owned-and-managed conservation center on the CSUCI campus and opportunities for future collaboration on wildlife conservation, research, and outreach.
"The opportunities to align our programs and resources with CSUCI are limitless," Block said, noting that the conservation center will be the first zoo-owned facility accredited by the Association of Zoos and Aquariums on a university campus.
With only 28 acres of space and more than 400 animals to accommodate — including its newest resident, a red panda — the zoo is running out of room to house threatened and endangered species such as Western snowy plovers, California red-legged frogs, California condors, and Western pond turtles.
"It's game-changing because it enables us to scale up what we are doing in terms of direct conservation interventions on behalf of species recovery," said Estelle Sandhaus, the zoo's director of conservation and science.
"It vastly increases our capacity to take in and protect species during extreme weather events, which is something we are being called upon to do more and more often by our federal and state agency partners."
CSUCI's campus will lease the zoo a 60,000-square-foot site on the western edge of the campus — which is currently undeveloped land adjacent to their biology labs — to house the conservation center.
The center is planned to include classroom and meeting spaces, offices for conservation staff, pens for animal care, containment and breeding, native plant gardens, and public spaces. Once the center opens in approximately three to five years, the zoo plans to shift its conservation activities and staff to the CSUCI campus.
Their symbiotic relationship, to put it in ecological terms, will be mutually beneficial. Associate Professor of Biology Allison Alvarado said she's looking forward to integrating the zoo's expertise into courses like Conservation Genetics, where her students perform case studies on recovery efforts for the island fox and the California condor.
"We can make a difference and be a model of success stories in the face of climate change … It ties into our other efforts on campus," said Jennifer Perry, executive director of regional educational partnerships at CSUCI. "We're a bee campus and a tree campus. And we were looking at all the ways we can have our physical campus really be about native plants and animals."
The kelp art sculpture, created by CSUCI art students Karly Kennedy, Kenny Neal, and Connor Kelley, will be on display at the zoo for six months and exemplifies the ongoing collaboration between the zoo and the school that extends beyond research.
In addition to marine debris art, CSUCI's Performing Arts program is working with the zoo to develop live stage performances for zoo visitors, and students in a Spanish capstone course are translating materials for the zoo's summer camps, to name a few collaborations already in progress.
Perry said they will potentially be breaking ground to build the conservation center in about a year. During Friday's ceremony, the project received the blessing of CSUCI's Chumash Cultural Advisor Raudel Bañuelos, a tribal elder in the Barbareño/Ventureño Band of Mission Indians, and Eleanor Fishburn, the tribal chair of the Barbareño Band of Chumash Indians.
"We want to move forward in a way that truly honors all the thousands of years of stewardship," Perry said on Friday. "I think it was really amazing to me today to see how many different agencies, institutions, and other partners who are dedicated to the environment came here — it was really an affirmation of what we're all committed to. And that was beautiful."