Community
'Anti-Asian Hate Is as American as Apple Pie'
Activists Gather at UC Santa Barbara to Discuss Asian-American Activism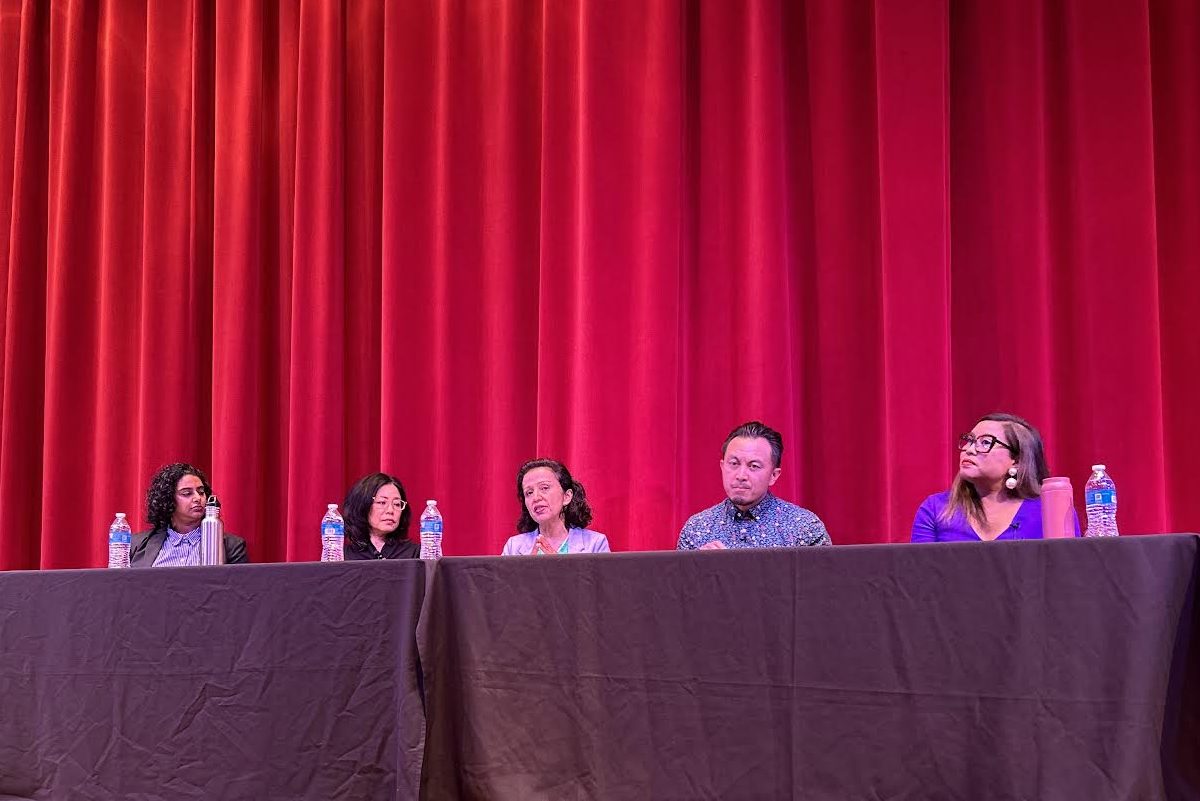 Discrimination and acts of hate against Asians and Pacific Islanders were issues long before the start of the pandemic. Yet when COVID-19 made its way to the U.S., there were suddenly more incidents coming to light.
Manjusha Kulkarni, the cofounder and executive director of Stop AAPI Hate, remembered one of the first reported cases during a panel discussion. In February 2020, just as the mysterious new virus was becoming known, a white boy approached an Asian boy in his class at a middle school in Los Angeles. He said: "You're a COVID carrier. Go back to China."
The Asian boy said, "I'm not Chinese" — and was punched in the face and head 20 times. The case was never pursued because the two boys knew each other. Because of that, it was considered not an act of racial discrimination but a personal conflict between classmates, according to Kulkarni.
Activists Diane Fujino, Melissa Borja, and Artnelson Concordia gathered with Kulkarni at UC Santa Barbara on April 26 for a panel discussion of Asian American activism, moderated by Naomi Joseph, a sociology PhD candidate. Afterward, Kulkarni gave a keynote speech to challenge anti-Asian violence and bias. The events were livestreamed by the Capps Center.
"For us, anti-Asian hate has always largely been about institutional discrimination and racism," Kulkarni said during the panel. "When I think of it that way, anti-Asian hate is as American as apple pie."
The biggest challenge is getting enough people together for the movement, said Borja, an assistant professor at the University of Michigan. In 2020, more than 24 million people identified as Asian on the U.S. Census. The wide range of diverse languages, ethnicities, and religions alone makes the division more stark, Kulkarni said.
Building community and focusing on educational equity, civil rights, and community safety, as well as asking why things are happening instead of internalizing outside perspectives, were the repeated suggestions panelists had for short- and long-term activism.
And it was no mistake that the discussion took place at UCSB. "Inviting Stop AAPI Hate seemed like a natural fit: 29 percent of UCSB students identify as AAPI, California has the nation's largest AAPI population, and incidents of anti-Asian hate and violence continue to harm AAPI communities locally and across California and the U.S.," said Dusty Hoesly, event organizer and associate director of the Capps Center. "Since anti-Asian hate is growing, it is imperative we address it now."
Stop AAPI Hate reported it received had received accounts of 11,000 anti-Asian hate incidents from 2020-2022. The organization estimates that the actual number of incidents is upward of four million, but tangible numbers are difficult because no established national database exists.
Even the FBI Hate Crime Statistics database has very little to work with. In fairness, Kulkarni noted that most Asian-identifying people didn't think they should report because they didn't think anything would come of it — Kulkarni agrees. "There's not a single study that shows that hate crimes prosecution is effective or has any efficacy, frankly, in preventing future hate crimes," Kulkarni said during her speech.
Asian-American activists must also face the "model minority" trope. In the late 1960s, sociologist William Peterson described Asian Americans as model minorities because they didn't complain about being placed in internment camps. Peterson then pitted the Asian-American community against the Black community, according to Fujino, a professor at UCSB in the Asian-American Studies Department.
"The 'model minority' is used to discipline Black radicalism," Fujino explained in an interview. "At the same time, there's a rich history of Asian-American radicalism that really looks at this structure of oppression and the need to make those changes."
Fujino and Concordia, both educators, want to see schools and universities implementing Asian-American and Ethnic studies into core curriculum and larger university departments.
"I think there's so much confusion, even massive disinformation," Concordia said in an interview after the panel. Making sure students have access to education is a core concern for him. "I think equipping — especially for my line of work — equipping young people with these skills and sensibilities to analyze, to critique, to discern, and then to engage is needed."
Kulkarni, who is an attorney, is not planning to stop at just Asian-American activism. She thought it was important to "make people more aware of what their rights are and have it in language. The federal government should invest in community-based organizations because that's where people want to go," Kulkarni said after her speech. "We want self-actualization for everyone so people can be who they want to be, and discrimination and racism prevent that."