Vons Shoppers - grab your shopping carts and stop racing those engines to Lazy Acres and Gelson's, because the Montecito Vons is gearing up to become a competitive, racy market for the high-end shopper.
Montage today confirmed that Vons Montecito is slated to get a major upgrade starting in the first quarter of 2008. Work is scheduled to be completed by the second quarter of 2008, and the store will remain open throughout construction. The grocery will be re-designated and redesigned a Vons "Lifestyle" store, similar in style and amenities to the Fairview Vons in Goleta.
"It means upscaled amenities like softer lighting, nice floors, a large selection of organic produce, and an olive bar - it's a more boutique experience," explained Marlyn Denter, public affairs director of Vons. Rumors have been flying inside the Montecito store for weeks that change was about to be under foot, but the official confirmation didn't come until today, May 22, and it was tied with a strong disclaimer.
"Right now these are the plans," Denter said, making it very clear plans are subject to change. "But, it is no secret that we want to offer the ultimate shopping experience to the residents of Montecito. We want to provide a convenient format, one-stop shopping, and a wide variety at more affordable prices."
It sounds good, and we'll enthusiastically keep you posted. But remember Vons Shoppers, the grocer is at the union bargaining table and construction costs are rising with gas prices, so son't tear up your Lazy Acres coupons quite yet.
WHITE BEFORE MEMORIAL DAY? Normally, Montecito might wince about a white fashion faux paux before Memorial Day, but there was nary a cringe in the crowd of over a hundred last Sunday at Victoria and Carter Hines' very sophisticated white-themed garden art party. Instead, the hosts used the pale backdrop to offset and showcase more than $200,000 of rare lithographs, shown for the first time ever in a non-museum site.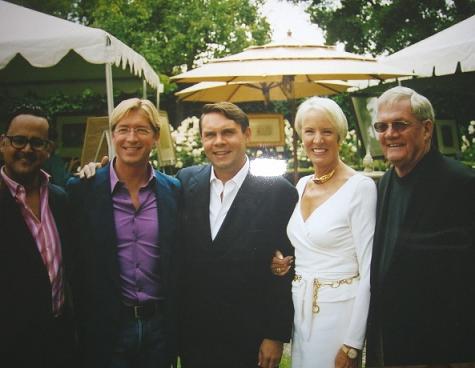 By Courtesy Photo