The South Coast saw its second democratic presidential candidate make his way to the area in less than a month this past weekend, and organizers of a new election campaign committee are hoping to bring a third candidate to Santa Barbara in the coming months. Ohio congressman Dennis Kucinich spent an extended weekend in Santa Barbara, making several public appearances in Ojai, San Luis Obispo, and Ventura before making his way to Burbank for a Monday night guest appearance on The Tonight Show with Jay Leno.
A former mayor of Cleveland who has served as a Congressional representative for ten years, Kucinich is the self-proclaimed peace candidate, and peace was a central theme to the several speeches which he gave over the weekend, including one Sunday at Arlington West and another Monday at Santa Barbara City College.
The Kucinich appearance at City College Monday couldn't have contrasted more with Sen. Barack Obama's Sept. 8 appearance there. While Obama's appearance brought more than 4,000 people, a slew of media and a host of Secret Service protection with it, Kucinich appeared to a smaller but passionate crowd of about 250. Kucinich was much more personal with rally attendees and the media. He also lacked the caravan of cars and security detail Obama was working with, instead choosing two non-descript Lincolns to take him and his wife Elizabeth down the coast to Burbank.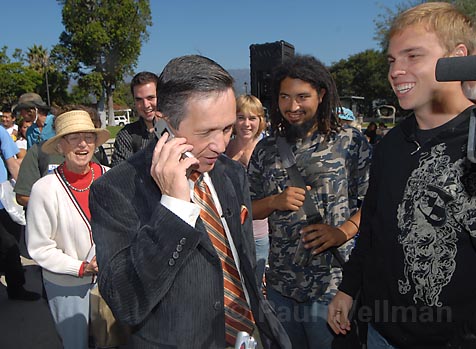 By Paul Wellman