The now infamous Gap Fire was nearly over before it started. By the time firefighters responded to the 911 call at 5:32 p.m. on July 1 that reported a fire near West Camino Cielo Road in the mountains above Goleta, the blaze was but a quarter acre. "The first hour we thought we had it picked up. I honestly thought we had it," said County Fire spokesman Captain Eli Iskow, who was one of the first on the scene. "But a wind gust came in and just took it over and down into the drainage."
More than a week later, the Gap Fire has scorched more than 10,000 acres of land, stretching its flaming wings to the south, east, and west, seriously threatening hundreds of houses, and forcing thousands of Goleta and countless mountain community residents out of their homes amid the July 4th holiday weekend. Major roads were closed, holiday parties were cancelled, and power outages became-and continue to be-a daily slice of life for many southern Santa Barbara County residents. No fewer than 2,500 firefighters from 28 states have joined in to fight the blaze, which has already cost more than $10 million and prompted Governor Arnold Schwarzenegger to declare it California's number-one firefighting priority during an emergency visit last week.
Though as of press time the blaze was more than 50 percent contained-essentially taking most of the populated areas near Fairview Avenue, Cathedral Oaks Road, Glen Annie Road, and Old San Marcos Road out of harm's way-the human-caused inferno continues to rage west toward the wilderness of Gaviota, its flames currently licking the edges of Eagle Canyon, Naples, and Dos Pueblos Ranch. In its wake is an ash-coated week of terror and smoky-eyed panic the likes of which the South Coast has not seen in years.
The Monster Explodes
Immediately after the wind gave the Gap Fire a new and more dangerous life on the evening of July 1, more than 200 firefighters-including support from helicopters, tankers, and bulldozers-scrambled to protect the communities below. Mandatory evacuation orders were issued for the residents of La Patera and Glen Annie canyons and evacuation warnings were spread to everyone north of Cathedral Oaks Road between Fairview Avenue and Glen Annie Road. But even with clear views of orange flames and billowing smoke visible from as far away as Santa Barbara, fire officials downplayed the severity since weather was on their side.
Similar weather patterns the next day, July 2, kept the fire on the tame side for a while, burning only a few hundred acres as investigators scoured the fire's origin to determine whether it was arson or an accident. (That investigation is ongoing.) Then, as evening approached, the sundowners kicked up, and flames shot literally 100 feet high. It became evident that the Gap Fire was a much more immediate and terrifying beast than its historic predecessor, the Zaca Fire, was just a year ago.
But with more than 1,400 wildfires burning throughout the Golden State, including the massive and daunting Basin Complex Fire ravaging Big Sur, the Gap Fire still seemed to be an afterthought for all except those directly in its path. All that changed on Thursday, July 3, when the fire grew from 300 to more than 2,000 acres in a matter of hours. Though Santa Barbara City Hall promised the Independence Day fireworks show would go on, Goleta cancelled theirs, evacuation warnings turned mandatory for many neighborhoods, and county officials declared a state of emergency. The fire also started affecting those many miles from it, as power outages brought darkness to more than 150,000 customers from Isla Vista to Montecito and beyond. These were caused by the Gap Fire's western perimeter, which burned directly under the power lines that come from an Edison substation in Glen Annie Canyon.
At an emergency Board of Supervisors hearing, the county's Deputy Fire Chief Tom Franklin revealed that the Gap Fire, with its largely uncontained perimeters and close proximity to densely populated urban areas, had now become "priority number one" in the eyes of the Sacramento, a dreaded distinction but one that also meant major reinforcements were on the way. With thumbnail-sized ash raining down as far away as the Santa Barbara's Eastside and much of Goleta choked by an eerie dark smoke, panic was gripping much of the South Coast, especially those who remembered 1990's horrific Painted Cave Fire. But fire officials remained calm. "Everywhere the fire threatens a structure," Franklin told the county supervisors, "we already have equipment in place."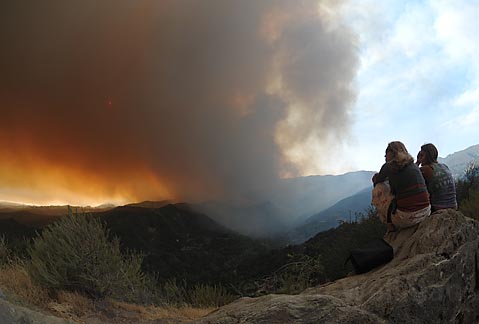 By Paul Wellman