We didn't really think this could happen — that someone could dominate our 2nd Annual Sizzling Summer BBQ Contest like Barry Bonds winning MVP Awards in his drug-buffed prime — but we were wrong. For on June 15, the O Street Truck and Liz Bradley drove out of the Whole Foods parking lot doubly victorious, taking the crown for both best professional entrée and best professional side dish over five very talented competitors. But perhaps it's fitting for an age when so much of the hottest food gets served from a truck.
Then in the cocktail contest on June 16 at Harry's Plaza Café, we had five mixologists mixing it up, several back for revenge after not finishing first last year. And, indeed, Branden Bidwell, one of those with vengeance on his mind, emerged as the mixology champion, showing that perseverance — aided and abetted by the ability to infuse alcohol — can create the perfect summer cocktail.
But before we get to the stories of Bradley, Bidwell, and the rest of our winners, we'd like to give a shout-out to the sponsors — Whole Foods, Harry's, RND Vodka, AgaveAvenue.com, and Carreta de Oro Tequila — who helped make this event a searing success and give many thanks to the tastes, stomachs, and livers of our judges. For the food: Krista Harris of Edible Santa Barbara, D.J. Palladino of The Santa Barbara Independent, Chef Edie Robertson (last year's winner of the professional entrée division), and Larry Schaffer of tercero wines. For the cocktails: Kevin Hebert of Harry's, Kathryn Graham of C'est Cheese, Mandy Chinn of Sly's (last year's cocktail contest winner), and a terrible Indy trio of Matt Kettmann, Ethan Stewart, and yours truly. Once again, the drily witty Travis Mañach emceed our cocktail contest, and what kind of bon vivant could be better?
And now, without further ado, our winners: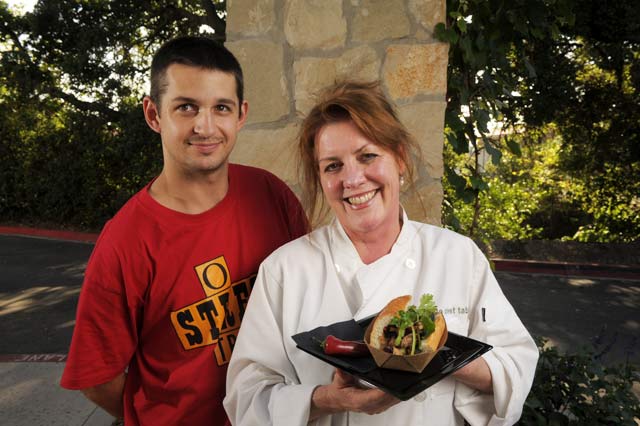 By Paul Wellman