It took Davies Kabogoza seven hours to walk from his Ugandan village to the American Embassy. He wore a raggedy Manchester United soccer jersey, black shorts, and six-year-old shoes too small for his feet. No one in his village knew the way. So with poor directions and no pen or paper, his eight-mile journey lasted all night.
"My story is a world, and in a world, many things happen," Kabogoza said. "We get to be places that we never dreamed of being, and that's my story."
Eventually, Kabogoza's odyssey took him to Santa Barbara, where he is a standout forward for the City College men's soccer team. "He's definitely got the potential to move on and play at the next level," said head coach John Sisterson, whom Kabogoza considers a "second father."
Kabogoza's real father abandoned his family when he was young, so the 21-year-old worked for next to nothing to provide for his family, one of the poorest in his village of Busega. He started working in a forest in Domme ​— ​about 30 minutes from his village ​— ​when he was 15. He carried loads of timber, often 50 pounds, on his back.
He worked up to 12-hour days for 1,000 Ugandan shillings, the equivalent of 40 cents in U.S. currency. The money was never guaranteed. At 16, he quit school to work full-time. "I realize that me going to school is definitely a good thing, but that just benefits me," Kabogoza said. "My family looking at me starving to death when I'm in school didn't make any sense."
He lived in a one-room house with his mother, Agnes Mubanda, two younger brothers, and his younger sister. His sister and youngest brother have a different father. "My mom had one dress her whole life," Kabogoza said. "She put on that dress every single day. I used to ask myself, 'How does she clean it?' until one night, I couldn't sleep. … I found her outside cleaning her dress, and she was crying."
Kabogoza discovered that his mother would sneak out of the house every night to clean the purple-and-white-striped dress in a basin of water. The next day, she told Kabogoza that she didn't want to "embarrass" her children. Kabogoza said his father left when he was 5 and has resisted his attempts to reconnect. "It's common for African fathers to really run from the responsibility of their kids," Kabogoza said. "They always think that mothers have full responsibility of the kids."
Kabogoza finished his high school equivalency at 18 ​— ​right around the time he joined the Sports Outreach Institute. The institute helps impoverished countries through athletics, job-training, and biblical teachings.
First Trip, Fast Friends
Vicky Harbison is a Santa Barbara philanthropist affiliated with the institute. The Montecito Union School 1st-grade teacher met Kabogoza on a bus trip to the Northern Uganda cities of Soroti and Lira. Kabogoza played soccer games there as a member of the institute. It was Harbison's first trip to the African country.
On the bus ride, they witnessed cities ravaged by Joseph Kony's Lord's Resistance Army. Kabogoza was shocked by the devastation; the violence hadn't been as grave in his village. "I see these kids ​— 6 years, 7 years, 4 years," Kabogoza said. "They say they have no one, all killed by the rebels. Their sisters were raped and killed. Their older brothers were taken."
Kabogoza and Harbison became quick friends during the trip. Between games, Kabogoza spoke in front of "huge crowds" to advocate abstinence because of the HIV epidemic in Africa, Harbison said. "I saw leadership skills in him, and I saw compassion for his people," she added. She flew back to America two-and-a-half weeks later.
"All the way home on the plane, I kept thinking, 'What is our response as Americans?'" she said. "Do we say, '[Uganda] is our government's problem?' Do we say, 'It's not my problem?'" Answering her own questions, Harbison decided to pay for Kabogoza's passport, visa, and first-class ticket to Los Angeles so he could continue his education in America.
Kabogoza's mother received a call from Harbison on her Nokia 3310. The phone was given to Agnes Mubanda by Kabogoza's stepfather and could only receive calls if minutes were put on it ​— ​something that rarely happened. Harbison instructed Kabogoza to check his email for details. Kabogoza walked three hours to Mengo ​— ​the closest place he could use the Internet. It cost 2,000 Ugandan schillings to get online for 15 minutes.
Harbison's email gave Kabogoza all the information about his visa appointment at the American Embassy at Nsambya. He arrived at the embassy four hours early, slept on a wooden bench outside until it opened, got his visa the same day, then walked home in a heavy rain. He packed his few belongings and rode three hours in the back of a pickup truck with his family to Entebbe International Airport on December 29, 2010.
He hasn't been back since.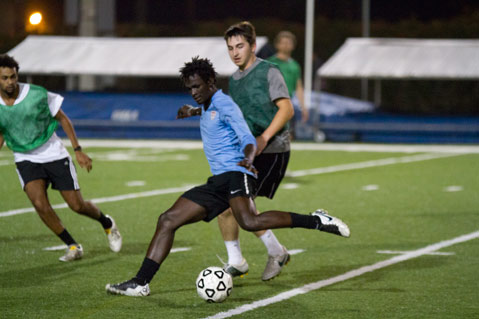 James Crosby, The Channels Newspaper