They're hard to miss: nearly a dozen 20-foot-long banners staked throughout Santa Barbara and Goleta emblazoned with big red letters that spell "SHAME ON [insert name here]." And the issue, on the surface, is easy to understand: bad blood between a local carpenters union and Goleta Valley Cottage Hospital over a lost contract. But how and why the union chose the people it's targeting, and what exactly it hopes to accomplish with the ongoing public protests, is much less clear.
Carpenters Local 150 started bannering Goleta Hospital Foundation trustees last month — in front of their regular places of business — claiming the hospital, its Board of Trustees, and its main contractor should be faulted for hiring nonunion subcontractors from outside the area. (Goleta Valley Cottage Hospital is currently undergoing a massive renovation and rebuild. Construction crews broke ground in March 2010 and the work, which has a price tag of $103 million, should be completed by summer 2012. The trustees meet together once a quarter, and each spends a few hours a month working during off time to raise money for that project and others.)
Local 150 — based in Camarillo with around 1,500 members — says it has a labor dispute with the company chosen to do the hospital's metal framing and drywall. The union claims its nonunion competitor — C.A. Hofmann Construction, Inc. in Loma Alta — pays its employees unfairly low wages, doesn't provide health care, and generally contributes to what Local 150 calls the "erosion of standards for local workers."
C.A. Hofmann declined to be interviewed for this story. "We don't have a dispute with anyone," said a representative before hanging up. Indeed, there hasn't been a formal complaint against the company filed with the National Labor Relations Board. No one from Local 150 could be reached for comment. Numerous messages left over the last few weeks with chapter president Joseph Duran and others have gone unreturned, as were messages left with the Southwest Regional Council of Carpenters, which officially oversees Local 150.
The little that's known about the purported dispute is what's included on a flier handed out by the banner holders, people unaffiliated with the union and hired through the Rescue Mission or Salvation Army for $8 to $10 per hour. Though generally pleasant, they appear to have little or no knowledge of the issue, wordlessly passing out the fliers which feature a rat nibbling on an American flag below the headline "SHAME ON [person's name] For Desecration of the American Way of Life." They set up the signs four to five days a week, except when it rains, and shake their heads when asked if they have their own union. Local 150 has used this strategy since at least 2004, bannering up and down Southern California when it loses a contracting bid. It's not known how long the union plans to stake out the trustees here in Santa Barbara County, but they can sometimes hold their ground for months.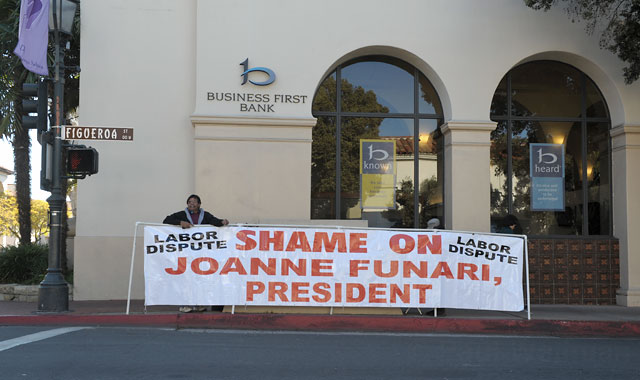 By Paul Wellman