Lois Capps for Congress
In the eight times Lois Capps has run for a seat in the House of Representatives, this paper has always endorsed her. We have never regretted it. For the 12 years she has been in Congress, Capps has continually proved that public service and effective politics need not be mutually exclusive in Washington, D.C.
For one thing, Lois Capps works exceedingly hard, returning to her district every single weekend. And she gets things done. Just ask the 10,000 Santa Maria residents who won't have to pay higher flood insurance because Capps secured around $50 million in federal money for much-needed improvements to the Santa Maria River levee. Or ask the scholars at UCSB's Palm Center about the quiet but essential role she played in getting the Pentagon's odious Don't Ask, Don't Tell policy repealed. Working with other representatives, Capps played a major role in returning the Forest Service's air tanker base to Santa Maria on a full-time basis so that there can be rapid response when fires break out — something our district desperately needs.
Of course, we'll never forget how Lois Capps was one of the few representatives to vote against giving President George W. Bush unlimited powers to wage war in the wake of 9/11. Had we had more elected officials in Congress like her, perhaps the unnecessary war in Iraq could have been avoided. On environmental issues, Capps has fought to require big utility companies to curb mercury emissions and has been a consistent voice against Big Oil. She's relentlessly bird-dogged PG&E and SoCal Edison to make sure the utility giants conducted the seismic surveys necessary to ensure their respective Diablo and San Onofre plants can withstand the likely maximum earthquake. She's pushed hard for legislation to reduce interest rates for college loans and to eliminate the $60 billion in subsidies to financial institutions that sell such loans. And she voted for President Barack Obama's health-care reform bill, but only after fighting and winning full access to reproductive choice, something that is constantly under attack by the current House majority.
Given the meltdown that's seized the nation's capital since Tea Party Republicans gained control of the House two years ago, it's especially urgent that Capps be reelected. Congressional Republicans have adopted a kamikaze approach to governing; just last week, the Republican majority passed a budget that would inflict massive cuts on food stamps, day care, and senior programs serving 23 million individuals while leaving Pentagon spending utterly untouched. Twice in the past year, the federal government was taken to the brink of total shutdown as Republican budget hawks played chicken with continuing budget resolutions. After 10 years of requiring our military to fight two wars without requiring new taxes to pay for it, Republicans are at last waking up to the astronomical costs. Their solution to balancing the budget? Gut all nonmilitary programs and give tax breaks to the rich. On the domestic front, the new Republicans have gotten in touch with their "Mad Men" selves. Not only are gay rights under attack but so, too, is basic access to birth control. Into this madness, we ask you to reelect Lois Capps.
Capps came to political office after her husband, Walter Capps, died in 1997 during the middle of his first Congressional term. Since then, Lois Capps, who had previously worked as a nurse in Santa Barbara public schools, has been nominated by her peers as the "nicest" member of Congress more than once. Her staff actually likes her, which makes her an oddity among elected officials. Foes ​— ​and some friends ​— ​have mistaken her innate decency for weakness and always paid the price.
Political handicappers suggest this year's race will be Capps's toughest yet. The district boundaries were drastically redrawn, and the overwhelming edge enjoyed by registered Democrats in previous elections has been reduced, bringing Republicans within striking distance. But for the time being, the Republicans running against Capps ​— ​former actor and Tea Party activist Chris Mitchum and former Lt. Gov. Abel Maldonado ​— ​appear either hapless or inept. But given the stakes faced by this nation, none of us can afford to be complacent. Please make sure to vote for Lois Capps.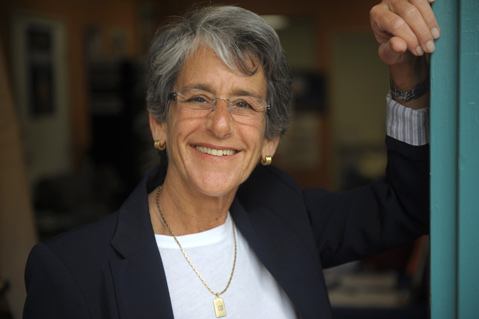 By Paul Wellman (file)