About a decade ago, a trio of wealthy men brought one of France's most renowned wine experts to a sandy patch of land in the middle of the Santa Ynez Valley. With wine grapes on their mind, they asked the man which ones they should grow and where. After scouring the 600-acre property off of Ballard Canyon Road, Château Latour's Frédéric Engerer located a scant five acres where grapes might work.
And what about the other 595 acres, the men asked? "Asparagus," he replied, dead serious, knowing the pointy crop would be far more lucrative than grapes on such a dry, infertile landscape. "I think you're better off planting asparagus."
The trio ​— ​millionaire money manager/Montecito resident Charles Banks, Israeli-born Hollywood producer billionaire Arnon Milchan, and media mogul billionaire Gerald Levin ​— ​were natural risk takers, and they didn't listen. Instead, they took a shotgun approach and planted about 80 acres with 10 different grape types to see what would work, ranging from traditional Bordeaux varietals of cabernet sauvignon, sauvignon blanc, cabernet franc, sémillon, petit verdot, and merlot to the Rhône Valley's syrah, viognier, and grenache to Italy's famed sangiovese. It was a very grand, very expensive experiment, and the plan was to take out the grapes that failed to grow properly. But none did.
"It wasn't rocket science," said Matt Dees, who was hired in June 2004 as the first full-time winemaker for this ambitious vineyard project, which is known simply as Jonata (pronounced ho∙na∙ta), a Chumash word for "live oak." "The property just worked. Every grape works out here. It's a good problem to have."
The 33-year-old resident of Santa Barbara's Westside is being modest, however, for the land can only take so much credit. Equally as important to the success of Jonata ​— ​which hugely influential wine critic Robert Parker once proclaimed one of the state's "most exciting new wineries" and one that had "set a new qualitative benchmark" for what Santa Barbara can produce ​— ​are people such as Dees, vineyard manager Ruben Solorzano, and general manager Armand de Maigret. Together, they oversee what's probably the most painstaking and pricey agricultural exercise on California's Central Coast.
That goes from the grape-growing ​— ​"We manicure every single shoot and every single cluster," said Solor­zano, who usually inspects the vineyard twice a day ​— ​down to the winemaking, in which Dees will put 150 or so different lots from distinct parts of the vineyard in separate oak barrels and steel tanks before mixing them together into a balanced blend. Then French wine expert Michel Rolland ​— ​who is arguably the best Bordeaux consultant money can buy ​— ​is called in to gauge aging potential before the final bottling decisions are made. Even after all that, if a particular vintage of a particular grape makes for wine that is anything less than perfect, they may opt to skip that bottling, as they did for the merlot and petit verdot in 2009, as well as the cabernet franc in 2010.
"In the next three vintages, there will be one of their wines that won't be produced because they don't feel it's up to snuff," said Nuri Monahan, who distributes Jonata locally through his Monahan & Cooper brokerage and is a veteran of the Santa Barbara hospitality industry, these days serving at Cielito. "That, financially, is a frickin' nightmare for them. But that's a testament to their level of commitment to only producing things that are truly excellent."
Which also means that, upon release, Jonata's slate of wines typically demand the highest prices in Santa Barbara County, with the recently released cab, cab franc, and syrah bottlings of 2009 fetching $125 from club members, who are only allocated a certain amount of each. It's not quite the $750 that Screaming Eagle, its sister winery in the Napa Valley, goes for, but there was plenty of industry grumbling in Santa Barbara when this untested winery busted through the gates in 2007 charging more than double what other top wineries were asking for their best juice.
"There was no reference point for that. It was a bold move," said The Winehound's Bob Wesley, who's been selling wines in Santa Barbara for more than a decade. "But if you're delivering good wines and the wines express as much as they do and compete with similarly priced wines, that's what matters. Jonata achieves all that."
Thanks to such accolades ​— ​and, perhaps more so, to the down-home friendliness of Dees and company ​— ​Jonata seems to have found relative peace and respect in the region after its controversial start. And the sole owner of the property today, billionaire sports-team and real estate tycoon Stan Kroenke, who took complete control in 2009, seems content, continuing to proudly count it among his cache of high-profile businesses, including the cult winery Screaming Eagle, the NFL's St. Louis Rams, the NBA's Denver Nuggets, and the English soccer club Arsenal. And Jonata continues to lure the wine industry's top talent, such as Maigret, who had reached a happily self-employed status after a flourishing career but was sucked into the full-time job by the project's magic.
"It was born for all the wrong reasons, born through a series of mistakes, and I don't think anyone with a sane mind would have planted the grapes we have now," explained Maigret. "The estate has nothing to say it will work, but it is working. It touches art, where art is born in chaos."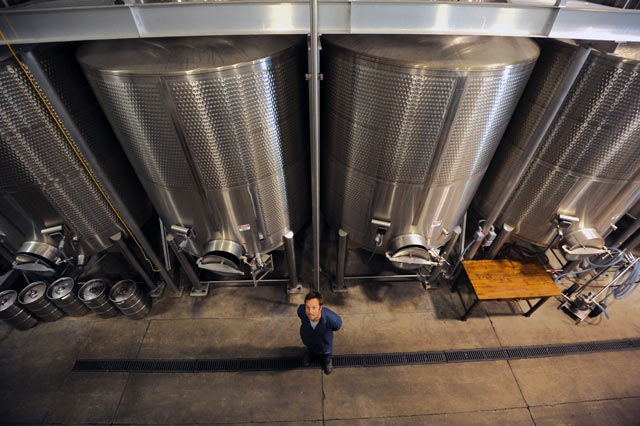 By Paul Wellman