It's a gloomy, gray July morning when I hop from the pier at Gaviota State Beach to board the tiny research vessel that's been following sea otters as they swim south of Point Conception and take up residence in the Santa Barbara Channel for the first time in centuries. But by the time the steady static of the telemetry receiver is interrupted by rhythmic, telltale blips indicating our first radio-collared otter of the day, the skies are positively pea-soupy, dark swatches of bobbing seaweed the only demarcation between ocean and air.
"See those black specks out there?" asks Nicole LaRoche, a Chicago-raised UC Santa Cruz grad who studies otters for the United States Geological Survey (USGS) and sells her marine wildlife photographs at S.B.'s Sunday beach show. "Those are otters."
As LaRoche pulls out handheld computers to record the otters, their locations, and, if visible, what they're doing, I peer deeper into the mist as we skip through the sea somewhere off Cojo Anchorage, but the raft of furry beasts quickly disappears. "Oh, we spooked them all," says LaRoche, who began following these otters in the spring of 2012 and will repeat this routine at least eight days a month until her study is done in March 2015. "We didn't even slow down. They spook so easily." As we steadily meander back toward Gaviota, the weather clears up a bit, but the otter spotting ​— ​complicated by the presence of harbor seals, thick clumps of kelp, and other look-alikes known in the tracking trade as "notters" ​— ​doesn't get much easier, with some individuals identified only when they dive underwater and their beeping stops.
I didn't realize it at the time, but, after a couple of months of chatting with scientists, fishermen, and others whose pasts, presents, and futures are intertwined with the fate of this mercurial marine mammal, such fleeting discoveries and sudden vanishings amid barely navigable fog perfectly mirror the four decades of work and worry involved in bringing the species back from the brink of extinction. Despite countless studies, millions of dollars, odd regulations, and lots of lawsuits, the otter population ​— ​which was declared "threatened" under the federal Endangered Species Act in 1977 ​— ​is not rebounding anywhere near as fast as was once hoped.
"My vision of the future was one in which the otter would have continued to increase at the rate it was doing then, about 4 to 5 percent a year, but in the mid-1990s, it stopped."
"I thought when I first came to California in the late 1970s that, if I lived to this point, there would be a heck of a lot more otters than there are now," explained Jim Estes, the 67-year-old former USGS researcher and current UC Santa Cruz professor who's considered the godfather of otter studies. "My vision of the future was one in which the otter would have continued to increase at the rate it was doing then, about 4 to 5 percent a year, but in the mid-1990s, it stopped."
Today, there are slightly more than 2,900 otters living off the California coast, which is actually less than were counted in 2007 and consistent with the stagnation of the past decade. It's certainly a drastic increase from the colony of 50 found along Big Sur in 1938 when the species was believed to be extinct, but nowhere near the 16,000 thought to have been alive before fur traders nearly wiped them out. Now, instead of hunting, otters are being killed by a cornucopia of diseases ​— ​many triggered by onshore human activities ​— ​and ever more frequently by sharks, who seem to be mistaking the otters for seals as they do the occasional surfer. Underlying all this is the likelihood that otter populations may be nearing equilibrium with the Central Coast's available food resources, stressing hungry animals enough that minor maladies become lethal. But these blips of understanding only shine momentary rays of light into a vast fog of unknowns, so the overall state of the southern sea otter remains very much a murky mystery.
"It's interesting," LaRoche admitted last week over the phone from the Santa Barbara Zoo, which is supporting her project with office space and volunteer trackers. "Sometimes the more we learn, the less we know."
There does seem to be consensus on three things, at least from the prevailing scientific perspective: One, the otter is a "keystone" species, meaning that its presence as top predator has vast effects on nearshore habitats ​— ​both known, like healthier kelp forests and the fish species that come with them, and others still being discovered, like the recent report revealing how otters' appetite for certain crabs is cleaning up Elkhorn Slough. Two, it's a tremendous "sentinel" species, a coastal canary in the oceanic coal mine, revealing toxins that could also affect us humans. And three, if the species is going to reach a sustainable population, otters must expand their territory much farther north of Monterey Bay and far deeper into Southern California.
That puts LaRoche's work at the forefront of otter survival, so everyone is watching to see what she learns about the furry explorers of our foggy fringe. "It should be natural for them to come back down to this area," said LaRoche. "I think that would be good for them, but there could be other human consequences."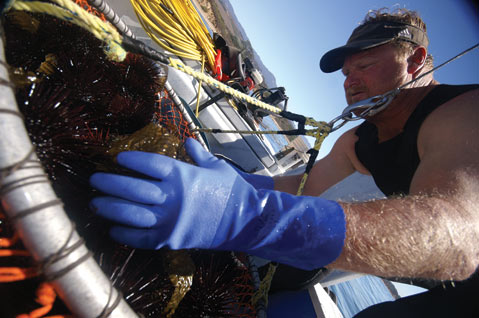 By Matt Kettmann