Books
The Well-Worn Wisdom of Bob Mitchell
Discussing Life and Golf with the Author of Match Made in Heaven
A man on the precipice of death due
to a massive heart attack, his life flashing before his eyes,
haggling with God about getting more time as a corporeal being,
accepting a challenge to save his soul — these elements are nothing
new to storytelling. But this time, in Santa Barbara author Bob
Mitchell's fast-selling novel Match Made in Heaven, the
challenge is playing 18 holes of golf against 18 of our world's
most famous characters, from Leonardo da Vinci and Socrates, to
Pablo Picasso and Marilyn Monroe.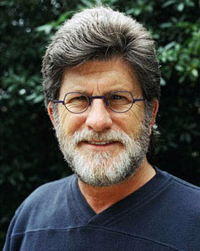 "It's different from anything that's ever been written,"
explained Mitchell recently, in the confident, excited tones that
should be expected from an author whose May 2006 debut novel is
already in its second printing, being translated into more than six
languages, and boasting book-jacket praise from the prolific James
Patterson, the political Bill Bradley, and the popular Bob Costas.
And in many ways, Mitchell — who's previously been a professor at
Harvard and Purdue, an advertising exec in Manhattan, and the
author of eight nonfiction books about everything from French
poetry to The Tao of Sports before settling in Santa
Barbara to write full-time in 2001 — seems the only person
qualified to pen such a tale.
You see, the seemingly fit and agile 61-year-old Mitchell has
already had five heart surgeries thanks to unfortunate heredity,
and, during a nearly fatal 1986 quadruple bypass, watched his life
flash before his eyes. Add to that the fact that he's been golfing
since age 9 and that he's been a man of letters since college, it's
no wonder that he said, "It took me three months to write the book,
but … it always seemed like this was the culmination of 50-some-odd
years of experience."
As well, golf is uniquely suited for a book about life's
lessons. "Sports aren't just games, they're metaphors for life,
they're learning experiences about resilience and poise and limits
and joy," Mitchell said. "And golf is the most metaphorical of all
sports." Golf is different, Mitchell said, because "it's the only
individual game in the world where you have to call the rules on
yourself, so there are a lot of tests of integrity." Plus, "every
single shot you take is different from every other shot you've ever
taken. 'Play it as it lies,' " Mitchell offered, "that's a metaphor
in itself. " And lastly, it's the most creative sport since "the
ball is stationary, so the player has to generate his own
everything. … There's a lot of character-building and -testing in
golf that you don't find elsewhere."
That's why Mitchell, who detests what he calls "genre fiction,"
believes his novel is not just for golfers, but for anyone who ever
ponders "why an individual life is worth anything" or "what's the
value of human existence?" It's a profound notion, suggested
Mitchell, but one that "anybody who has had a health problem can
appreciate." Even better, Mitchell's narrative style is simple and
straightforward, which is to say that it's approachable for all
readers, no matter one's golf knowledge or historical
interests.
So how'd he narrow down the 18 characters to Leonardo da Vinci,
W. C. Fields, Moses, John Lennon, Sigmund Freud, Edgar Allan Poe,
Socrates, Joan of Arc, Babe Didrikson Zaharias, Marilyn Monroe,
Pablo Picasso, Abraham Lincoln, Ludwig van Beethoven, William
Shakespeare, Babe Ruth, Columbus, Gandhi, and Ben Hogan? "It was a
complicated process," Mitchell explained. "The two criteria most
important were, 'Is the person entertaining?' and 'Do they have a
substantial lesson to teach?'" He succeeded in the final selection
on both fronts, with Picasso's chapter featuring cubist sketches of
creative angles to hit the green, Shakespeare's chapter written in
iambic pentameter, and Socrates's hole described in Socratic
dialogue, to name a few. As for some lessons, Marilyn Monroe
teaches about not judging a book by its cover whereas Leonardo
shows that slow and steady does win the race.
The selected course — Long Island's Inwood Country Club on
Jamaica Bay — was a far easier choice, as it is where the native
New Yorker learned to golf from age 9 to 16. "It was a very
impressionable age," Mitchell said, adding that even though he
hasn't been there since 1961, "I still know every blade of grass."
Interestingly, the actual playing of golf has also eluded Mitchell
for some time as well, since he used to play mostly with his
father, who died a couple of years ago. In fact, he hasn't swung a
club since he moved from Paris to Santa Barbara in 2001.
That might be a good thing, though, because he's not distracted
from writing. Mitchell said that the current book he's working
on — a story about baseball, politics, and the notion of whether we
can trust history as we learn it — is "by far the best writing I've
ever done." The readers of the world are ready.