Cover Story
Local Heroes 2006
We give to you 23 individuals and groups who deserve our thanks and praise, individuals and groups who dedicate their time, money, and skills to helping the less fortunate.
They're surrounding us, and we don't even know it. People from
all walks of life, doing special deeds to help their fellow human.
These are heroes of the highest order, individuals and groups who
dedicate their time, money, and skills to helping the less
fortunate, empowering the powerless, and teaching the students who
require it most. These are Santa Barbara's Local Heroes, a breed
that we at The Independent honor every year with this
annual issue.
This year is especially sweet for us here at the paper, for it
marks the beginning of our 20th year. That's right — it's been 20
years since The Independent was born, and if you remember, our
first issue ever was Local Heroes, way back in 1986. We've upheld
the tradition every year since, and we can now proudly proclaim it
one of our region's proudest honors.
So here we go again. We give to you 23 individuals and groups
who deserve our thanks and praise. Read on and be inspired to do
your own works of good.
Special Delivering
Almost from the day The Independent hit Santa Barbara 20 years ago, Dick
Evans has been one of the people most responsible for getting the
paper into readers' hands and making sure our space-age newsstands
are rarely empty. A crucial component of The Independent's
distribution team, Evans is blessed with a deceptively sly sense of
humor and an easygoing manner, but his can-do ingenuity would put
even the TV detective MacGyver to shame.
"For many people, he's invisible," said Evans's boss Scott
Kaufman. "But for me, he's been indispensable." Evans has perfected
the delicate art of bolting news racks to the sidewalks without
cracking the concrete, and he can take a beaten-up stand and make
it look brand new. He also figured out how to remove graffiti from
Indy newsstands without searing their plastic shells. The process
involves a one-two punch of hydraulic brake fluid and solvents, but
beyond that, Evans isn't divulging any trade secrets.
Born in Stockton, Evans entered the Navy right out of high
school, saw action in the Pacific during World War II, and since
then has sold stationery, real estate, frozen foods, and chemicals.
He's also raised five kids, bought and sold two homes in Santa
Barbara, and traveled throughout much of the world. Evans has
always preferred working outdoors, and with The Independent he's
been able to do just that. "I get exercise without having to join
Vic Tanny, and they pay me for it," Evans said. "Besides, every day
is different and everything new that comes along is an
adventure."
Dramatic Dedication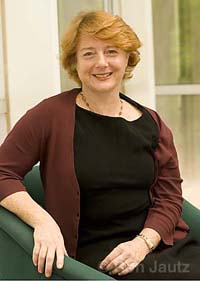 When world theater specialist Catherine Cole joined UCSB's Department of
Dramatic Arts in 1997, her life was about to change — dramatically.
In October 1998 she gave birth to her son, Aaron; three months
later she was diagnosed with cancer, and after a two-year fight to
save her left leg, she agreed to have it amputated. None of this
slowed her down, particularly — she continued to teach African
theater and performance studies classes as well as contemporary
critical and feminist theory, playing a lead role in bringing
non-Western theater to UCSB. In 2001, Cole premiered a
collaborative dance theater performance, Five Foot Feat, in which
she removed her prosthetic leg and danced without it. The show went
on to tour North America; Cole still refers to it as the most
deeply satisfying project of her career. Her boundless energy also
led her to establish a UCSB visiting artists' program, and to
convene a focus group for performance studies. Inspired by her
students to expand the arts outside the university, Cole
spearheaded Isla Vista Arts in 2002, which continues to bring
weekly live performances and films to Embarcadero Hall. This year,
Cole is based at the National Humanities Center in North Carolina,
working on a book on South Africa's post-apartheid Truth and
Reconciliation Commission. "As a theater scholar I understand this
as a very 'performative' event," she said. "It's deeply meaningful
and inspiring to reach a wider audience with my work."
The City's Secret Santa
A housepainter by trade, John Forster is animated by the sweet
insurrectionary spirit of the guerilla philanthropist. Back in the
1980s, he and a fellow housepainter started the now-mythic
Painters' Ball — which lasted about 14 years — in a jubilant spoof
of Santa Barbara's high society. Attendees were asked to come
wearing formal attire or painters' clothes.
As a child, Forster — a Santa Barbara native — had a soft spot
for stray dogs and other lost souls of the animal kingdom, and
brought as many of them home as his parents would tolerate. As he
grew older, Forster would bring home stray humans as well. His
brother Paul remembered the time Forster brought home a blind man
who'd been robbed in a downtown bar and taken for all he was
worth.
Every Christmas, Forster takes a long walk, dispensing modest
sums of money to the down-and-out he encounters along the way. "If
the shoe was on the other foot, wouldn't you want someone to help
you?" he explained. "I've been very lucky," he admitted, "but it's
not that hard to imagine that happening." And every Solstice,
Forster donates a sizable load of paint, brushes, and rollers
needed to transform heaps of wood, scrap, and wheels into the
moving moments of magic they become in the Solstice Parade. When
asked why he does what he does, Forster is quick to shoot back,
"How can you not? Doesn't it make you feel good?"
The Doctor Delivers
Dr.
Ralph Green has blessed Santa Barbara women and families with
personalized childbirth experiences for the last 39 years. With the
skills of an obstetrician but the inclusive philosophy of a
midwife, Dr. Green has eased thousands of Santa Barbara babies into
the world since 1967 (he lost count at 5,000 births 10 years ago).
Many women who feel dissatisfied with traditional prenatal care are
recommended to Dr. Green — who, in turn, recommend him to others.
At 70, he works at least 60 hours a week, sometimes sleeping at the
hospital to ensure he doesn't miss a birth.
Dr. Green's loving smile and calm manner set his patients at
ease, even throughout the most trying birth experiences. In order
to be responsive to what "the individual desires out of birth," Dr.
Green aims to forge connections with his patients early on in the
pregnancy, which helps him intuit potential problems and plan
accordingly. Dr. Green also encourages his patients to have a
doula — a woman experienced in childbirth who cares for the
mother-to-be — present during the birth so that they are not "at
the mercy of an attendant they have never met before."
According to midwife Mary Jackson, Dr. Green is one of the few
OBs who "view childbirth from the perspective of trusting in the
process." Part of this trust plays out in Dr. Green's refusal to do
routine episiotomies or to rush births. In an age where immediacy
and anonymity seem valued over experience, Santa Barbara is
fortunate to have a doctor who welcomes new life into the world at
its own pace and in its own way.
No Time for Hate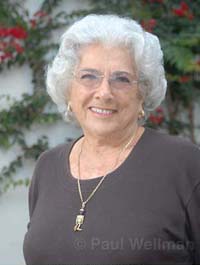 Becoming one of the 300 Anti-Defamation League (ADL) commissioners in the
U.S. may seem like a long way from teaching charm school in
Bakersfield, but, according to Ruth Harter, "That depends on what
you think of as charm." For Harter, who just celebrated her 80th
birthday, charm has more to do with understanding others and
learning to appreciate their differences than knowing which fork to
use. After earning her degree in international relations from UC
Berkeley, starting her family, and moving to Santa Barbara, Harter
served on the county's grand jury in 1987-88, and went on to serve
on the Juvenile Justice Commission for 12 years. In 1998, she
started Youth and the Law, a program she ran for five years and
implemented in high schools, junior highs, and middle schools
countywide. The program brought in representatives from every area
of law enforcement — police officers, judges, probation officers,
and others — to teach students about law in general, and about hate
crimes in particular. The program diminished delinquency by 16
percent in its first year. Ruth and her husband, Jerry Harter, were
instrumental in starting a Santa Barbara chapter of ADL, whose
mission is to fight bigotry and hatred, and her work there
continues today. To honor the Harters, that chapter recently
established the Harter-Meyerson Award for young people active in
the ADL. Meanwhile, Ruth and Jerry's new goal is to place signs
along the 101 at Santa Barbara's city limits that read, "Check your
hate here." Unfortunately, Harter said, "We can't get it past
Caltrans."
Helping the Working Poor
If it weren't for Director Brenda Herrera, the Dorothy Jackson Center
in Lompoc might be a less inspired place. Jackson, the center's
original genius, passed away last month, but her legacy includes
the boundless compassion and creativity of her chosen successor.
Herrera shares her mentor's gift for understanding people's
predicaments without accepting any excuses. She is able to raise
people's gumption, and brings her personal fire to the center's
mission of helping the working poor find healthcare, jobs,
education, and housing. Herrera created several weekly parenting
classes, including one for single fathers. "If you have a
question," said Barry Mark, a psychologist who conducts one of the
classes, "Brenda has an answer."
Herrera has also brought in a simultaneous translator,
counseling services, and connections to legal advice. "She is
adored by her clients and by those who work with her because she
has a strong heart and is not easily flummoxed," said Mark. "She
will stand her ground on her clients' behalf, but in a very
professional way that doesn't alienate those who provide services."
The center's clients include migrant workers not entitled to
subsidized health services, but Herrera usually finds a way: It is
rumored that she took a desperately sad young mother to the Chumash
reservation, where a doctor agreed to see her and write her a
prescription for antidepressants, so that the woman could get her
children to school on time. That's social work with a personal
touch, the way it's supposed to be.
Nursing with Presence
I think being present is the greatest gift you can give to another
human being," said Samvada Hilow, a registered nurse certified in
hospice and palliative care. Hilow began working for Santa
Barbara's Hospice Care & Visiting Nurse seven years ago,
providing medical and practical support to terminally ill patients
either in their homes or at residential hospice centers. She
recently transferred to Assisted Healthcare Services, a
Ventura-based home health agency, and plans to launch a Santa
Barbara chapter of hospice for AHS in December.
Born in Germany, Hilow lived in India and Australia before
settling in Santa Barbara. The name Samvada, which means "divine
dialogue" in Sanskrit, was given to her by an Indian mystic. For
Hilow, hospice work is "not about dying; it's about living. I find
it very real meeting another human in that space — there's no
pretending."
Hilow is currently earning her Family Nurse Practitioner
license. She's also an avid cyclist, runner, skier, tennis player,
and a soon-to-be grandmother. Her approach to life and work is one
of fearlessness and acceptance. "You have to go in not knowing how
it will be," she said of hospice work. "I feel very respectful of
each person's path — whether they want total intervention or none
at all." Her dream is to establish a volunteer group of people who
will sit with those who are dying and "hold the space" for families
to grieve. "Helping people surrender is more important than knowing
what medicine to give," Hilow said. "It's sacred work."
Defending Their Homes
It is true that the Goleta City Council risked much and was ultimately
victorious in a legal battle defending rent control in mobile home
parks, the remains of housing for the less-than-affluent. Yet the
body could not and would not have done it without the Goleta Mobile
Home Owners Coalition. Mobile home park dwellers, who own the
trailers but rent the land under them, started organizing to defend
their homes even before the city's formation in 2002. In fact, they
fought against cityhood itself, while litigious mobile home park
owner Daniel Guggenheim fought for it, both sides reckoning that a
brand new city would be ill-prepared to wage legal war against
heavily lawyered landholders.
Indeed, the newly seated council was about to accede to
Guggenheim's demands when the coalition came in, led by soft-spoken
bike shop owner Dennis Shelly. After passing the hat among park
dwellers, the coalition managed to hire attorney James Ballantine,
with whom they met the city manager and the city's attorney to
propose legal strategies. They also sat down with members of the
City Council. Finally, in an affecting demonstration, hundreds of
mobile home dwellers walked quietly through the council chambers.
They made their point: The City Council opted to go to bat for the
mobile home parks.
Guggenheim is not giving up, however, and a new council — with
campaigns partially funded by Guggenheim — will be seated in
January. The battle may have been won, but the war is not yet over
for these heroes.
Nourishment from the Heart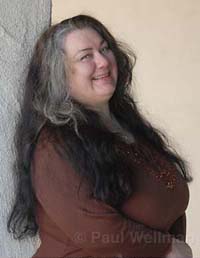 Robin Monroe had been working as a professional chef for a number of
years when, while flipping though The Independent's Local Heroes
issue in 1997, she noticed honoree Evelyn Jacob, founder of Food
from the Heart. "I thought, 'That is so cool. I'll go find her,'"
said Monroe. And find her she did. Monroe began to volunteer for
the organization and in 1999 was named its director and executive
chef.
Since then, Monroe has used her passion for food to better the
lives of countless members of the community. Spread over the tables
of the First Presbyterian Church's kitchen — graciously made
available to Monroe for free — are heaps of freshly prepared
ingredients and already assembled bags of potato soup, baby bok
choy, chocolate cake, and bread donated by Our Daily Bread. Once
the meals are packed, each is hand-delivered to a recipient.
Monroe's gift to the community is about more than just food.
"The thing that makes us different is that we aren't just
delivering food. It's a gift that says, 'We really care about you
and you're still included in the world,'" she said. It's a
much-needed message for Monroe's clients, many of whom are
terminally ill, and the work requires quite a bit of volunteer
help. "Every week, I wonder how this is going to happen," she said.
Thanks to Monroe, it always does, though she is always on the
lookout for more volunteers. For those interested in lending a
hand, visit foodfromtheheart.com or call Monroe at 898-3981.
Bringing Music to Children's Ears
Begun in 1978 by the Santa Barbara Symphony, the Music Van visits grade
schools in Santa Barbara and San Luis Obispo counties to
demonstrate orchestral instruments. Third-graders learn about
strings, woodwinds, brass, and percussion, and then they get to
hold and play the instruments. For a lot of these children, this is
the only time they will ever toot a clarinet, pound a tympani, or
try to get their chin settled into a violin and give it a stroke
with a bow. For some children, the Music Van's visit will be the
beginning of a vital connection to music, for others it will open
the door to a passionate interest, and for a special few it will
become that cherished first experience that leads to a musical
career. With state funding for the arts in schools at such low
levels, this program fills a need that would otherwise probably go
unmet.
It takes more than just the van, generously donated by Marilynn
Sullivan, or the instruments, which have been provided, maintained,
and replaced when necessary by Nick Rail since 1990, for the Music
Van to bring the magic of the orchestra to an average of 42 schools
and more than 2,000 children every year — it takes people,
typically Nick Rail to handle the instruments, docent Mary Jane
Cooper to do the driving and the talking, and a professional
musician to make the magic of music real (often this is Kirsten
Monke, principal violist in the Santa Barbara Chamber
Orchestra).
For their direction and leadership of this worthy, creative, and
vibrant service to the community, we recognize at this time Nick
Rail and Mary Jane Cooper. Without their incredible dedication and
persistence, this van would not be rocking.
Philanthropy for the Arts
Marie Profant is from a Santa Barbara family with a long cultural legacy
(her grandparents, both pianists, helped start the Music Academy).
She remembers growing up and watching her dad, an aspiring singer,
go to work at his administrative job day in and day out. The
necessity of providing for his family kept him at that job, but,
thanks to her mother's encouragement, he found some outlets for his
talent when he was in his forties. In fact, many hopeful artists
face all sorts of obstacles that make following their dreams
difficult, if not impossible — which is where the Profant
Foundation for the Arts comes in.
Founded in memory of her father, John, in 2000 by Marie, her
mother Lyn, and a handful of others, the foundation's mission is to
give financial assistance to developing artists. Every year, the
foundation receives about 100 referrals that are forwarded to a
group of anonymous judges — artists in the field most relevant to
the applicant — who are charged with selecting the recipients of
the foundation's scholarships, which are funded by the elegant
Fiesta Finale Gala dinner. Though past winners have included a
9-year-old violinist, a 75-year-old painter, and every other age in
between, the foundation recently launched Find Your Dreams and Live
Them, which focuses specifically on children. As the card Marie
carries around with her reads, "Every truly great accomplishment is
at first impossible"; but, with the help of the Profant Foundation,
the dreams of Santa Barbara's future artists may become a little
more possible.
Opening College Doors
Having grown up in a low-income family with no history of higher
education, Lisa Przekop always believed that a college education
was just another luxury for the wealthy. This changed the day an
English teacher pulled her aside and said, "You should go to
college." Przekop followed her advice — paying her way through
community college in her native San Diego and then at UCSB — and
then made a career of saying the same thing to similar
"diamonds-in-the-rough" throughout California. "You can break the
cycle," she said. "Education is the way out."
Since becoming USCB's associate director of admissions in 1985,
Przekop has changed the lives of thousands of first-generation
college students, whom she meets when speaking in high schools and
through counselor referrals. Given the difficulty Przekop
encountered in convincing her own Latino family of the value of
higher education, she understands cultural unwillingness to spend
the equivalent of a yearly salary to study literature. But again
and again, Przekop convinces people to take educational leaps of
faith by explaining financial aid and how higher education pays off
in the future.
Przekop's dedication doesn't stop there. She also volunteers as
the adviser for a multicultural sorority at UCSB, whose members
rely on her for academic, emotional, and financial advice. And she
chairs Cal-SOAP (California Student Opportunity and Access
Program), an agency dedicated to enrolling underrepresented youth
in college. Speaking from her own experience, Przekop convinces
thousands who would otherwise spend their lives "just hanging out"
that "the single factor that will change someone's world is to get
educated, to see that there's a world out there."
The Children's Shepherd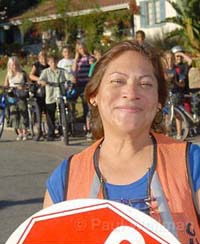 Olga Rodriguez's job is that of crossing guard at Peabody Charter
School. But her mission in life is to put smiles on the faces of as
many school kids as she can. "I want the children going to school
happy," she explained. To that end, Rodriguez has become famous for
the lengths to which she'll go: dressing up on Halloween,
Christmas, and other holidays, or passing out candy and other
goodies. "Every child gets special attention — a wave, a
greeting — and any can stop and talk with her, or sit nearby while
she works," said a resident who lives by Rodriguez's stomping
ground, where Calle Noguera meets San Roque Road.
What makes Rodriguez so special is the energy and smiling warmth
of her presence. One of nine children, Rodriquez was born in a
small town in the Mexican state of Sinaloa. She grew up poor, and
by third grade had to abandon her formal education to go to work.
Thirty-one years ago, she moved to Santa Barbara to take a job as a
housekeeper. Seven years ago, she was sidelined by a serious
injury; happily, she started working as a crossing guard. With more
cars on the road and people in a bigger hurry — drivers sometimes
zoom right past her outstretched stop sign — Rodriguez's essential
function as her students' shepherd has become more important. And
greeting the students has its own demands. "Not always do I have
the energy. But then in my heart I find it," she said. "It makes me
happy."
10-Year-Old Life Saver
The summer afternoon started off just like any other in the Rojas home.
Grandma Cornelia was cooking french fries for her 10-year-old
grandson Eric when, with Grandma's back to the stove, flames from a
grease fire began crawling up the kitchen wall. "I was so scared, I
started throwing water on the fire," said Cornelia. "That made it
spread even more."
When Eric heard his grandmother's cries, he helped his ailing
aunt and 81-year-old grandma get outside to safety, grabbed the
fire extinguisher from behind the family's mobile home unit, yelled
to the neighbors to call 911, and then put out the fire
himself.
About to turn 11, Eric takes it all in stride. Sitting in the
family's newly repaired home, he spoke of how he felt when he saw
the flames — "panic and stuff" — and how he told his dad just after
the fire that "a man's got to do what a man's got to do."
But as his grandmother sang his praises, Eric's shy smile gave
him away. "I have such a good grandson and brave boy," Cornelia
said, prompting Eric to tell what he wants to be when he grows up.
Before the blaze, Eric wanted to "teach karate or something." But
it seems his plans have changed. "Now I want to be a fireman," he
said.
The Protector of State Street
Anyone who's tried to sell lemonade on a street corner knows how hard it
is to run a business. But up the ante to a State Street storefront,
and it's easy to imagine how scary an enterprise it would be.
Luckily for those doing business there, they have Marshall Rose to
watch their backs.
Rose, a native Santa Barbaran from a mom 'n' pop retail family,
is in his 10th year as executive director of the Downtown
Organization, the networking and support lifeline for many a
restaurateur and retailer. As its first full-time executive
director — a job he took after retiring in the mid 1990s — Rose has
professionalized the staff, fostered the crucial connection between
businesses and cultural offerings, and revitalized downtown into a
scene that bustles now more than ever. To that end, he's made the
Art and Wine Tour, Harvest Festival, and Holiday Parade not-to-miss
events; he's served as the conduit between businesses and every
other downtown event; he's overseen street maintenance and
landscaping; he's created a guide for visitors; and he's grown the
State Street flag program from a handful to 30 participants, with a
waiting list of about 15 more.
"Downtown is in my blood," explained Rose, who spent his teenage
years milling about the then-depressed blocks of lower State
Street. "We're trying to maintain a certain uniqueness. We don't
want it to look like other shopping areas."
Of course, the ever-humble Rose quickly points to all the other
organizations and people who make his job worthwhile. "I feel good
about this. Most everyone is on the same page, and they're trying
to make a positive difference."
Rescuing the Unwanted
Anyone who has ever gone looking for a new family pet at more than one
rescue shelter knows that those institutions come in widely varying
degrees of comfort, hospitality, and care. In that regard, the
Santa Ynez Valley Humane Society is in a class of its own. What
began in the early 1970s as an informal group of men and women
taking home unwanted animals and caring for them until a new home
could be found has grown during the past three decades into a warm
and welcoming safe haven for cats and dogs.
Situated on the outskirts of Buellton in a beautiful sun-soaked
facility, the nonprofit — thanks to volunteers, committed staff,
donations, grants, and funds from their thrift store House of
Treasures — has become a 27-kennel, 14-cat cage refuge with ample
outdoor space and a low-cost spay/neuter clinic, all with a gentle
hand and compassionate heart attitude. Catering mostly to animals
from the ranch land territory of the valley and Lompoc, the shelter
gives the animals a place where "they can stay as long as it takes
to find them a good home" according to Executive Director Kirsten
Ruiz. Furthermore, beyond adoption and boarding services, the
shelter has done its part to fight animal overpopulation, "fixing"
more than 443 animals this year alone and a whopping 10,000-plus
cats, dogs, and rabbits since 1985.
It was with a notable tone of sadness that Ruiz said recently,
"We cannot handle all the animals that need our help." But for
those already in the shelter, life is good until they can be placed
in an even more enjoyable living situation.
Courage at the News-Press
It takes a special brand of courage to walk off a job you love as a
matter of principle, putting your career and financial security in
limbo. It also takes backbone to stand up for what's right and hang
in there for the sake of the community and your profession, even if
you risk being fired for it. The nasty drama that's been played out
at the Santa Barbara News-Press began with a newsroom
meltdown in early July. Since then, nearly 30 reporters, editors,
designers, and others have quit in protest regarding owner Wendy
McCaw's interference with the news and her outrageous treatment of
staffers whose only sin was putting out an excellent newspaper. A
couple of people have been fired, including union activist Melinda
Burns. After the newsroom decided to form a union and McCaw handed
down a gag order, the staff appeared at a De la Guerra rally with
their mouths covered with duct tape. The campaign ended with a 33-6
vote to affiliate with the Teamsters, despite what staffers claimed
were management intimidation efforts. Senior reporter Burns — a
21-year veteran, dedicated journalist, and prizewinner — paid for
her organizing efforts by being fired. She's fighting that. Some of
the journalists have found work locally, others had to move away,
and some are still jobless. But a solid core remains to put out the
paper and continue the union effort despite McCaw's opposition. The
headline on that story: Profiles in Courage.
Battling Lompoc's Meth Addiction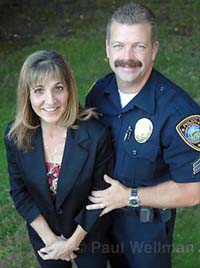 One year ago in Lompoc, there was a large and growing methamphetamine
epidemic and a terrible sense of futility. Then Cindy Strange and
her husband, Lompoc Police Sergeant Chuck Strange, came to the
rescue. After watching the addiction ravage one of their children
and tired of being discreet about it, the Stranges leapt out of the
closet and into action. Thanks to their efforts — and a willingness
to risk Chuck's reputation as the can-do former leader of the
police department's narcotics task force — Lompoc has come together
as a warm, dynamic, recovering community.
The transformation began modestly last November, when the
Stranges convened the first community forum on the meth epidemic.
Cindy started the dialogue by talking about her son. Many in the
audience stood up to tell their stories, and there wasn't a dry eye
in the house. The result? The Lompoc Valley Recovery Task Force was
formed, a former flower shop on Ocean Street was purchased, and
Lompoc's first detox center is scheduled to open there in
January.
It is critical, Cindy said, to dispel the myth that people don't
recover from meth addiction. "If that's true," she asked, "then why
can I show you 10 people who have been clean for more than a year?"
Another myth is that recovering addicts are people you wouldn't
want to get close to. Those she knows are incredibly courageous,
involved, and helpful. This summer, the group helped to put on a
Fun Day picnic, which was attended by some 400 townspeople
including addicts, families, police, politicians, and Judge James
Iwasko, who brought enough macaroni and cheese to feed everybody.
All in all it was a glorious day in Lompoc, where despair no longer
rules.
Honing In on the Homeless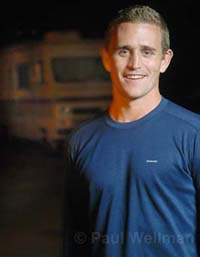 Shaw Talley is absolutely on fire. To look into the eyes of the
28-year-old Santa Barbara native is to bear witness to a truly
sympathetic and committed young man. Shying away from the
traditional rat-race career path of so many of his peers, Talley
returned from a Peace Corps tour of duty in Paraguay a few years
back and immediately dove headlong into the selfless endeavor of
working with our community's vast and varied homeless
population.
After working briefly as the homeless outreach coordinator at
Casa Esperanza, Talley was recruited away to the New Beginnings
Counseling Center to oversee its rapidly growing Safe Parking
Program. In that capacity, he coordinates 11 parking sites around
the city where — on any given night — some 30 to 45 people living
in their vehicles get a safe and secure place to park at night in
exchange for their sobriety. But Talley's work doesn't stop there.
He has, in a relatively short period of time, helped more than 100
homeless people find jobs, secure more permanent housing, and enjoy
a generally improved quality of life. As he put it, "Basically I am
a personal assistant to more than 80 people whose lives are in
chaos."
Despite his success, Shaw is uncomfortable with taking credit
for the work he does. Instead he points to his family, people like
Ken Williams and Gary Linker, and the vast network of local
nonprofits and agencies committed to helping the homeless as the
true heroes. "I was given so much growing up I have no choice but
to give back," he explained.
Creator of SBMA's Nights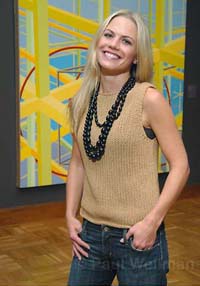 In three short years the Santa Barbara Museum of Art's Nights — a
series of parties held at the museum on every third Thursday from
May through September — has gone from a notion to an institution.
And Kristy Thomas of SBMA's Education Department deserves primary
creative credit for this success. She sees to every detail of the
event, from the themes and invitations to the guest list,
entertainment, food, and beverages. Through her vision, Nights has
become a party people actually look forward to and depend on to
give their summer months a special dose of fun and glamour. Nights
creates a citywide buzz of anticipation for an evening that
includes the added excitement of being held in the presence of some
of the world's greatest works of art. This testifies not only to
the SBMA's marvelous collection and programming, but also to
Thomas's dedication to giving people the opportunity to have a
great time and even fall in love — with great art.
The fact that so many of those who attend Nights go in search of
another kind of love by no means detracts from the atmosphere,
which is always over-the-top festive. At the end of the last Nights
event of the season in September, the impromptu dance floor
reverberated to Prince's "Erotic City" as a funk band in ancient
Greek costume led a genuine bacchanal. Front and center on that
dance floor was Kristy Thomas, celebrating another successful
season for the biggest, most soulful monthly party in town. Art for
the arts' sake was never so much fun.
Making Match Point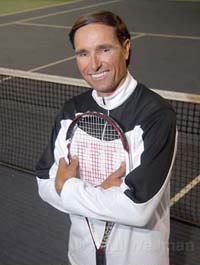 In tennis, the phrase "match point" is uttered just before one player
wins it all. But for Ferenc Hodosy, who runs a tennis program
called Match Point for at-risk fifth- and sixth-graders, his point
is to catch kids before they lose it all to drugs, gangs, or early
pregnancy.
A tennis pro for the past 20 years who also has teaching
credentials, Hodosy founded Match Point at Franklin School 12 years
ago. Today, the program serves 70 kids (50 from Franklin, 20 from
Isla Vista School) every Monday and Wednesday afternoon. It begins
with a homework tutorial for one hour, and then the kids, who are
hand-picked by their teachers for being at-risk, hit the tennis
courts.
The game "is a great metaphor for living," explained Hodosy.
"It's not a team sport, so it takes a lot of self-discipline — you
have to make it happen yourself; you have to be able to adapt. And
it takes a lot of focus, which is so important in life."
Hodosy believes that fifth and sixth grades are "pivotal points"
in a child's development. He's apparently correct, because most of
the fifth graders return to Match Point for their sixth grade year,
and he's even run into former Match Pointers who thank him for
helping get their lives on track.
"Our goal is not to make the kids great tennis players," he
explained. "Our emphasis is to help children become better students
and better future citizens through the great sport of tennis."
Following His Bliss
Stephen Aizenstat has made a truly remarkable career out of helping and
educating people — all while being "constantly informed" by his
dreams. Born in the San Fernando Valley, the clinical psychologist
and pied piper of confluent education came to Santa Barbara in the
early 1970s for graduate school and played a vital role in helping
the shattered minds of the Vietnam Generation through the
now-defunct Isla Vista Human Relations Center.
Employing styles of peer counseling that were somewhat radical
at the time, Aizenstat saw the center mutate throughout the years
into a network of adult- and continuing-education classes,
high-school outreach programs, drug addiction support groups, and a
certificate program that has since gone on to become the
internationally renowned psychology and mythological studies center
Pacifica Graduate Institute.
Looking back on his I.V. days, which included helping kick off
the first Earth Day and the sort of interdisciplinary beast of
psychology, education, and politics that his life's work has
embodied, Aizenstat commented recently, "When you are inside
something and part of its beginning you never really know where
it's going."
Currently on sabbatical from his job as president at Pacifica,
Aizenstat still finds time to be a steering committee member of the
Sustainable Santa Barbara Project, an S.B. Foodbank volunteer, and
adviser to the Global Village School in Ojai. After all, as he
himself put it, "What it all comes down to is giving back. My whole
life, what has been most rewarding to me is being committed to the
world and being generous."
Unsung Angels
Sometimes the biggest heroes are the quiet men and women who step up every
single day. One such woman is Sally Brown. For two years she has
been sending care packages to area servicepeople in Iraq. It began
when her son told her a friend was being shipped to Iraq; Brown
started sending him packages twice a month for the duration of his
tour. "[For] the sacrifices these people are making," Brown said,
"they need to know they're appreciated, supported, and loved."
Soon, word spread and people began contacting Brown with the
names of their loved ones in Iraq. So began the group effort she
named Santa Barbara Angels. There is a constant rotation of
recipients as tours end for some and begin for others. Currently,
Brown sends boxes to 10 servicemen. "My goal is to get as many
Santa Barbarans as possible, but I will take names from other
places," she said. (Brown's son Daniel, a Cobra helicopter pilot,
was deployed to Iraq this fall and is now on her list.)
The parcels are themed (e.g., Thanksgiving, Valentine's Day,
Super Bowl, etc.) and each contains a letter written by Brown,
along with snacks, candy, socks, DVDs, magazines, and other
goodies — enough to share with the troops. "It's rewarding and
heartfelt," Brown said of her undertaking, "and you know you're
making a difference." That's clearly true, given the warm letters
Brown gets from those who have received her boxes.
If you know of anyone who would benefit from the support of the
Santa Barbara Angels, or you're interested in donating to the fund,
call 682-6760 or email sbangels@cox.net.