Arts & Entertainment
Lightning in a Bottle Gets Loose
S.B. County's Green Art/Music/Performance Festival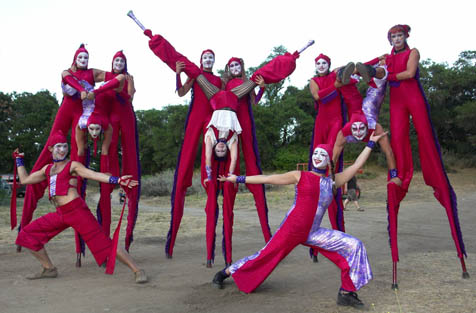 When serious "Burners" get talking about their big event of the year, the legendary Burning Man festival, one group comes up over and over again-the Los Angeles-based Do LaB, led by the brothers Fleming, Jesse, Josh, and DeeDee, and their partner, Dream Rockwell, of the Lucent Dossier Vaudeville Cirque. This loose association of artists and creative engineers will converge on Santa Barbara County this weekend for a three-day festival of all that is cutting edge and green in the world of performance art, electronic and other music, and environmentally friendly outdoor activity. I spoke with Jesse Fleming of the Do LaB last week by phone, and he stoked my already active interest in attending this magical orgy of radical self expression.
How's it going, Jesse? I understand you have just returned from Coachella. Is that right? Yes, we were there until late last night. It's the biggest thing we have ever done-one acre of interactive performance and sound. The people at Coachella actually liked it so much they asked us to leave it up for the country music event this weekend, Stagecoach.
That's great. So you didn't have to break it down on Monday? No, and that was a relief. We will have to do it next week, but that's okay.
How long have you been doing Lightning in a Bottle? All told, it's been seven years now, but it hasn't always been done in this form. When we started out in the Angeles Crest Forest seven years ago, we didn't have permits or anything. We were essentially just a bunch of friends doing one-night events that, for legal reasons, had to be pretty much underground and invite-only. It's only in the last few years that we have taken Lightning in a Bottle and brought it into the world of the big festivals. Even though we have permits and clearances though, we are still doing things very much in the spirit of our original events, which means things are very open, green, and encouraging toward abandonment and self-expression.
Nice. Did you know you wanted to be doing this when you were a kid? (Laughs.) It's funny, but I actually did. We-my twin brother Josh and my other brother DeeDee and I-we did this stuff, or stuff like it, as kids. As young as age 13, I was organizing big parties where we grew up in Pennsylvania, putting together sound systems and light shows for crowds of kids. My parents would drive us to our locations in a station wagon. It was crazy.
That's great. What happened at Lightning in a Bottle last year? It got a little hot out there, didn't it? Oh yeah. It was real hot. We scouted Live Oak in the winter time, and honestly, we just didn't imagine it would be so different in July. But we learned from that experience, and that's why we moved the date this year to mid May.
It's going to be beautiful. Do you do it all, even book the musical acts? For Lightning in a Bottle, yes, we do it all. That's a lot of fun, picking the performers. We design and construct domes and environments at other music events all year long, so we see great acts all the time. For instance, Kid Beyond, who we booked new this year, was at Coachella, and he ripped it. He had thousands of people roaring from what he does, which is live human beatboxing. He has a tape delay and some pedal effects on his microphone, and with just that setup he can do a whole huge set. He's great; people love him.
Is there anything other than these new performers and the dates that will be different this year? Lots of things are going to be different. There will be more workshops, both dance and green workshops during the day, that will provide people with educational experiences. There will be a whole series of large-scale murals painted live, onsite on recycled flats-that's new. The green aspect is something we continue to work at hard. This year there will be more and better food, like brick-oven vegetarian pizzas. And finally, we are planning on selling more day passes this time, because we think the Santa Barbara locals might want to come and check us out for the day.
I am sure they will, and I will be there with them. Thanks, Jesse. Thank you. See you this weekend.
4•1•1
Lightning in a Bottle takes place at the Live Oak Campground starting on Friday, May 11 at noon and running continuously for three days until Sunday, May 13. For full information, visit lightninginabottle.org.