Theater
Harsh Words
This Is How It Goes at Alhecama Theatre, Friday, June 1.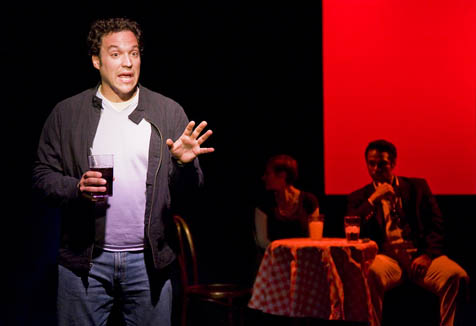 Cursed with insight into the most egregious aspects of contemporary relationships, Neil LaBute has forged ahead with his new-fangled theater of cruelty to a degree that would have been hard to imagine when he started out a decade ago. His plays, which are typically premised on the wildest of nasty contrivances, are continuously in production at some of the nation's top theaters. This Is How It Goes, currently receiving a fine production at Ensemble Theatre under the compelling direction of Jonathan Fox, is one of LaBute's darkest and most disturbing pieces. It puts the characteristic LaBute ear for brutish insensitivity to work on what is perhaps the nation's most enduring wound-the sexual ramifications of our historic cultural racism.
Cody (Adam Lazarre-White) and Belinda (Shannon Koob) are an interracial couple at a crossroads in their marriage. Due to the play's narrative structure (more on this in a moment), it is impossible to tell just how far things have gone off the tracks. Enter "Man," as Aaron Serotsky's character is somewhat ingloriously known. Man has been out of town since high school, and he does a pretty good job of pretending that he has not kept up with Belinda, for whom he still harbors a stalker-like crush, and Cody, who abused him when they were students together. Man has lost weight, had a marriage and a child of his own, and is suspiciously evasive when it comes to answering questions about his return to the smallish town in the Midwest where Cody and Belinda live, and where all three grew up.
The title of the play refers to the frequent interruption of the dramatic flow by asides to the audience in the voice of Man, Serotsky's character. Each scene is prefaced by Man's direct narration of the situation and the events leading up to it, but there is always a strong element of subversion present, as Man also calls into question the validity of these versions of the story. When he says, "This is how it goes," Man appears to be referring to the version in his head-something like what happened, rather than something we can be sure did happen. This allows each scene to deliver a combination of confrontational drama and racially tinged fantasy. Characters do and say things that would never get done and said in polite society-at least not outside of a Neil LaBute play. If the ending is less than final, that's because the desperate questions that this show raises admit no easy answers.