Welcome to the final week of voting for the Almost Independent writing contest. We've slowly whittled away contestants over the past few weeks to arrive at our final pair: Jessica S and Kevin. Voting took a surprise turn last week with the elimination of Jessica H., who had appeared at the top of each previous week's results. In her place in the final two is Kevin, whose numbers made a considerable jump last week, as he took a whopping 45 percent of the vote.
Being the last week of competition, we decided to end this final round with a bang. Look below and read the final three samples from Jessica S. and Kevin. Both attended last Thursday's Incubus show at the Santa Barbara Bowl. We figured what way to better compare the final two's writing abilities than to have them experience the same concert and then place their reviews side-by-side? (As an added plus, you're reading these reviews early. The non-internet-savvy won't see these reviews until they pick up Thursday's issue Independent.
Also, be sure to check out the final online assignments as well. The first tests the contestants' creative mettle by having them review a fictional show – by a fictional band that happens to be called Drew Mackie and the Macaroons – and then strains their tact by having them "politely bash" it – that is, perform the delicate tightrope walk between giving a bad review and sounding like a jerk. In the final online assignment, Jessica and Kevin both look back on this contest and talk about what they might have learned – about themselves, about music writing or about competition in general.
Remember, the polls will be open until 5 p.m. on Friday. Make your vote count and check in at the end of the week to find out who has won a staff writer position here at the Indy.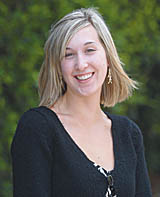 Jessica's in-print assignment: Incubus review
Not far from the Santa Barbara Bowl lies Incubus' old stomping ground: Calabasas High School. Now with everything from double platinum albums to sold-out tours, the band's humble beginnings are a distant memory. But even though Incubus' last two albums sold well and held respectable spots on the album charts, their popularity seems to have waned throughout the years, perhaps because their last two albums covered more rugged territory than the days of Make Yourself and Morning View. However, Thursday night was a loud, kick-ass reminder that they are here to stay and more stellar than ever.
Opening for a band as well-known as Incubus sounds intimidating-unless you are Simon Dawes, of course. Don't be confused; Simon Dawes is not a lonely singer/songwriter fighting for the arriving audience's attention. They are a band of four young men desperately trying to bring back rock 'n' roll. They claim their name doesn't have a specific influence, yet their music indicates otherwise. The eclectic, classic rock style of this band creates a mature and unique sound most of its peers cannot replicate. Singer, guitarist, and keyboardist Taylor Goldsmith has a modern vocal style comparable to Chris Cornell, especially when he hits those hard-to-reach notes. His vocals unite with Dawes' 1970s jam band style, creating fresh yet nostalgic songs that please everyone from the most insatiable youngsters to the most skeptical old timers.
As I waited for Incubus to come on, I sat as an impartial audience member. I was an older fan of Incubus who lost interest long before Light Grenades made its debut. But during the course of the show something happened. Between the perfectly synchronized lighting, Brandon Boyd's dexterous vocals, and the intricate musicianship of Mike Einziger, Jose Pasillas, Chris Kilmore, and Ben Kenney, Incubus reclaimed a spot on my favorite bands list. Just like an inmate finds Jesus in prison, I found Incubus that night.
Nothing recreates faith in a band than seeing a solid live performance, and this experience was no different. Incubus stirred up their discography and performed a diverse set list that included classics like "Wish You Were Here" and "Drive" as well as recent tracks such as "Anna Molly" and "Oil and Water."
Not only did the band reconvert me, they also stretched their musical abilities by ignoring conventional alternative rock recipes and venturing into sci-fi like interludes, not uncommon to bands like The Mars Volta. Incubus used diverse musical instruments like the Djembe drum and pipa (a Chinese lute) to keep the audience in suspense during each song. The band seemed to pick up momentum, climaxing with two encore treats which taunted the crowd's insatiable desire for Incubus' high energy stage presence. And with their terrible rendition of George Michael's "Careless Whisper"- which Boyd dubbed as "pure sex"-the band proved they are steadfast in the fickle world of the music industry, and funny, too.
Online assignment #6: The polite bashing
Fresh Meat
Drew Mackie and the Macaroons
At Rocks, Friday July 6
While the boys of Drew Mackie and the Macaroons are not confectionary treasures like their name says, they are attempting to break into the Santa Barbara music scene to please people aurally, not orally. Drawing their name from their experiences as bakers in an Italian bakery, Drew and the gang had good intentions on Friday night at Rocks, but they're freshness as a band was imminent. They're tempos were inconsistent during a few songs, especially their parody cover of Whitney Houston's "I Wanna Dance With Somebody." As the Macaroons belted out the chorus behind Drew's lead vocals, their harmonies were dissonant at best. With their equipment on the fritz, the microphones squeaked and squealed like newborn piglets; the audience tensed up their shoulders and squinted their eyes in displeasure.
Even with the technical glitches, one thing is clear: Drew Mackie and the Macaroons love what they do. The discouragements of Friday's show didn't seem to deter the band, a true sign of maturity. There's nothing more endearing than a band that can laugh at itself. The band shows potential with Drew's baritone vocals setting him apart from other pop rock singers. His words seem to find their way to the microphone from the depths of his diaphragm. They are all skillful musicians, but definitely need to practice synchronizing those talents to create a cohesive unit. Whether or not Drew Mackie and the Macaroons find their voice in the Santa Barbara music scene and beyond is up to them.
Online assignment #7: "Seeking Writing Fame, Finding Myself"
Let's face it. Contests can get ugly. That's probably why I never felt the urge to make myself vulnerable to the evil clutches of competition. However, when I saw that piece of paper on my professor's desk in April with the words "Music Writer Contest" printed on it, something spoke to my skepticism towards contests. I was coaxed out of my fortress of cynicism and distrust with an overwhelming sense of optimism. I've always wanted to write for a living and I have been obsessed with music for as long as I can remember. I couldn't resist entering a contest with my calling written all over it.
Making it to the final two of this contest awakened my confidence and consoled my fear of making the wrong decision for my future. I realized that sometimes a little healthy competition can trigger motivation. I learned that encountering critics is inevitable when making art: whether its music, visual art, or writing. People aren't always going to like what an artist has to say, or more importantly, how they say it. I think taking the constructive criticism, yet filtering out malicious comments and continuing to do what I love, is the key to success in this business.
The most important thing I discovered about participating in a competition is to always learn from my opponents. I think many people view their competition as enemies and fear the challenge their competitors might bring. Insulting other competitors is self-consciousness at its best. Showing respect and even cultivating potential friendships with one's competition shows good sportsmanship. I would rather possess that virtue than win a contest. Besides, I could end up with some great friends.
Being exposed to the real world of media (whether it's being on a morning radio show or going to a concert to review it) has given me experience I would have never gotten from simply going to school. For that, I am truly thankful to the Independent and all the readers who have voted for me.
To read all of Jessica's samples, click here.
Kevin's in-print assignment: Incubus review
Everybody knows that Santa Barbara is a laid back community, but that doesn't mean we want to hear laid back set lists from the bands that visit us. Incubus started off strong last Thursday at the Bowl but faded out as the night wore on, ending with some of their calmer songs. To start things off, the five band members sauntered out to the stage, illuminated by spiraling red and white lights that imitated the cover of their latest album, Light Grenades. They warmed the crowd up with "Quicksand," the mellow first track from that album. With the audience properly thawed, the boys flowed seamlessly into the energetic "Kiss to Send Us Off," bringing the house to its feet.
The band was tight, well rehearsed, and sounded fantastic. Lead singer Brandon Boyd's voice was unwavering and the musicians didn't make a single mistake the entire night. In between songs, they wasted no time, usually just giving a quick "thank you." The most anybody said was when Boyd told the audience they looked, sounded, and smelled great. In truth, the band seemed somewhat disinterested in what the audience had to offer. Boyd did little to engage his crowd and there wasn't that much movement or excitement on stage even when songs like "Anna-Molly" and "Megalomaniac" seemed to require it.
I asked a friend who recently saw an Incubus show down south, and he said they had performed exactly the same at that show, except that Boyd said even less to the L.A. audience. The only other difference was that the set list was longer and much more powerful.
After playing 13 songs, Incubus left the stage at only 9:15pm, and of course the audience begged for more with screams of "45-minute encore!" When they finally returned they played an anticlimactic set of three songs, finishing with "Aqueous Transmission" from Morning View. The song was beautiful and created a relaxed vibe as Boyd repeated "I'm floating down a river" to the twang of an oriental string instrument called a Pipa, but as a closer it was weak and came across as a let down.
All things considered, Incubus did exactly what they were there supposed to do. They played a good variety of songs and musically they were flawless. There were definitely some excellent highlights, such as Boyd's meandering around the stage with two handheld spotlights during "Oil & Water" and every ripping guitar solo that Mikey Einziger pumped out. I guess I'm more worked up about the fact that rock bands use the Bowl as an excuse to chill out. Word to the wise: Don't let the fact that you have to finish before 10pm fool you. It just means you need to rock us harder and faster.
Online assignment #6: The polite bashing
Marvelous Mackie Mauled
Drew Mackie and the Macaroons.
At The Walrus Club, Sunday, July 8
Most bands would have canceled their show after a violent incident with a mountain lion, but Drew Mackie and the Macaroons is no ordinary band. Mackie should receive credit for determination, but his performance proved to be not as inspiring. The confusion began right off the bat as Mackie's back up band was not really a band at all, but literally two macaroons set on a stool next to him. Looking strangely like a mummy from the extensive bandages, Mackie opened with a song that he introduced as, "the greatest song ever written, ever!" Much like the rest of Mackie's songs it consisted of a drum machine, a 20-minute-long electric banjo solo and Mackie's signature high-pitched squeal. As the four-hour set progressed and more of the audience left, Mackie became increasingly irritated with remaining crowd members, berating anyone who was talking to loudly or didn't pay close enough attention. In defense of his poor behavior, he had clearly lost a large amount of blood, which still continued to ooze from his ears.
The most embarrassing moment of the night was when Mackie announced he would play a new original song called, "My Heart". Just moments into the song it was obvious that it was actually a pitiful rendition of Celine Dion's "My Heart Will Go On", from the Titanic soundtrack. After the nine-song encore, Mackie stumbled from the stage and passed out just outside of the club. It was an interesting night that will be remembered by everyone who was there, except probably Drew Mackie.
Online assignment #7: "Seeking Writing Fame, Finding Myself"
I learned much more from this competition than I ever expected to. First of all, I learned that I still have a long way to go if I want to be a good writer and also that writing even a satisfactory review isn't as easy as it may seem. Something I didn't expect to learn was that not all country music is bad, and that I actually like some of it. I listen for different things in an album now and think about different aspects of a concert. I have been pushed outside of my comfort zone and found some new music that I really enjoy.
This competition showed me that sometimes there isn't a clear winner. I was very close to being eliminated several times throughout the competition, but I was lucky enough to make it to the end. I know that all of the other competitors had the necessary skills to make it just as far as I did. It really could be any one of them in my position. I am just grateful to have gained this experience and hope that I get to continue growing as a writer so that someday I may be good enough to write in the real world, not in a contest.
To read all of Kevin's samples, click here.