Arts & Entertainment
Gove County String Quartet.
At the Unitarian Society of Santa Barbara, Sunday, July 1.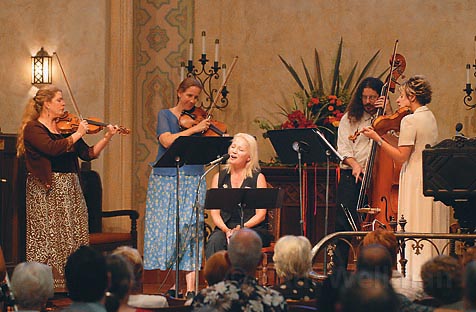 Gove County is a real string quartet, even if the leader, Jim Connolly, plays the bass, and the music is sometimes quite far from the traditional classical repertoire. Sunday's performance included Kirsten Monke on viola, Sally Barr and Laura Hackstein on violins, and Anna Abbey on piano and vocals. The concert celebrated the release of Gove County's latest recording, Jim Connolly and the Gove County String Quartet, on the pfMENTUM label. Connolly has put together a great group and an equally satisfying, eclectic mix of compositions. Somehow, alongside a busy schedule of composing for Lit Moon Theatre, Connolly has found time to invent his own parallel sonic universe, a place where Aaron Copland, John Lennon, and Richard Strauss hang out and play together.
The album's opener, "Even Dust Sparkles on the Moon," catches the lyricism of Copland's Appalachian Spring without swiping its folksiness-a good choice-and then hangs a left into Vienna for a quick waltz. The juxtaposition is beautifully developed, and the individual players soar and circle in wide musical arcs. The second piece, "Pinocchio," originated in the score of a Lit Moon production of that play. Extrapolating from a Lennon/McCartney song, "Across the Universe," Connolly discovers new musical values beyond the known range of the Beatles-no mean feat. This is one of the most magical, moving pieces of music being played anywhere right now, and it should become the official theme of Santa Barbara.
Anna Abbey joined the ensemble for two haunting vocals; the first, "Eyes," is a composition by Ellen Turner of Dudley fame-a songwriter of heartbreaking lyricism. As a player, Connolly waxes passionate when accompanying vocalists; under their influence, his bass speaks. Later, Abbey returned for a version of Charlie Chaplin's "Smile" that was also great-romantic, bittersweet, and completely modern.
Another highlight was "Channel Crossing," a duet for bass and five-string violin that was commissioned by Sally Barr. Barr's violin was made right here in Santa Barbara, and master instrument maker Jim Wimmer was in the audience to hear it played. On a hot first of July, Connolly's music and the group conspired to express the spirit of independence, Santa Barbara style.