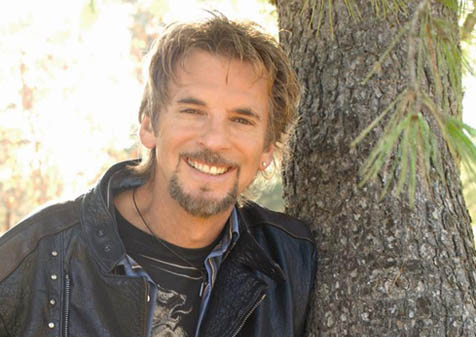 When last we checked in on our longtime neighbor Kenny Loggins, he was about to embark on a tour with his former musical sidekick Jim Messina. "That was two summers ago, and it was great," said Loggins, calling from his Montecito home, where he's currently psyching himself up for a menage un tour. "We kicked ass through that whole summer, 40 performances," he said, noting that the long-awaited nature of the tour added a lot of fringe benefits. "We had a big screen behind us with videos of women dancing, a party atmosphere-it was very exciting with big production values. I'm afraid I'm not going to have the same stuff on this tour. But I've got a new band, so that's nice."
Whatever compelled the duo to first break up apparently didn't resurface during the reunion. Though both live nearby, they have disparate worlds; Messina's a gentleman farmer in Santa Ynez and Loggins is raising children by the sea. But there were some drawbacks to the tour, in Loggins's mind. "I don't want to knock those songs, particularly because they mean so much to so many people. You know, I know there are people saying, 'Man, that's the best shit you ever wrote.' Songs like 'Angry Eyes,' 'Vahevala,' and 'House at Pooh Corner,' but you know I wrote those between the ages of 18 and 23. They're a little immature emotionally. I'd like to think that my best writing came later."
Loggins-for those too young to remember the epoch of soft rock (now unkindly termed yacht rock) duos like Seals & Crofts, America, and Air Supply-was born in Everett, Washington, in 1947, moved to California in the 1960s, played guitar in the Electric Prunes (of "I Had Too Much to Dream Last Night" fame), and landed a job as a songwriter for $100 a week. It being the 1970s by then, Loggins decided to do an album, but was paired by a skittish CBS Records with Jim Messina (a Buffalo Springfield alum) in what was supposed to be a one-shot affair. Instead they connected, touring until 1976, when they parted ways. Loggins then recorded the songs he rightly claims as more mature work, though many-like "I'm Alright" and "Footloose"-emerged from popular films. "I moved to Santa Barbara from East Los Angeles in 1973," he said. "And I've been here ever since."
The tour with Messina opened his eyes somewhat, he said. "I suddenly realized, rehearsing all those songs, that we were an early kind of jam band," he said, indulging an I-love-the-'70s nostalgia for long solos. "And when I went to write the songs on my new album, I was very much affected by that. I sat down and thought to myself, 'What if I was writing music for the two of us?'"
The result is How About Now. Released in late spring, the CD-which he is supporting with a tour that makes a stop at the Santa Maria fairgrounds-is an album of smooth yet vaguely wistful songs; a stark contrast to the more innocent warblings of Sitting In. In fact, Loggins seems a bit spirituality-tinged on songs like "I'll Remember Your Name" and "That's Where I'll Find You." The latter he admits is "just a blatant, full-out spiritual," referring to the musical genre, rather than any religious mode. "I've been running lately. And one day I ran 10 miles along the Erie Canal, and when I stopped I had that song. I sat in my car and wrote it in my notebook." He's planning to find a chorus to accompany him when he plays it live next week. "I'll Remember Your Name" is a eulogy for his father, and his soon-to-be-famous son, Crosby Loggins, sings backup on the CD. He does confess that the song "This Too Will Pass" reflects a late-in-life understanding that only by letting go can we begin to deal with real loss-something in the nature of a mature theme.
But there is a decidedly non-spiritual side to Loggins's new release. Like Paul McCartney's latest-which was made and marketed by Starbucks-Target is underwriting Loggins's Now, a fact he seems to share without a blush. "In a way it seems inevitable-the people who are marketing you are eliminating the middleman," he explained. "What they are saying is that my audience is their audience. So the CD, which sells for only $10, is a loss leader. People are drawn into the store to buy the record and, who knows, maybe they'll buy a refrigerator too. It means a sweeter deal for the artist as well," he said. The album itself has been available only at Target, but somewhere during the tour, said Loggins, the company plans a general release. With this move and the advent of downloadable music, the clear-eyed Loggins response is obvious. "I don't know how record companies are going to survive."
But he is given over to some grief about it. "People now are buying single songs, and so the emphasis is going to be on making each song really work. But I don't know what that means for albums. [I'll] tell you one thing; there's no room for a Pink Floyd in this market. There's not likely to be another band like that. [There will] probably never be another Sgt. Pepper's Lonely Hearts Club Band, either."
Loggins likes touring once he's gotten out on the road. "But I'm not crazy about it before I go. The worst part is that I have a 9-year-old and a 14-year-old at home, and summer is the best time to play with them. But it's also the best time to tour." He promises a show, though, with selections from the new CD as well as big hits like "Danny's Song" and "This Is It," promised straight from the artist's mouth.
After that, who knows? Loggins seems to be using his considerable energy to get the tour rolling. "But when I think, 'What's next?' I think 'I don't know.'" He laughed. "But then I think, 'I better start making something happen soon.'"
4•1•1
Kenny Loggins plays the Santa Barbara County Fair at the Santa Maria Fairgrounds (937 S. Thornburg St., Santa Maria) on Thursday, July 12. The concert is free with the purchase of gate admission to the fair. Visit kennyloggins.com.