Outdoors
Zaca Fire Continues its March East
A 6,000-acre Burn Yesterday May Relieve Pressure on Wildland Residents; Dick Smith Wilderness next?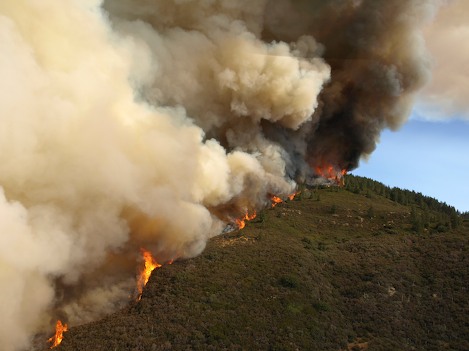 Early this morning as I headed over to the fire camp at Live Oak I could see isolated pockets of fire on the front face of Little Pine Mountain, remnants of the massive 6,000 acre burn that raced up the back side of the mountain and over portions of the Buckhorn Road.
Though the flames may promise danger for local residents of the Paradise Road area, almost all of whom have evacuated, the speed with which the flames moved east up the drainage immediately north of Little Pine may actually prove a blessing: little brush remains on the backside to fuel additional runs down towards the Santa Ynez River.
The flames, in excess of 200 feet at times, formed a huge plume that ate everything in its path. Within two hours the fire was threatening to cross Buckhorn Road, which it did in several places later in the day.
Today, weather forecasters predict winds shifting and this should not only help ensure the Paradise area remains safe but most likely will provide Santa Barbara some relief from yesterday's ash fallout. However, if the winds turn to a more northeasterly direction, additional pressure will be placed on hotshots in the Mission Pine Basin area.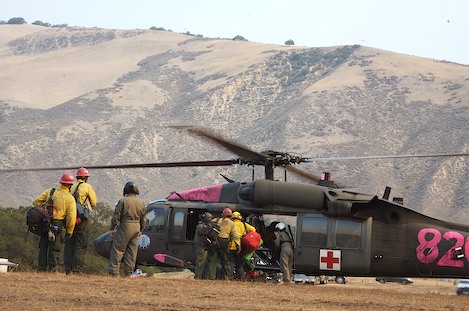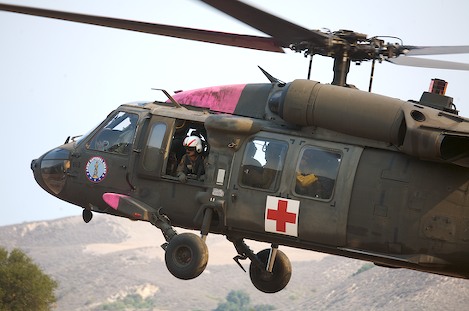 This morning the Sonora, Sierra, Little Tujunga, Los Padres hotshots and others – more than 200 strong – headed for the Basin with chain saws and hand tools in an attempt to flank the fire before it heads down into the Sisquoc drainage. That may be difficult to do considering the wind shift and fire conditions.
There are still several thousand acres of chaparral in an area know as the "Grapevine" that haven't burned and the topography of the drainages there will take the fire straight up to the ridge just east of Mission Pine Basin.
Though worries may ease for wildland residents in a day or so, new issues are emerging. For weeks fire fighters have speculated that it would be difficult to hold Buckhorn Road if the fire were to reach it. Yesterday's major breakout appears to have confirmed their fears – just north of Little Pine Mountain the fire crossed over and began burning down into Buckhorn Canyon along a half mile stretch.
Should the fire continue to spread into the canyon, this will represent a major new chapter in this story. Today's operational objectives no longer focus on holding the fire west of the Buckhorn, but on keeping it south of the Don Victor Valley area (in the Dick Smith Wilderness), and west of the Ventura County Line. The box just got a whole lot bigger.