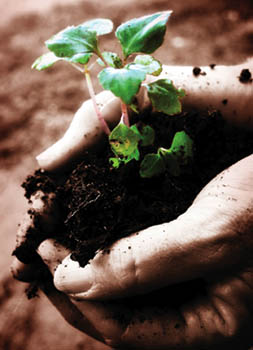 Some of us have more time than money; some of us just believe that our community will only be as good as its members. Whatever your situation, if you'd like to pitch in to have a greener, friendlier place to live, there are lots of ways to lend a helping hand. The skills you've learned in your garden and the joy you derive from working on your own projects can be put to use for the community at large. Volunteers make nonprofit organizations rich with their labor of love. Almost any nonprofit you can think of welcomes volunteers to help them fulfill their mission and realize their day-to-day goals. If you like to work outdoors or with plants, there are plenty of organizations that can use your expertise and elbow grease.
At the Santa Barbara Zoo, there are opportunities to engage with the animals, but there are also ways to help with the maintenance of the lovely landscape. Grounds beautification volunteers help with weeding and raking, and assist the grounds staff in caring for a wide assortment of plants and trees. They keep the Zoo looking good all year 'round and work flexible hours and schedules. Apply online at santabarbarazoo.org/volunteer.asp.
If you enjoy the wonderful trails that crisscross our front country, you may have an idea of what it takes to keep them free of brush and firm of footing. The chaparral keeps growing and winter rains create washouts every year, and there is a coalition of groups that band together to volunteer their time to repair and clear trails for all to use. The Los Padres Forest Association (LPFA) is one of the organizers of these groups. They do monthly assessments, recruit willing partners, and organize work parties to assist local and federal government agencies that no longer have enough funds allocated to get the job done. One of their main partners is the Santa Barbara Mountain Bike Trail Volunteers (SBMTV), many of whom are avid bikers ready to step up and take responsibility for keeping the trails in top shape and educating users on safe biking and hiking protocols. The next work party is scheduled for the morning of Saturday, August 25 and will work on the Romero Canyon Trail. For more information, go to the LFPA Web site at lpforest.org/volunteer_center/sb_front_country_trails. To join the SBMTV, check out their Web site at sbmtv.org. They also have a list serve to distribute information and discuss trail issues. Send a blank email to sbmtv-subscribe@topica.com to join.
Other trail and habitat restoration services also need your help. The Land Trust for Santa Barbara County has regularly scheduled volunteer days at the Arroyo Hondo Preserve to remove invasive species and maintain trails. They also recruit volunteer docents to lead informative tours of the preserve. Contact Jane Murray at 684-4405 or volunteer@sblandtrust.org. The Audubon Society has long been known for its educational outreach programs. If you'd like to join them to preserve habitat for our feathered (and other) friends, check out their Web site at rain.org/~audubon/sbasvolunteeropps.html. Carpinteria Salt Marsh is one of the last vestiges of an important type of ecological interface between sea and shore. Volunteers are needed to keep it healthy and understand this unique native habitat. Contact Andrea Adams-Morden at 684-8077 if you'd like to join in the effort.
Both the Santa Barbara County and City parks departments welcome volunteers to help maintain our beautiful parks. The County Park Department oversees a number
of open spaces and ecological preserves in addition to the well-loved parks. Re-vegetation and protection projects often recruit community help to enhance these natural areas. Look at sbparks.com for info. The Santa Barbara City Parks Department has instituted an adopt-a-park program for Alice Keck Park Memorial Gardens, the Rose Garden, Franceschi Park, and other neighborhood parks, so you can help out at your favorite hangout. Spend some time keeping them at their best, and you will enjoy your picnic even more.
Goleta gets greener every year through the efforts of Goleta Valley Beautiful. Their goal is to plant hundreds of trees every year and to take care of them once they are planted. Their troops turn out for monthly planting parties; some sign up as Water Kings and Queens who adopt a tree or two in their neighborhoods and make sure they are irrigated and cared for, while others pick up litter and remove graffiti. To join them, look for information at goletavalleybeautiful.org.
The University of California Extension Service has long been supportive of a variety of community projects. They oversee the 4-H program that has shepherded generations of youth through their adolescent years. If you have a particular skill or talent, consider sharing it with these kids as an instructor or just helping with a particular project. Call the 4-H office in Santa Barbara at 692-1730, or in Santa Maria at 934-6240. UC Extension also coordinates the Master Gardener Program; in Santa Barbara, they teach classes through the Santa Barbara Botanic Garden that form a cadre of trained garden advisers. These dedicated volunteers staff the information hotline to help callers with information on plant, pest, and problem identification; compost production; and cultural practices for growing vegetables, fruits, and ornamental plants. You will find information and an application online at cesantabarbara.ucdavis.edu.
If none of these particular programs appeals to you, there are plenty more to choose from. A great online resource is Volunteer Match, which serves as a clearinghouse for nonprofits seeking volunteers and citizens looking for a place to help out. Visit volunteermatch.orgfor a complete listing.
A few hours of your time may mean all the difference to the youth of Santa Barbara and the natural world we all enjoy here.