Travel
Final Report from Bahrain
Brent Elder Delivers His Last Update from the Middle East
Disabled Bahraini Athletes
I was thrilled to learn that members of the Bahrain Disabled Sports Federation (BDSF) are working on including people of all abilities in Bahrain. The Federation is not only concerned with sports, but with securing access to stores, buses, restaurants, and the like for people with disabilities.
The head of BDSF, Essam Kamal, and his administrator, Wasna'a Al-Aradi, shared their vision of an accessible and inclusive Bahrain. Although laws promoting inclusion in Bahrain are in place, they expressed frustration that there is a lack of enforcement. As a result, people with special needs are not accessing the community as much as they could be. Perhaps future collaboration with myself, the Royal University for Women, the U.S. Embassy, and other families we have connected with this summer will be the next giant step for inclusive practices in Bahrain.
Upon arriving at the BDSF, I was introduced to Ayman (pictured above), who has cerebral palsy. Due to his disability, Ayman did not attend school for 16 years and did not have a job-he simply sat at home. Ayman's life took an amazing turn after he became involved with the BDSF. For the first time, Ayman was able to advocate for himself. He gained employment, became a champion at club sports, and now has a wife and family of three! Aside from the accomplishments in his personal life, Ayman competed in the Paralympic Games in Athens in 2004 and won gold medals in the Gulf Cooperative Countries Championships and Asian World Games in 2006. One can only imagine where Ayman would be if he was not afforded the opportunity to explore his interests.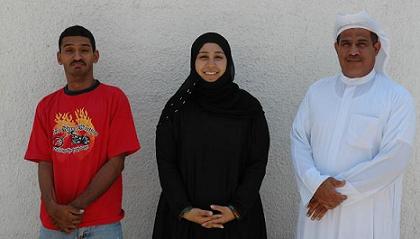 The BDSF was recently in Eugene, Oregon, where people with and without disabilities from Bahrain and Eugene attended workshops on disability policy and legislation, cooperated in teambuilding activities, played inclusive sports, volunteered in the community, and participated in leadership discussions for people with and without disabilities. This cultural exchange program was the result of two years of collaboration with the U.S. Embassy in Bahrain and the BDSF. In March of 2008, the BDSF will host the exchange and invite their Oregonian friends to the Middle East. I hope to attend the conference during my spring break from Kellogg School.
Ella Starts her Jobs
On Ella's first day, the staff at the British Council gave her a tour and an introduction to her job responsibilities at the library. During her orientation, Ella's brother and I assessed how to specifically teach the necessary skills (e.g., putting books away, organizing DVDs, cleaning up, etc) so all people working with Ella would instruct her in a similar fashion. Due to a scheduling conflict and the approaching Ramadan, the British Council had to cut Ella's hours. We needed a backup plan to fill Ella's day.
My Gym was one of Ella's top choices for employment. My Gym was founded in Los Angeles and is a gym for children that focuses on developing social skills, fine/gross motor development, and self-esteem. I provided a brief in-service to all staff on inclusion in the workplace and Ella started the following day. Ella will be volunteering two days a week with the strong possibility of more hours.
The staff welcomed Ella with open arms and gave her a t-shirt so she would look like the other staff, not just a volunteer. Naturally, the staff was fantastic at including Ella in all routines throughout their shift.
After Ella's first day, we conducted a short staff meeting in which Ella led the discussion about what she perceived as her accomplishments for the day. She indicated that she had fun with the kids and wants to work there full-time. The staff mentioned she worked well with the children and interacted nicely with parents. I was impressed with how supportive and inclusive the staff was on Ella's first day.
Before we left for the day, a staff member mentioned that after work, they often go out to lunch and suggested that Ella join them the following Sunday. Ella was delighted by the invitation, and subsequently proposed the staff members come to her house for lunch one day in the near future. Mission accomplished:for now.
Reflection on Bahrain
With a lot of teamwork, we were able to accomplish more than I ever imagined. Prior to my departure, some colleagues and mentors advised me not to expect too much change in such a short time. As a result, I aimed to keep my expectations realistic and viewed the massive need for change in Bahrain as a huge opportunity for growth, rather than an overwhelming enterprise. As a result of this "do what we can with what we have" approach, I am quite pleased with the progress made while I was in Bahrain.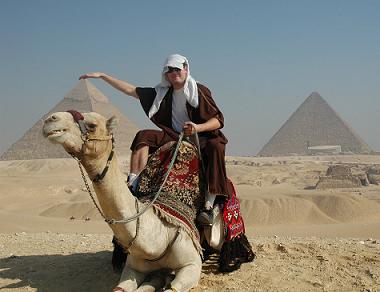 If my grant receives funding for next summer, Helen LaFave from the U.S. Embassy indicated that she would sponsor my flight to Bahrain during spring break from Goleta Union School District. During that time, I would be able to help support the ability exchange between the U.S. and Bahraini youth. I would jump at the opportunity to return to Bahrain to further our efforts.
And before I sign off, I would like to thank Katie Baggins-Dwyer, Rodney Gould, and Vanessa Vance for editing my messy blogs and making them readable for everyone!
For the rest of Brent Elder's stories about his work in Bahrain, see independent.com/bahrain.