Visual Arts
CAF Celebrates Tri-County Artists with True Metier
Art Calling
When Miki Garcia and Frederick Janka, cocurators of the Santa Barbara Contemporary Art Forum's 2006-'07 Call for Entries exhibition, gathered to create its curatorial framework, they hoped to find a form flexible enough to encompass the eclectic yield of this year's four winners: Bob Mask, Ethan Turpin, Christine Gray, and Team Hyperbole. As they took stock of the jurors' selections, culled from more than 1,000 images, certain strains emerged. For one thing, there was a strange energy behind Mask's whimsical paintings, Turpin's stereoscopic-photograph collages, Team Hyperbole's digitally monitored cardboard city, and Gray's color-saturated still lifes: the presence of an almost obsessive compulsion to create. This year's show, Garcia and Janka decided, was about a group of people who had clearly found their "true calling." Hence the choice of title, True Metier, and the marketing campaign's emblem, the finger-led planchette used to summons spirits, commonly known as the Ouija Board.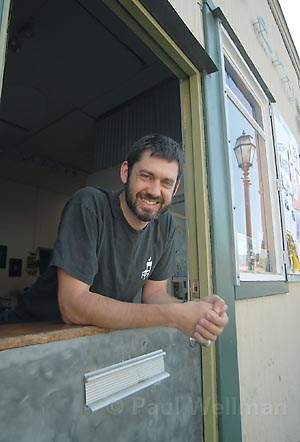 The psychic theme worked on a concrete level as well. Each of the featured artists, though in delightfully disparate modes and outcomes, explores the terrain of tension between history and what lies ahead, peering into the crystal ball of the refracted past in order to project outward their singular visions. Perhaps the clearest examples of this phenomenon are in the work of Wisconsin-born Mask, who pours through family photographs and oral histories searching for meaning, which he paints into new life, imbued with his own interpretations. After getting laid off at Circuit City in Oxnard a few years ago, Mask began taking art classes with Rafeo Pare at Santa Barbara City College. Now he paints at least 40 hours a week and works on the side as a part-time freelance computer consultant, fixing virus-infected PCs and scrambled cell phones, like a "gunslinger in an old Western-a hired hand who comes in and does whatever the town needs," he explained. "Maybe that's why so many Sheriff's badges keep popping up in my paintings." His favorite piece included in the show, "Norm's TV Repair," reflects Mask's consideration of his own role in society and its legacy: When the A&W Root Beer stand his family ran closed down in the winter, his father, Norman Mask, went out into the world as a TV repairman, with a gray toolbox nearly identical to the one his son now carries.
Similarly chameleon-esque, job-wise, Santa Barbara native Turpin funds his calling by working as a video producer/freelance filmmaker/art teacher and living at Perch, the Ortega Street gallery he runs with fellow artist Bill McVicar. For Turpin, his chosen medium of collage embodies the modern-day dilemma of having to "piece together several bits into one functioning whole": a quandary that, when solved, can be as liberating as it is demanding. For his Stereoscopic series, Turpin digitally manipulated Victorian-era photo-cards of exotic vistas. Both the images and texts that appear in his work are composites of the originals. Meant to be viewed through stereoscopic lenses-the 19th-century version of 3d glasses-the cards serve as a means of armchair travel. According to the artist, they are also imagistic "comments on globalization as seen from the American empire." Citing Santa Barbara artist/photographer Bob DeBris, Culver City's esoterically inclined Museum of Jurassic Technology, and Dario Robleto's relics-of-war sculptures as influences, Turpin maintains it is his Dunn Middle School science teacher, Marc Kummel, who had the most profound impact on his winning works-the stereo-view glasses as well as the collection of photo-cards first used by Turpin once belonged to Kummel's grandmother.
As Gray scanned Santa Barbara craft stores Art From Scrap and Craft Essentials, searching for materials for her 3d landscapes, the then-graduate student in the visual art MA program at UCSB ruminated about the concept of "delicacies you have to hunt for," thinking of the truffle-hunting foodie obsession of one of her teachers: woodshop instructor Mike Schmidt. Like Turpin, Gray was also concerned with the omnipresence of tourism in Santa Barbara's "synthetic, Hollywood-esque, color-saturated natural environment and its staged-looking landscapes," memories of which she carries with her as she begins her new position as a teacher at University of Virginia in Richmond, Virginia, this fall.
Meanwhile, Steven Soria and Kiel Johnson, the two-man collaborative behind Team Hyperbole, decided to cut the cost of maintaining a Santa Barbara studio by renting a 2,000-square-foot warehouse at the bottom of the Port of Los Angeles in San Pedro. But the move was not purely financial. The Team Hyperbole collaborators draw energy from their seaside factory-strip surroundings and their neighbors-"the iron guy, the fiberglass guy, the powder-cutting guy; they're artists in their own right"-and find a powerful kind of beauty in the "organized chaos of the trains, trucks, boats, shipping containers, gasoline refineries, buckles, rivets, straps, pulleys, and the hardware that pulls it all together." That splendor is ever-present in their flimsy-edged cardboard cityscape, both skeletal and wired with media brains, originally based on Soria's nostalgic fixation with an air-traffic control tower in his Kansas hometown.
The artistic tradition, points out photographer, curator, and former director of New York MoMA's Department of Photography, John Szarkowski, is often mistakenly thought of as existing inside a "fortress within which eternal verity is protected from the present," when in fact "it exists in the minds of artists and consists of their collective memory of what has been accomplished so far." True Metier, CAF's celebration of artists working in this peculiar space in the world-a Southern California landscape as demanding financially as it is stunning naturally-pays tribute not only to Mask, Turpin, Gray, and Team Hyperbole, but also to the collective artistic memory of the tri-counties. The inspiration behind the vigorously selected and curated True Metier exhibition is the determination and the passion of all artists who are compelled to create, willing to make sacrifices in order to do so, and determined above all to let their calling guide their lives, yielding surprising-and sometimes even prophetic-results.
4•1•1
True Metier is on display at CAF now through November 4. CAF's '07-'08 Call for Entries is now accepting submissions from artists living and working in the tri-county area. For more information, call 966-5373 or visit sbcaf.org.