Film & TV
Across the Universe
Evan Rachel Wood, Jim Sturgess, and Joe Andersen star in a film written by Dick Clement and Ian La Frenais and directed by Julie Taymor.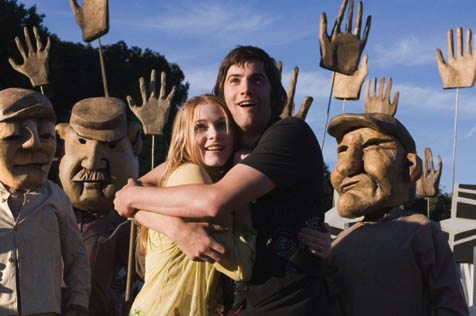 It's hard to believe that the mind that framed the viscerally disturbing Titus (1999) and the sexually luminous Frida (2002) could fluff out into this embarrassing claptrap. Julie Taymor's film combines all the worst aspects of a debased concept: the corporate simulation of the countercultural epic. This is a genre that has included such loathsome camp extravaganzas as Hair, Tommy, Sgt. Pepper's Lonely Hearts Club Band, and Rent. It's not enough to dismiss Across the Universe for its many shockingly horrible performances-Bono as Dr. Robert or Eddie Izzard's pathetically self-conscious psychedelic ringleader. What's worse by far is the stubborn theme park version of history that's involved. All the superficially important 1960s movement events are here. None of them ring true.
The lives of four characters are introduced through various Beatles songs ranging from "All My Loving" to an interesting, sexually alternative reading of "I Want to Hold Your Hand." As each of these characters come together-not over me-in New York, the story quickly becomes a pantomime of the times (though a sequence starring Joe Cocker actually rocks), which hits its nadir when Bono-the stand-in for Ken Kesey-comes to town to unleash the cutest LSD trip since Roger Corman's heyday. Acid makes everybody groovy. Furthermore, the film posits the idea that artists couldn't be revolutionaries in the 1960s, which is not only stupid, but contrary to what actually happened-especially in New York
What's really missing, though, are the Beatles. Since this alternative universe has the songs coming out of everybody's mouth, it dilutes the pure joy and grace it was to sit home and hear a new Moptop ditty for the very first time.
Don't get me wrong, I love revisionism and musicals, but this film has nothing to say. It's embarrassing, it exploits the past for fake thrills, and it's the wrong way to get back where we once belonged.