Living
Capps Visits IV Neighborhood Clinic
Real-World Impacts of Children's Health Insurance Bill Felt in Local Communities
The Isla Vista Neighborhood Clinic is a place that thousands of low-income residents of the area depend upon for medical care-about 70 percent of those patients are reported to be below the Federal Poverty Line. This Friday, the clinic was also the site of a visit by Congresswoman Lois Capps, who met with members of the healthcare community to discuss the importance of the State Children's Health Insurance Program (SCHIP).
Fresh off of a flight from Washington, DC, Capps said that despite a lot of debate over the expansion of SCHIP, Congress ultimately voted to approve legislation to that effect. With bipartisan support in both houses of Congress, the bill passed this week with a 67-29 vote in the Senate.
Despite the support of many Republican legislators, including Orin Hatch (R-Utah), President Bush has sworn to veto the bill when it arrives at his desk, saying that it could pave the way for one-size-fits-all government-run healthcare. Capps and other supporters of the bill say that it is essential for providing continued coverage for millions of children across the nation who are currently uninsured.
"When you see a program that works, you want to continue it," said Capps. "We could add another four million eligible children." Currently, there are approximately nine million uninsured children in the US. SCHIP advocates want to expand the coverage provided by the current programs to include more families who fall between the low income mark and middle class-people who are considered working poor.
To raise money to pay for the program, the bill's authors proposed an increase in cigarette taxes. Currently, SCHIP costs about five million dollars per year, but the proposed expansion would raise the amount spent to about 12 million over the next five years.
Capps went into the details of successful state-run health programs, such as Healthy Families in California-one of the state-level partner programs of SCHIP. "Healthy Families worked because it had outreach," she said. "WIC and school lunch programs can be used to reach out to families who already utilize those services." This is especially poignant at the neighborhood clinics, where preventative medical education campaigns are a major part of their operation.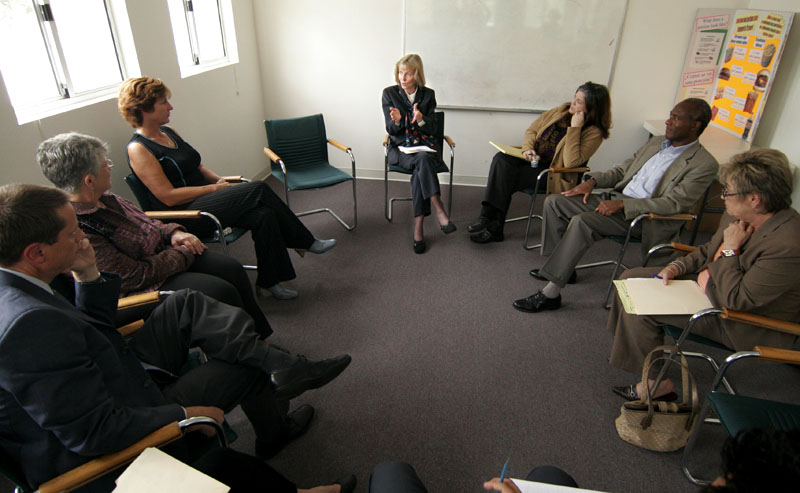 Capps said that although the potential of presidential veto leaves a question mark hanging ominously above the heads of many families, she wants to consider healthcare as an issue of prevention rather than reaction. She reasoned that outreach is a crucial part of prevention, and that insuring people and keeping them healthy would have a greater benefit in the long run. "It seems like a no-brainer to me, but there was a lot of talk about it [in Congress]," she said.
Capps continued that many governors, including Arnold Scwarzenegger, support expansion of SCHIP, because the states are ultimately where the impacts of health problems are felt. With about a week left before the final word comes down on whether or not the president will veto the bill, Capps encouraged people to write editorials and contact political leaders to let them know how they felt about the issue. Members of the healthcare community in attendance agreed that federal and state programs are crucially intertwined, and that this will be a major factor in determining the success of future programs.
Capps denounced those in opposition to SCHIP expansion saying that their claims that it is big spending and big government are unfounded. "One hundred percent coverage is still the goal," she said, ":one step at a time."