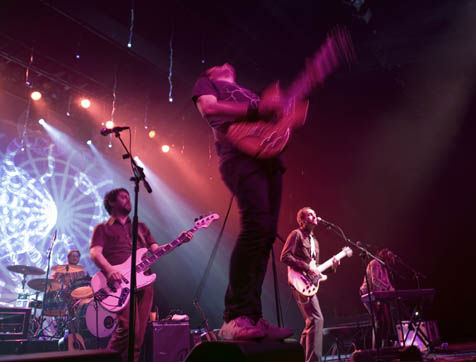 It's been two hit albums and countless tour stops since the songs that graced the scenes of a little flick called Garden State were first recorded, and The Shins' frontman, James Mercer, seems happy to put the film's success behind him. As with many young up-and-coming talents, The Shins were approached in 2004 to be the musical accompaniment to Zach Braff's breakout-and semi-autobiographical-big screen indie hit. And like many bands just trying to pay the bills, they signed on.
The tracks that graced Braff's love story came from 2001's Oh, Inverted World and made a bigger commercial splash than anyone could have expected and simultaneously overshadowed the band's 2003 collection of near pop perfection, Chutes Too Narrow. In retrospect, one has to wonder if the band has any regrets. Speaking recently with Mercer from his home in Washington State, the singer, songwriter, and mastermind behind The Shins was comfortable and candid in discussion, touching on topics ranging from his recent touring stint to his thoughts on the path his band has taken. "I wouldn't say I have regrets," he confided. "I mean, looking back, if I knew then what I know now, would I do it differently? Maybe. But I don't think I made a mistake."
"We had a much more logical progression overseas, in France and in Japan. Over there, the first album did okay, and [Chutes Too Narrow] did a little better, and now [Wincing the Night Away] has done really well. The movie wasn't that big of a deal in France, and in Japan no one even knew what the hell Garden State was, so it's nice to know that even without that we would have done okay," Mercer mused.
But saying The Shins have done "okay" is more than slightly understating the band's success. When Mercer and crew released their third studio album, Wincing the Night Away, in January of this year, the recording sold more than 100,000 copies during its first week, meeting critical praise from nearly every publication that reviewed it. Consequently, Wincing brought The Shins' Sub Pop record label its biggest hit since its 1979 fanzine and mixed-tape inception. Since then, the band has been touring religiously, hitting the festival circuit and playing history-making shows like last summer's one-night-only double bill with Belle & Sebastian at the Hollywood Bowl. "That was a great show. I'm not quite sure why it got so much coverage, though. Just because it's the Hollywood Bowl, I guess," Mercer wondered. I posit that perhaps it's the celebrity draw the venue has that makes shows there so newsworthy. "I guess, yeah. When we were watching Belle & Sebastian, Courtney Love was right behind us : on her BlackBerry the whole time," he laughed.
But celebrity doesn't seem to faze Mercer all that much. He comes across as a consummate musician first and foremost, but one who's completely realistic and refreshingly level-headed when it comes to the industry and the roads he's taken. "I mean, in ways it's kinda like you're fucked if you do, and you're fucked if you don't when it comes to [selling your music]," he offered. "If you aren't willing, chances are they'll figure out how to take it, change it, and really ruin your song. : And you can't really do anything unless you've got the money to get the lawyer who can sue the big businesses," Mercer laughed.
And his sentiment seems equally understanding when it comes to the media. Following the release of Wincing the Night Away were a host of articles and interviews that probed-sometimes rather awkwardly-into the singer's alleged insomnia-fueled songwriting style. "Was it weird? Yeah, I guess a little bit," he offered. "People probably latched onto that because it's a story, and it's interesting, and it's an angle, but : I mean, I like to work at night, and sometimes I will stay up all night writing, but I don't think I have a problem or am sick :" he explained.
As for the album itself, Wincing was written and recorded almost entirely in Mercer's house and producer Phil Ek's Seattle home. The sound is tighter, more instrumentally rich, and, for Mercer, much rawer and more emotional than past works. And while he attributes the upped production values to Ek ("He got me new stuff; new, really nice mikes that added a lot to what I was doing before"), the lyrical aspect he finds a bit harder to pin down.
Whether it's the ramblings of a crazed sleepless man or the ruminations of one of the more deserving musical stars of our time, Wincing the Night Away is undeniably one of the year's best albums, and hands-down a crowning achievement for The Shins, and for Sub Pop (with whom they are no longer contractually obligated to record). Will the band jump ship and go the way of former label mates Death Cab for Cutie? Who knows? For now, they're hitting the road with fellow Portland-dwellers The Shaky Hands-a band Mercer said "you should definitely check out"-and embarking on an international tour, which includes a performance at the Santa Barbara Bowl, as well as a few stops in Japan, that will stretch through late November.
4•1•1
The Shins will play alongside The Shaky Hands at the Santa Barbara Bowl on Saturday, October 6, at 7 p.m. Tickets are $27.50-$43.50. Call 962-7411 or visit sbbowl.com for details.