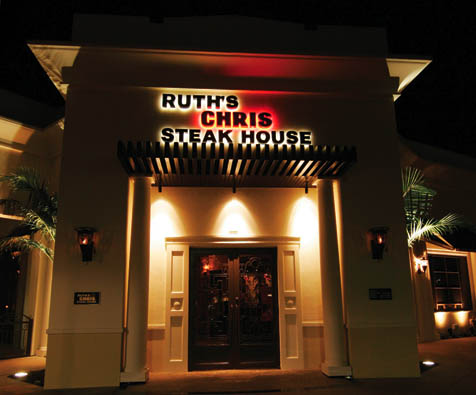 So what's up at the new Ruth's Chris Steakhouse (2815 State St., 563-5674), beyond Carpenters Local 150 picketing them for hiring a construction company that doesn't pay prevailing wage? Why does it have a name sure to leave lispers at a loss? Here are some facts about the restaurant proud to answer "where's the beef?"
So what's with the name?
Ruth Fertel bought Chris Steak House in 1965. Eventually she decided to spread out from her New Orleans base and put her name before Chris's. Today, there are 114 locations serving her signature steak and it's said that while only 2 percent of beef is graded USDA prime, Ruth's Chris sells half of that.
Does a steakhouse have a rhetoric?
It sure does, if it's Ruth's Chris. Their beef does not have "fat," it has "marbling." (Indeed, that does add the flavor-ask any fan of kobe-so one might as well get artistic and not caloric with one's word choice.) Their steaks are cooked in an oven at "one thousand eight hundred degrees," not at "eighteen hundred degrees." The former sounds larger. Their gumbo is Louisiana Gumbo, I'm not sure why. It is mighty spicy-tasty, no matter its name.
Is Ruth still with us?
Ruth Fertel passed in 2002, but her spirit, and numerous paintings and photos of her, live on at each branch. If you visit, you'll hear a lot about Miss Ruth, as it makes a place that could seem corporate much more personal. It doesn't hurt that everyone at the La Cumbre Plaza location seems nicer than possible.
If I were to work there, would someone give me a SMAC?
Maybe, just maybe. They interviewed 500 people to hire a staff of 65 that should grow to 75, and all of those workers will be studying the Self Managed Action Cards, a stack of 3Ê°5Ê° sheets on a ring explaining the menu's contents, all the tricks of the trade including French service for split plates, and rules and regs. NFL quarterbacks have it easier.
Can I get burned at Ruth's Chris?
Easily-if you touch your plate, which comes to the table at 500 degrees, guaranteeing the steak arrives sizzling. (Sizzling is a key Miss Ruth word.) It's dramatic and fun, melts that one tablespoon of butter onto your beef, and proves your steak hasn't gotten a tan under a heat lamp.