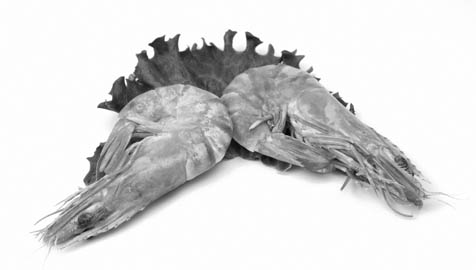 It's hard to beat the ridgeback shrimp we can buy in Santa Barbara-they could be called poor-man's lobster if monkfish didn't beat them to that sobriquet. But unlike monkfish, they don't stink up your house when they cook. Plus, they cost about $5 a pound, the shrimpiest price you'll ever pay for shrimp. This recipe is particularly good as it meets many of the key criteria for a terrific meal: it's fast, easy, scrumptious, and it gives you an excuse to sop up yummy sauce with French bread. Also, it involves fire. Be sure to serve with extra napkins and a bowl to hold the shrimp shells.
2 lbs. ridgeback shrimp, rinsed and drained (but cooked whole)
6 Tbs. unsalted butter
2 tsp. green peppercorns (whole-don't panic, they're mild)
4 Tbs. Pernod (or other faux absinthe)
4 Tbs. fresh chives, minced
Scant – c. heavy cream
In a large skillet, melt the butter over medium heat. Add peppercorns and saute for a minute or so until the pepper is fragrant. Add the shrimp and cook until shrimp is pink on both sides. Ridgebacks tend to curl up, too, as a sign of their doneness. Do not overcook, as mushy shrimp are a culinary sin. (It shouldn't take longer than a few minutes a side depending upon your stove's BTUs and the crowding in your pan.)
Add Pernod. Light the Pernod on fire. Move back quickly and enjoy the show. If flames persist for more than a minute, blow them out. Add cream and chives, stir, and heat through. The flavors get incorporated very quickly.
Serve four people unafraid to eat with their hands by splitting up shrimp and sauce into bowls. Crusty bread and salad would be nice, too.