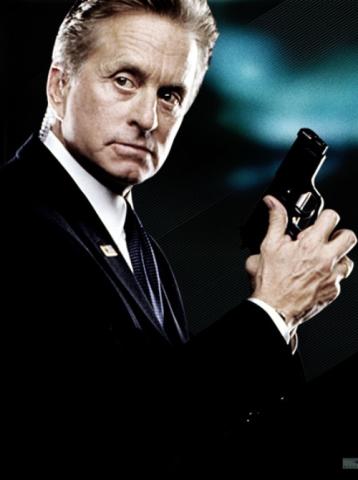 Those of us who live in Santa Barbara generally like to ignore the presence of UCSB altogether. It's full of students, right next to Isla Vista which is likewise full of students and inconveniently located in Goleta, which many Santa Barbarans have been ignoring since it became its own city, sort of like a big brother feeling resentful when his younger sibling goes off to college on her own.
However, Santa Barbarans do watch movies, read books, see TV anchors reporting on the news, and pay at least some limited attention to non-local politics. If you've done any of those things recently, then you may have seen a UCSB graduate.
It might be the proximity to Los Angeles, or just the statistical odds, but there are some very famous Santa Barbara alumni in show business. Perhaps the best known is Michael Douglas, who graduated UCSB in 1968. Since that moment, which UCSB would no doubt like to believe was one of the most memorable of his life, he has gone on to star in such films as Basic Instinct, Fatal Attraction, and The American President. Disappointing as it may be to those obsessive alumni-watchers out at the university, it's possible that being seduced by Sharon Stone at the height of her attractiveness might have been just a little more fun than walking across the UCSB stage. I could be wrong, of course.
Another famous alum is Benjamin Bratt, who starred for years on Law & Order and in the recent release Love in the Time of Cholera. It's a step up for him – he's also appeared in such films as Demolition Man and ShadowHunter. According to one IMDb user, ShadowHunter is "very underrated." No doubt. A made for TV movie about "a big city cop who journeys deep into the heart of Navajo darkness" has to be good.
Aside from these high profile show-biz alumni, there are also quite a few UCSB graduates who've accomplished big things in the world of science. Perhaps the most interesting example is Robert Ballard, who got his degree in 1965 and went on to discover the wreckage of the Titanic twenty years later. After being obsessed with the desire to find the ship for twelve years, he finally succeeded in locating it on September 1, 1985.
And then, combining the fields of science and art, we come to graduates who have written about science. Although his contributions to those two fields may not be as well known as those of other alumni, Sneed B. Collard III, who got his Master of Science degree in 1986 and is the author of over forty books on wildlife and the natural world, wins a mention simply for his name, if nothing else. It must be noted, in all fairness, that his books are wonderful, ranging in topic from coral to butterflies and from forest fires to marsupials, his body of knowledge is more than a little impressive.
If Sneed B. Collard III wins the Weird SB literary alumni prize, his runner up is Michael Petracca, who earned his Master of Arts diploma in 1972. Petracca's name is normal enough; however, he lifted himself out of mediocrity, as far as this informal competition is concerned, by titling his two books Dr. Syntax and Captain Zzyzx. Petracca is the Associate Director of the Writing Program at UCSB. He at least has stuck around the old alma mater.
So keep in mind that sending your kids to UCSB, despite the proximity of Isla Vista and all that implies, may not be the worst idea in the world. They may never achieve anything of note, but they have at least the possibility of becoming the next Sneed B. Collard III.