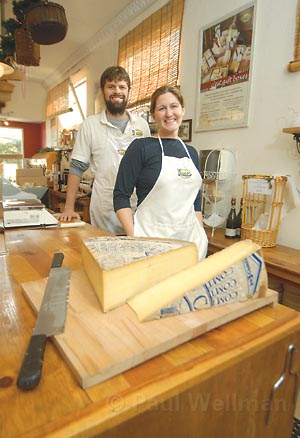 I love the smell of popcorn in the morning. Unfortunately, though, after a long day of film-going, my restless appetites require other sustenance as well. This list, then, after years of attending odd-hour films-including those SBIFF marathons-will help the relative movie-foodie neophytes nosh in between immersions in the popcorn-scented joys of fest.
Cheap
• Hamburger Habit (628 State St.): Lines might appear long, but the service is r¡pido and a burger, fries, and soda start just above $5.
•Chipotle (723 State St.): Maybe it's a chain, but it offers fast, build-your-own burrito cuisine at very reasonable didge.
•Lettuce B. Frank (413 State St.): It's not exactly fast, nor is it as cheap as it ought to be, but this reconfiguration of Milpas Street's old DogHouse offers stuff you have a hard time finding anywhere on this coast, from sliders to Italian sausage sandwiches.
Medium
•Buffets: This is the perfect answer for those who want to eat something decent while controlling the amount of time it takes to sit, ingest, and pay. The best of State Street's all-you-can-eat fare are its three Indian joints, which are roughly equal in flavor to price ratio. Spice Avenue (1027 State St.) is closest to the Arlington Theatre, Taj Cafe* (905 State St.) is nearest to the Lobero Theatre, and right near the Metro 4 stands the newest: All-India Cafe /(431 State St.).
High-ish
•Savoy Cafe & Deli* (24 W. Figueroa St.): This is also a buffet, but closer to a gourmet end of the experience. One hot entree and two salads for about $12 isn't exactly gonna kill you, but once you're in there, you'll probably be tempted further.
•C'est Cheese* (825 Santa Barbara St.): Buy a hunk of something. Sneak it into the theater. Limburger's not a good idea, but Stilton and Gorgonzola go great with nachos and a Diet Coke. Enjoy as many movies as your life allows.