Living
49th Winter Antique Gun Show
Heavy Metal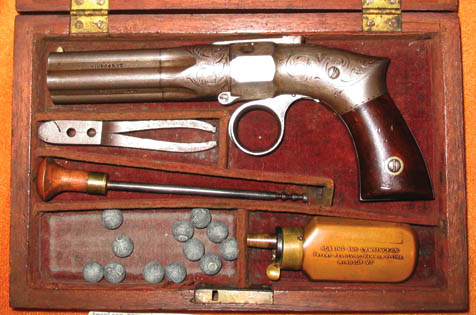 It's widely agreed that what sets humans apart from most other species is our use of tools. And there is perhaps no tool more responsible for the way our world is today than the gun. Since the gun was invented hundreds of years ago, it's been responsible for killing millions of people and saving the lives of countless more, for creating chaos and keeping the peace, and for carving out and maintaining the modern world's geopolitical borders. Love it or hate it, guns are a historic piece of equipment. It's no wonder, then, why they're such a hit with collectors.
There are few clubs more dedicated to the collection of antique weapons than the Santa Barbara Historical Arms Association. Launched in 1957, the SBHAA meets once a month in Carpinteria to show off their goods, and hosts two shows per year at Earl Warren Showgrounds; its 49th annual winter show is this weekend, with the second annual show every July. But unlike most gun shows, which mix new weapons with old ones, the SBHAA's shows are strictly for historical firearms, ranging from those before 1898, which are officially considered antiques, to those into the middle of the 20th century. "This is rare," said Tom Sullivan, who volunteers with SBHAA. "This is unique to California. Most gun shows will have everything, modern firearms as well as older ones. We try to restrict it to historical."
Although all state and federal gun laws are followed at the show-including waiting periods, background checks, and a ban on "parking lot sales"-the SBHAA also has a special arrangement with the showgrounds to only allow sales of guns older than 50 years. That keeps it strictly a collectors' affair, thereby bringing together history buffs from all over the West.
While many old weapons are on hand and for sale by registered dealers, the highlight for aficionados are the themed displays put on by specific presenters, such as Civil War, Western, or World War I, for instance. A visitor might also stumble upon a "battlefield pick-up" display, which could include old cannonballs; find costumed people engaging in war reenactments with loud cannons; or see examples of some vehicular weaponry, such as small tanks. And for those really ready to spend some money, keep your eye out for an old Colt handgun, which Sullivan said could fetch as much as $25,000.
But the show is not the place to find your next rifle to shoot. "Who wants to purchase a gun that's 50 years old with some other intent than a collection?" asked Sullivan, whose personal collection is of World War II era weapons. "They just don't function as well, they don't have the technology we have these days." In that regard, most of the gun owners never actually shoot their weapons, save for those sportsmen who like to collect the black gunpowder shotguns and fire them in the old way.
Today, there are 104 members of the SBHAA, according to Sullivan, as well as another 100 people who regularly set up booths at the show. Most of the members are "close to social security," said Sullivan. He explained, "We hope that there is a growing interest, but it's pretty steady. We don't see it growing by leaps and bounds." Sullivan said that most young people are drawn to the sportsman aspect of guns, shooting up at the Winchester Gun Club or the Ojai Valley Gun Club.
But you needn't be a gun fan to find something interesting at the show. It's really a look back at the 20th century via an important, rarely examined scope. And when it comes to checking out old weapons, Sullivan explained, "As far as the public is concerned, these two shows a year are it."
4•1•1
The SBHAA's Historical Arms and Blades Show goes down February 16-17, 9 a.m.-4 p.m., at Earl Warren Showgrounds. Visit sbhaa.org for more info on the show and the association.