Food & Drink
Agnes Guevara's Living Legacy of Mexican Cuisine
Mighty Like The Rose
Maybe Gertrude Stein's rose is a rose is a rose, but in this town you need to be more specific. Do you mean the Rose Cafe on Haley Street or the Rose Cafe on Cliff Drive? Newcomers may not even appreciate the diff, or even why so many of us have spent so many hours in either (or both) of these roseate places. For the uninitiated: Sometimes it's just about satisfying a deep craving for old-school Mexican food with substantial emphasis on the carbohydrate joy of delicious rice, creamy beans, and fresh tortillas-not to mention untempered salsas, meats, and cheeses. Other times, however, the Roses serve as vivid reinforcements of what living in Santa Barbara implies: a small town with nicely varied cultural heritage, familiar with spice. (Haley, by the way, has the bad-boy chilaquiles; the Mesa's got chicken tacos.)
More sophisticated variations apply to the war of the Roses: Take the comparative environments. For your basic Edward Hopper moment, I suggest a foggy late night at the Haley Street Rose with the counter's often-solitary diners bent over hot plates, their shadows like ghosts sprawled over the linoleum. Philip Marlowe might wander in; the place seems to echo an earlier, more knockabout era. Unsurprisingly, until the 1980s the Eastside eatery was open from 6 a.m. to 2 a.m. and sometimes (secretly) well beyond those hours, I've heard from remarkably good sources.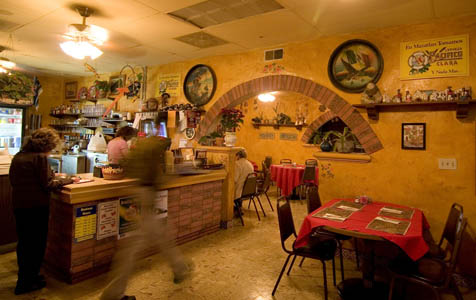 Meanwhile, Norman Rockwell epiphanies flourish on the Mesa, where families fresh from the beach or the barbershop dominate. This boisterous multigenerational feeling is also part of the overall Rose DNA-even as you read, three generations of family are cooking and serving food at both locations.
Of course, Haley can be G-rated and the Mesa oft develops a rowdier yeast, particularly around Fiesta time when the whole town turns Mexican. Despite the blur, though, the flavors differ sharply. "My son changed a lot of the recipes over the years at the Mesa restaurant," said the Roses' matriarch Agnes Guevara, who also likes to point out how she has changed the flavors a mite since World War II, when she became queen of these demesnes.
The downtown Rose is older than you'd probably guess. "It first opened in 1926," said Guevara, who just turned 90 this year, and still comes in every morning at 6 a.m. to work her half day in the Haley kitchen. (Her husband Antonio comes in at 5 a.m.) "And at first it was an Italian restaurant." Somehow, though Guevara doesn't remember exactly, it was related to Mom's Restaurant (now gone) and owned by Maria Alvarez. Guevara thinks the place, originally on the corner of Laguna and Haley streets, was named offhandedly after ornamental rose vases on the tables. Early on, Alvarez made it Mexican and moved it to the current location. Current owner Guevara was a dishwasher who loved to watch the cooks. When Alvarez decided to retire, she gave the business to Guevara. That was in 1945.
"There were lots of Mexican restaurants on Haley Street then," Guevara said. "Serape, Flor de Mexico, and La Paloma." (Many other restaurants like the Azteca and Casa Blanca were opened by women who first worked for Guevara.) According to grandson Lalo (Ralph) Barajas, Guevara's four kids were the main workers in the early years-though much of the staff at both restaurants has been with the Roses so long they might as well be family.
Downtown diners mostly know Guevara's daughter Anna, who graduated from Santa Barbara High School in 1969 and didn't want to work the family business at first. "I worked a lot of places like Applied Magnetics before I decided to work there," she said. Besides a few trips to Mexico with her mother-who was actually born in Texas-Anna doesn't really get scheduled vacations. Her nephew Lalo, though, gets more world traveling in, since the Mesa Rose closes for weeks during Christmas holidays. Lalo's father, Manuel, who was born in Aguascalientes, Mexico, reluctantly entered the biz with his own Rose (on the Mesa) with the express condition that his son promise to work the front. The division of labor works on a strict basis. "One good side of that is every time I go back in the kitchen and even look like I'm hungry, they jump up and fix me food. I don't think they want me touching anything," laughed Lalo.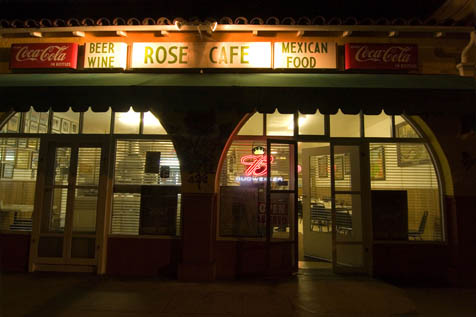 The cuisine at both Roses is traditional Mexican, as opposed to the so-called Mexican fresh cooking, which is really just Mexico City street taco cart food. Cafe food means honest (and that means larded) refried beans (they're served slightly sweeter and more unguent on the Mesa), picadillo (hamburger) tacos, and that most sophisticated hybrid New/Old World dish, the chile relleno. The enchiladas from both places are city gold standards. Haley, which serves smaller though more intensely rich portions, has interesting soups of chicken, beef, and pork persuasions. The Mesa offers lengua (tongue) and camarones (shrimp). Both offer potent hangover helper, tripe-laden menudo. Anna Guevara worries that this kind of restaurant might be disappearing. "The young people don't seem that interested in carrying it on," she said.
It's the chilaquiles that offer transcendence, though: an egg dish shellacked with cheese and incorporated into stiff corn tortillas with sauteed peppers and onions. I always order it with the sour-hot bite of Mexican chorizo; the meal combines smooth and explosive flavors lavished over crunch. It's subtly rich and a direct hit to the hunger center.
People go to either Rose for private allegiances. People go to both, though, for the same reasons: to drink coffee or beer, to gab and eat chips, to encounter the face of a city almost lost, while waiting to be richly satisfied. "We see a new person come in and chances are good that we'll see that person come back again," said Lalo, whose Mesa version opened the same year as La Super-Rica. "And that's a nice feeling, to know that you can keep customers coming back. We don't really depend much on tourists for business, and easily 75 percent of the people who come in are regulars," he said. Anna agreed; having decided to stay now after a mere 30 years' work, she said it's the regulars who make her day.
Lalo lives on the Mesa-he went to Washington School, and he sees his classmates, former teachers, and now grown children of his classmates, too. His grandmother created history here through the potent force of food and hospitality. And at 90, Guevara mostly wants to meet Emeril Lagasse: "I love to watch him cook," she said. I asked if she ever got tired of coming in and cooking rice and beans for the neighborhood, and she looked at me as if I were crazy. "I never do," she said.
4•1•1
Rose Cafe on Haley, 424 E. Haley Street, 966-3773; Rose Cafe on the Mesa, 1816 Cliff Drive, 965-5513; rosecafe@cox.net.