Food & Drink
Seared Duck Breast
with Plums and Grenache Wine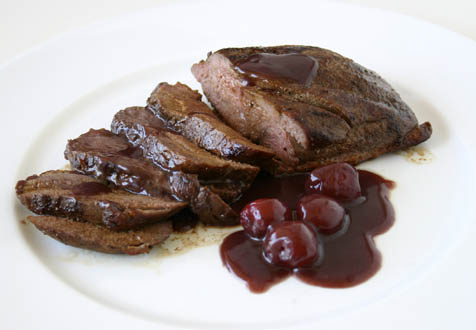 One of the great discoveries of the recent SBIFF was that Pierre Lafond Bistro (516 State St., 962-1455) has moved beyond its deli/bakery roots and now offers what it calls a "casually elegant" menu. Executive chef Josh Keating has created a healthy menu that still delivers fully on flavor using local organic foods from family farms and food artisans. He was also kind enough to share one of his signature recipes with The Independent.
2 Tbs. soy sauce
1½ c. Grenache (divided)
1 shallot, minced
1 Tbs. chopped ginger
1/8 tsp. red pepper flakes
¼ tsp. cumin
4 boneless duck breasts
1 Tbs. unsalted butter
2 plums (pits removed), quartered
Salt/pepper
1½ c. chicken stock
1 tsp. vegetable oil
Duck Marinade and Preparation
In a small bowl combine the soy sauce, half-cup Grenache wine, shallots, ginger, red pepper flakes, cumin, and black pepper, and stir to combine. Trim away the silver skin from the meat side of duck breast, and trim away any excess fat. Make diagonal cuts just through the skin at one-fourth inch intervals. Marinate the duck skin side down for one hour-turn the breasts during the marinating.
Plums and Sauce
Heat the butter in a small pan over medium heat. Add the plums. Season with salt and pepper, tossing until they reach a nice brown. Remove the plums from the pan and put them to the side. Add the remaining cup of Grenache, stock, and duck marinade. Bring to a boil, reduce to a simmer, and reduce liquid to about half. Add plums to sauce and continue to cook until plums are tender.
To Cook the Duck
Pat it dry from the marinade. In a large saute pan, heat the vegetable oil on medium. Add the duck breasts, skin side down. As the meat cooks, pour off the excess fat. Cook until the skin is dark, about 12 minutes.
To Serve
Place the duck on a plate, and spoon over the sauce and plums.