Outdoors
The Barren Beauty of Death Valley
Land of Surprises
I love nature's wildness almost more than anything; its ability to restore me is incomparable. Last May, I found deep nurturing in an unexpected place: Death Valley National Park. During a five-day press trip, I explored its stunning water-colored landscapes on foot, horseback, and horse-powered van. Drinking in its profound quiet, I easily downloaded my 21st-century stress. The valley's extreme geography, weather, history, and food made any notion that the desert is boring vanish like a mirage.
The desert got its name in 1849, when pioneers taking a shortcut to California gold country (sans map) nearly starved when they couldn't find a viable route out of the valley. Forced to burn their wagons to cook their oxen, they departed on foot. They called the place Death Valley and the moniker stuck.
Gold was not plentiful here, but short-lived mining encampments have left several ghost towns. Borax, mined in the 1880s, brought some wealth but also displaced the Timbisha Shoshone tribe who had lived here for 2,000 years. In 2000, President Bill Clinton signed the Timbisha Shoshone Homeland Act into law, which returned nearly eight million acres in California and Nevada to the tribe. The act also acknowledged the tribe's coexistence on the same land as the Death Valley National Park Service and mandated a partnership for cooperative policies on land issues and uses.
Hollywood fell in love with the valley's natural light and unparalleled terrain. Many movies and TV shows including Spartacus, Zabriskie Point, Star Wars, and even The Twilight Zone were shot here. A glitterati haunt since Gable and Lombard, Matt Damon, Goldie Hawn, or Peter Fonda et al might be seen here. Screenwriters also have found this an unequaled haven.
My stay at the four-diamond Furnace Creek Inn & Ranch Resort began with hors d'oeuvres and frosty drinks on the deck. Warm winds swept our party as we watched the moon and Venus rise and the sun set on the Panamint Mountains. As I savored beavertail cactus strings with a magenta prickly pear dipping sauce, rattlesnake (yikes!) empa±adas, and salmon satay, our hosts told of the prior day's 60-mph windstorm and 2004's storm of the century, whose seven inches of rain (three times the annual rainfall) caused severe flooding, mudslides, and a rapturous and rare wildflower season. A caveat to travelers: Wilderness can be wild.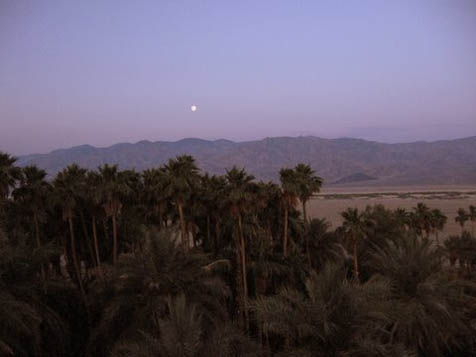 Sun, Wind, Earth, and a Castle
Weather is generally clear, sunny, and dry (1.8 inches annual rainfall) with mild winters and extremely hot summers. (This year, however, wildflowers are expected to be lush due to recent rain.) Exceedingly dry air makes temperatures in the 90s more comfortable than 80 degrees in Santa Barbara. The largest National Park in the continental U.S., Death Valley's 3.3 million acres include terrain from Telescope Peak's 11,049 feet to Badwater Basin's 282 feet below sea level. Dawn at Dante's View (a panorama at 5,475 feet) was an enlivening 35 degrees created by 40 mph winds. Nature's power is literally mind-blowing.
Rock hounds (and their friends) love the valley. The mountains bordering it display all the great divisions of geological time, the eras, and most of their subdivisions with much of it being eye rock candy. Zabriskie Point, in the badlands, is deeply eroded mudstone resembling a vanilla, cocoa, and mocha layer cake turned on its side and mashed. Exquisite at sunrise or sunset, it's also delicious in the afternoon. You can hike there on the Golden Canyon Trail. The Artist Drive loop on the Black Mountain's western face will take you to Artist's Palette where rock sediment from seven-million-year-old formations paint the hillside with pink, purple, green, and orange. Other sights worth seeing: half-mile wide Ubehebe Crater, Devil's Golf Course, the huge Mesquite Flat Dunes, and the human-made Scotty's Castle. Built in the 1920s by Chicago millionaire Albert Johnson, his eccentric friend Walter Scott (Scotty) called it his own castle (it's a long story). This Moorish complex's interior, crafted by Italian, Spanish, and U.S. artisans, set the standard for contemporary Southwestern decor. Bring your camera.
If you like being active, there's swimming, tennis, golf, horseback riding, hiking, bird-watching, and stargazing. The inn has a great masseuse and there's a sauna, too, but you'll likely use it only in winter.
Food and Lodging
You could travel here just for the food; it's that good. Some folks fly their private planes into the valley just for the inn's Sunday brunch. Thankfully, there are many ways to burn the calories.
Always open to a new bite, I surprised myself by ordering rattlesnake sausage the first morning. It was delicious! And the eggs-the freshest since I collected them myself. My favorite meal at the inn was roasted heirloom tomatoes, sweet potato fries, and pesto-marinated chicken breast followed by lemon and raspberry sorbets, and some moist three-layer lemon cake with lemon curd and whipped cream. Freshly made chocolate truffles are served every dinner.
Just a trot down the road, Wrangler Steakhouse provides as fine dining as found in any metropolitan area. The grilled salmon and key lime pie were both knockouts. For a more casual atmosphere, there's the Forty-Niner Cafe, the 19th Hole, and the Corkscrew Saloon.
The inn, run by Xanterra, has been accepted into the Environmental Protection Agency's Performance Track program, which means its environmental management has been exceptional. Open mid October through Mother's Day, the Furnace Creek Inn's 66 Art Deco-style rooms are lovely, comfortably furnished, and have air conditioning and ceiling fans. Ironically, the hottest place in America also has one of its largest aquifer systems, which provides the entire hotel's (and the valley's) water. Fresh 84-degree water is constantly fed to the resort's pools and the runoff keeps the golf course (the world's lowest) and palm oasis (a favorite for destination weddings) lushly green. Because the pools are constantly refreshed, minimal chlorine is used. Currently, there is a three-night Romantic Escape package available. The more casual and family-oriented Furnace Creek Ranch has 244 rooms and is open year 'round. For the more adventurous, there are nine campgrounds.
On my next visit, I look forward to the deep quiet, exploring ghost towns, stargazing, and to seeing that mysterious, blue-eyed coyote at close range again.
4•1•1
Furnace Creek Inn & Ranch Resort: furnacecreekresort.com
Death Valley National Park: nps.gov/deva
Death Valley Chamber of Commerce: deathvalleychamber.org