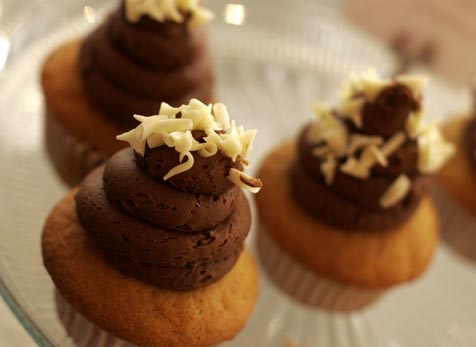 Popularized by New York's Magnolia Bakery, the world is deep in the throes of a cupcake renaissance. Nowhere is this more in evidence than at weddings, where brides have jumped on the bite-sized bandwagon, substituting-or supplementing-the traditional wedding cake with the more individual, more cost-effective, more heavily frosted treats. Happily, Santa Barbara is now home to three cupcakeries ready to bring you butter-creamy bliss.
Bella Dolce: After 10 years helming her custom dessert business, Eileen Randall Cook knows her way around a kitchen, and when her shop opens, she'll bring the recipes she's perfected to the masses. She thinks in terms of texture and flavor, hot versus cold, and her goodies are nothing short of creative perfection. Coconut key lime, Mexican chocolate, almond roca, passion fruit-you name it, she can do it, although she's really a purist at heart. (Countdown to opening: 10 weeks. Wedding cakes, special orders available now.) 1324 State St., Arlington Plaza., 962-cake, belladolce.com.
Crushcakes: A legend in the making, Crushcakes has sold out of cupcakes every day since their February 2 opening. With flavors like Strawberry Blush, Cool Vanilla Bean, and the trademark red velvet Crushcake, daily specials (often cocktail-inspired says owner Shannon Feld, of Bitterman's Deli) like amaretto cake with chocolate frosting, and the frequent buyer card that earns you a 13th cupcake for free, Crushcakes has Santa Barbara Institution written all over it. (Catering, special orders available.) 1315 Anacapa St., 963-9353, crushcakes.com.
Sweetie Cakes: Kat Wellington's shop will answer the prayers of the most persnickety sweet tooth. Everything is organic, fair trade, vegan, and free of the top eight allergens; some varieties are sugar-free, too. If you think there's no way something so virtuous can be delicious, never fear: Wellington is meticulous, even creating her own gluten-free flour blend and finding organic sprinkles. Flavors include chocolate, vanilla, spice, and (drumroll) raspberry donut. (Retail space opening in March; special orders available now.) 328 E. Carrillo St.. 685-4662, (866) 203-1814, sweetiecakesco.com.