Theater
Stephen Sondheim and Frank Rich Stage A Little Night Conversation
Talk to Me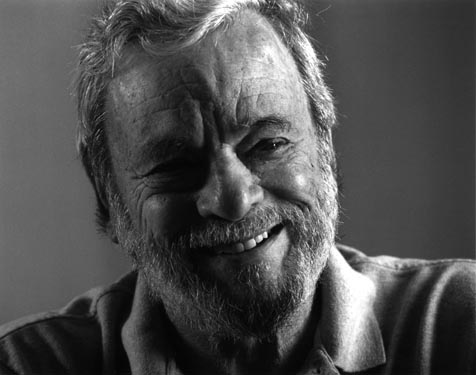 Stephen Sondheim, America's greatest living theater artist, will be at the Granada Saturday for an onstage conversation with Frank Rich, a columnist for the New York Times who was at one time the most feared critic on Broadway. If this sounds like a good recipe for an argument, that's only because Rich the reviewer is too often remembered more for his wrath and venom than for his enthusiasm and wit. It's the latter pair that will be on display when Rich sits down with Sondheim to discuss a most prolific and scarcely believable career that began in earnest with West Side Story and, more than half a century later, shows no sign of slowing down as Sweeney Todd sweeps into movie theaters, a revival of Gypsy with Patti Lupone heads for Broadway in March, and a new Sondheim show, Bounce, is scheduled for the fall of this year. Rich claims to have been influenced by Sondheim since before he knew his name and saw A Funny Thing Happened on the Way to the Forum in its Washington try-out when he was 12. Sondheim, for his part, claims to relish Rich's unpredictable questions and even plans to turn the tables and ask his interviewer questions as well.
I spoke with Sondheim by phone a week ago. He was charming, opinionated, and showed all the signs of being someone who intends to take an active part in shaping how his work is understood and how his spectacular career will be remembered. He's not the least bit shy about saying what he thinks, and that does bode well for the evening's entertainment at the Granada.
Have you done this kind of thing onstage with Frank Rich before? Yes, four or five times now. As you may have heard, I do not give talks. I don't like to lecture, and when I am asked to perform as a moderator, I tend to turn the offer down. This is a special format that I find suits me better, and Frank is a wonderful partner onstage.
In the past you have described specific borrowings that you made from Broadway dramas that were not musicals-I'm thinking of a certain gesture that you saw in A Streetcar Named Desire that wound up in Gypsy-do you see yourself as influenced by Tennessee Williams or any of the other great writers who confined themselves to spoken drama? I know the story you are talking about. I did pick up something in Jessica Tandy's performance of Blanche DuBois that I ended up giving to Ethel Merman years later. It was a little break in the voice that I think helped Ethel put Mama Rose over. But no, in answer to your question, I don't feel that I was so strongly influenced by the playwrights. As a child I saw Streetcar, and like everyone else I was impressed by it, but I think the musical theater is its own tradition. That's what I am influenced by-the great musicals. I know my tradition and I am of it and no other. So no, I don't see myself as in a line with Williams.
When Oscar Hammerstein was your mentor he gave you a kind of assignment, four assignments really, of things that you should write as you prepared for a career on Broadway. Do you remember them? Would you recommend them to a young writer setting out today? Of course; that's a wonderful thing to ask about; I absolutely do remember them. There were four plays involved. The first was to take a play that you like and musicalize it. The second was to take a play with flaws, fix them, and then musicalize it. The third was an adaptation-to take something that was not a play and dramatize it. And the final step was to write your own musical with an original story. It was a very good course of study. I think I would still recommend it today-if anyone had the patience for it. You see, he was talking about writing four shows without producing any of them, on paper, just for practice. Today I don't expect that young writers would feel they have to wait that long. In fact, they don't, with all the opportunities off Broadway and elsewhere, regionally, to workshop things and see what your compositions look like on a stage. But back then, it was Broadway or bust. There really was no alternative, and to break in, you had to be good, and you had to have practiced, because you had to be ready for it if they took you on.
What can you tell us about your newest show, Bounce? It's something that I acquired the rights to a number of years ago and have been working on in fits and starts ever since. The impetus to finish it this time and get it to the stage came partly from my collaboration on it with John Weidman, the man I wrote Assassins with. The story is based on real people, Wilson and Addison Mizner, a pair of adventurers and swindlers, one of whom-Wilson-was also an early Broadway playwright. The rights were held by Irving Berlin, but I negotiated with [David] Merrick, and now they are mine. That will be up in September.
Are your works political? Not really. I suppose that if you've attended a university you're likely to understand that everything is political-the family, the stage, and so on. But that's never been my chief concern, or even particularly important to me. The way you know something like that is in relation to others. For instance, the collaborator I was just speaking about-John Weidman-now he is explicitly and intentionally political. So in something like Pacific Overtures or Assassins, two other shows that I've done with John, yes, there is a definite political element. Assassins dramatizes the failure of idealism in this country through the stories of real and attempted presidential assassinations.
I suppose there was also that time I turned down the Kennedy Center award because I did not want to accept anything from George H.W. Bush. That was years ago. I don't regret it. If I have a political message today, it is this: Try to be tolerant. That's it.