Outdoors
Indy Writer Begins Trip Across America
Getting on the Road Nevada Style
Being used to traveling destination style, where the trip along the way is secondary to the travel itself, beginning a trip across America with no fixed points along the way and eleven days ahead of me before meeting my significant other in Washington DC, was a bit daunting. After all, there were a lot of choices.
It has been 45 years since I've been further east than Denver. It's not just that I hate going east but I just love the American west. So many places, so many seasons, so why spread yourself thin when there is so much to see here? But I've always wanted to see America. Not in a Chevrolet and not with Dina Shore, that's for sure, but ever since reading Travels with Charley by John Steinbeck the urge has been there. Not just to travel either, to check off from a list of "go to" places, but to weave a route across America that forces me to see the country, get to know some of the people and most of all, to reflect not only on my own past but our country's.
It's Thursday morning, early, and I'm worried I'm forgetting something. No matter, it's time to get on the road. I'm more or less heading to St. George today. Perhaps I'll make it that far, perhaps not. What's most important is to make the break, stop worrying about what I'm leaving behind and what is ahead. I've got property in Utah so the road's familiar. What's not is the journey.
I'm three hours into the drive and it finally feels like I'm leaving things behind. Somehow, getting beyond Barstow seems like a turning point. The desert beckons though Highway 15 isn't quite the route I'd choose to experience it. Near Baker I head off onto a lesser highway that leads into the heart of the Mojave National Preserve. The towns are small – Kelso, Cima, Searchlight – railroad towns that date to a time well before the interstate highway system were in place and goods were transported by rail. Off my right shoulder the Providence Mountains beckon, their silhouettes rising high on the skyline. I cruise at a steady 60 mph. Just past noon I reach Highway 95, jog to the east through Boulder City then head north on Highway 168 where I'll pick up Interstate 15 once again near Mesquite.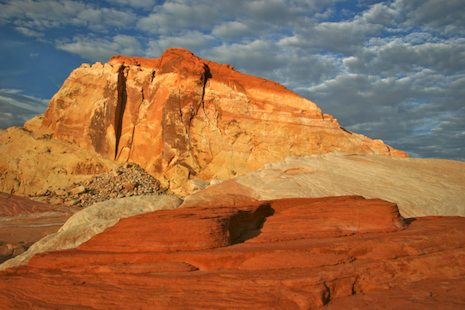 Along the way is one of those special places that belies description. It's name says it all – Valley of Fire. I stop here almost every trip through, not only because it's spectacularly beautiful but it's magical power to inflame emotions in a way few other places can. There's something elemental and powerful about this part of the desert. The road through is somewhat symbolic, a gateway that seems to provide a perfect transition from what I'm leaving behind to what still lies ahead.
The landscape is surreal, a piece of desert that almost seems to have been thrust up from deep beneath the earth's crust, a 10 mile by 10 mile cross section of broken rock and gracefully layered sediments displaying a full range of techni-colors that range from creamy yellows to reds, oranges and purples. Surrounded by the plain white and grays of the larger desert environment, it is an alien sight.
There are plenty of places to explore. West of the scenic drive the colors are vivid and the bedrock more open to wandering about. To the right the colors shift from a brilliant alabaster in the White Domes to a rich brown down in Fire Canyon. Formed from great shifting sand dunes that was followed by uplifting, faulting and periods of intensive erosion of the region 150 million years ago during what is known as the age of dinosaurs, the present day landscape emerged gradually from the surrounding landscape.
The trails here really aren't trails at all but paths that follow sand and bedrock through the twisting rock formations. The only way to know you are still on the trail are the occasional stacks of rocks or footprints left by others. It is an easy place to head off trail, to explore the nooks and crannies and as long as you keep a landmark or two in mind to aid in finding your route back, getting lost isn't much of a problem.
Prehistoric tribes used the Valley of Fire for shelter and sustenance. Among those who left behind their mark in the form of rock art included the Basket Maker people and later Anasazi farmers from the nearby fertile Moapa Valley somewhere in the period from 300 B.C. to 1150 A.D. In geologic terms this is a relatively recent period of time, though far distant as compared to our own American history.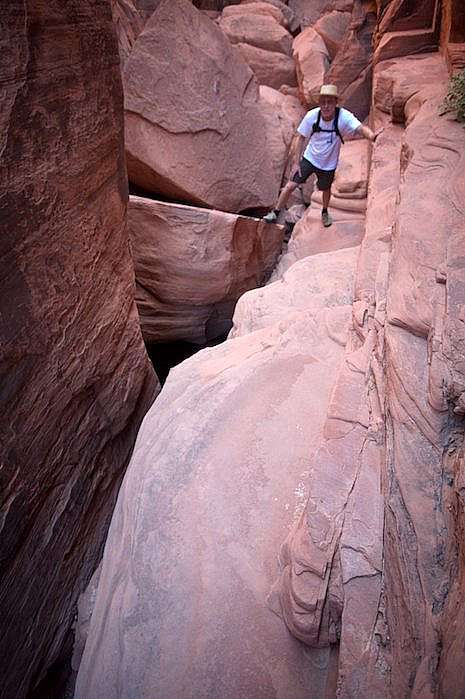 It is somehow comforting to see a chunk of land that has little of man's impact save the road in and provides an opportunity for me to reflect on the challenge in from of me – a month on the road. Born in Idaho during World War II, my early years were spent in Cincinnati, Ohio. Nearby was my grandparent's farm, a place where several generations of Fords tilled the soil and where my attachments to nature were formed. It has been a long journey from Ohio that has gotten me to this particular piece of bedrock, amazing actually.
The sun is about to set as I reach one final high point that looks out over a good portion of the park. It is quiet and peaceful. In less than a day Santa Barbara already seems far away, more in time than space and I find myself ready for the journey.