Living
Nelson Case Continues
Forensic Interview Video Shows Victim's Account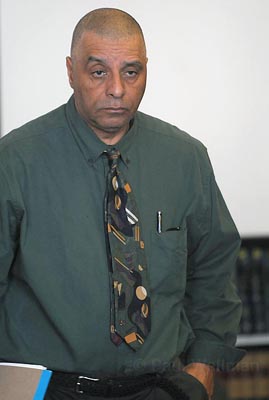 A video interview of one of the alleged victim's was shown in court Tuesday, the first day of the second week of the trial of Bruce Nelson, a former rehabilitation worker accused of sexually assaulting two women who were patients at Solutions Rehabilitation Center, a brain trauma center where Nelson worked. Nelson, whose defense is that the interactions were consensual, could face life in prison if convicted. Prosecutor Joyce Dudley has rested. It isn't known whether Nelson will take the stand.
The hourlong video showed the 22-year-old victim being interviewed by Cecilia Rodriguez, the Associate Director of CALM (Child Abuse Listening and Mediation) and a forensic interview specialist. When asked to explain what her job entails, Rodriguez said, "I help children give an accurate account of what's happened to them." In the video, the alleged victim, who is sitting in a wheelchair, answered questions regarding her encounters with Nelson. When asked about her first encounter with Nelson, the woman said he came into her room, sat on her bed and talked to her. She couldn't remember what he said. The second visit Nelson made to her room, he sat on her bed and began kissing her, putting his tongue in her mouth. Rodriguez asked how it made her feel and the victim replied, "Gross." A third time the victim said she remembered Nelson coming into her room, talking to her, lying down next to her, kissing her, and then she said he put his hand inside her panties and put his finger in her vagina. Again the woman said, "It felt gross." She also said he touched her breasts on this occasion.
Rodriguez asked what Nelson would say when he talked to her and the alleged victim said he would say she was pretty and that he wanted to make love to her. Later in the video, the victim remembered Nelson saying he loved her and that she was special. She said he said those things frequently. His words were strangely similar to those of Nelson in a voice mail message left on Solution's director Sue Hannigan's cell phone by Nelson, in which he also told her he loved her and that she was special.
On a fourth occasion, the alleged victim recounted Nelson coming into her room, talking to her, kissing her and then pulling his pants down a little bit. She said he then had her touch his penis by taking her hands and placing them on it. According to the woman, Nelson said keep going and she said she saw him pre-ejaculate. There was yet a fifth time, the woman said on the tape, in which she described Nelson coming into her room, laying on top of her and rubbing his penis against her. She described him trying to put his penis inside of her, but she moved it away with her hand and then rolled over. No words were exchanged, she said.
The woman said Nelson would come into her room all the time and that there were times when he would come into her room and lie next to her without inappropriately touching her. Sometimes, she said, she would try and push him away sometimes, and sometimes he would stop when she said no. She was a little afraid of Bruce and felt uncomfortable and wrong around him. At one point she even said she was mad at Nelson, whom she depended on for most everything regarding night care, from preparing medication and food to going to the bathroom. When asked in the video why she didn't tell anyone what was happening, the woman said she was afraid something would happen and Nelson would be mad at her. Rodriguez asked the woman if she loved Nelson, to which she replied, "No." Rodriguez also asked, "Did you want him to do what he was doing to you?" Again the 22-year-old said, "No," adding she wished she would have said no more often. The alleged victim also claimed Nelson told her that she let everything happen and that she wanted it to happen and said it wouldn't have gone as far as it did if she didn't want it to happen.
Others took the stand Tuesday, including Santa Barbara County Sheriff's Detective Daniel Kies, who testified that the first thing the second victim, a 44-year-old woman who had also been a patient of Solutions, told him during their interview was that Nelson, "kind of raped me." When Kies asked the woman how her clothes were removed, she answered, "I took them off myself."
The trial continues Wednesday at 10 a.m. in Dept. 1.