Visual Arts
Anne Luther: Relics & Offerings
At Frameworks/Caruso-Woods Gallery.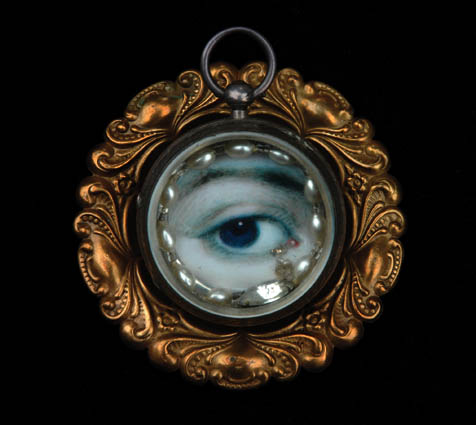 Devotional relics, reputedly containing fragments of the bodies or clothing of departed saints, are believed by the faithful to hold miraculous powers of protection and to provide a spiritual connection with God. Assemblage artist Anne Luther, who found her own religious upbringing somewhat troubling, explores the imagery of religious relics and shrines, expanding their definition beyond saintly remains to include possessions and artifacts such as wooden type, photographs, hat feathers, padlocks, tiny corked bottles, bits of maps, and postage stamps once owned by ordinary people. Luther's surreal interpretation of these talismans transforms everyday belongings into delightfully opulent amulets that connect her with the departed souls to whom they once belonged.
In "Sisters," a large-scale collage of vintage photographs, Luther interweaves formal studio portraits with playful backyard snapshots. Many of the women are tightly trussed in Victorian garb; several are nude. Delicately sketched butterfly and dragonfly wings emerge from the backs of sober-faced, heavily dressed women. Scraps of letters, calling cards, and notes jotted in flowing script are incorporated throughout.
Whimsical touches permeate the collection. Statuesque nudes in the "Bird Relic" series are revealed, through magnifying lenses, to have the heads of songbirds. In "Bound," tantalizing snippets of notes peek out from the pages of antique journals, mounted on a wooden door panel and trussed with chains and velvet ribbons, leading the viewer to wonder what long-forgotten secrets they may contain.
Luther's decadent confections are, quite literally, offerings. Disembodied hands extend from several of the sculptures, proffering dice, tiny chairs, and intricate miniature frames bearing cryptic messages and portraits. Chinese charms and Mexican milagros hang from shrines and amulets. Glass eyes, reminiscent of Turkish nazar boncuk or evil eye, gaze out from Luther's phylactery, and in a nod to Fornasetti, paper eyes peer from behind keyholes and alphabet stencils. Every token is crafted with great care. Luther's discerning eye for transforming delicate treasures from bygone times into works of art, coupled with her insightful wit, infuses these contemporary relics with the power to encourage an intimate sharing of lives past.