Living
Assessment and Orientation
STEP Program Provides Ticket to Success for ESL Students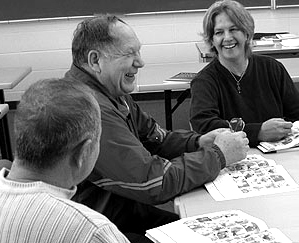 When: March 24 through April 10
Where:
Schott Center: Monday, March 24, 9 a.m. 12 p.m.; Wednesday, March 26, 6 9p.m.; Thursday, April 3 6 9 p.m.
Wake Center: Tuesday, March 25, 9 a.m. 12 p.m.; Thursday, March 27, 6 9 p.m.; Monday, March 31, 9 a.m. 12 p.m.; Wednesday, April 2, 6 a.m. 9 p.m.; Thursday, April 10, 9 a.m. 12 p.m.
Santa Barbara High School: Monday, April 7, 6 9 p.m.; Tuesday, April 8, 6 9 p.m.
Main School: Tuesday, April 1, 6 9 p.m.; Wednesday, April 9, 6 9 p.m.
Cost: FREE
The Lowdown:
Do you know someone in town who is looking to learn how to speak English? As you – and they – probably know, being able to communicate in English is a vital tool for anyone hoping to succeed in the United States. Here in Santa Barbara, the English as a Second Language (ESL) program offered through Adult Ed is where thousands of people go every year to learn English.
In order to help students get off to a good start, Adult Ed and the STEP program (Step To Education Process/Step to Employment Process) started providing assessment and orientation for all new ESL students last fall. So far, almost 1,000 new students have gone through the process, and the results have been positive: students who attended assessment and orientation were more likely to stay in class, attend regularly, and progress to the next level.
The assessment and orientation process is a three-hour long, one-time event lead by the STEP program. During that time, students take an assessment test to determine their level of proficiency in English, as well as participate in an orientation to Adult Education classes, programs, and services. Additional topics are also covered in the orientation that can help students succeed in learning English.
So spread the word. If you know of anybody who is looking for the opportunity to learn English, refer them to Adult Ed's STEP program. Assessment and orientation sessions start March 24, and classes start on April 7. For more details, call 898-8150 or check out the ESL class listings on the Adult Ed website.