Cover Story
Salud Carbajal: Can He Really Be a Friend to Everyone?
One Tuesday last September, the Santa Barbara County Board of Supervisors was paralyzed when trying to make one of the year's most important decisions, an update of policies regarding the county's prosperous and sprawling agricultural lands. With 3rd District Supervisor-and ag landowner-Brooks Firestone recusing himself to avoid a conflict of interest, the four remaining supervisors found themselves gridlocked on the revised "Uniform Rules." The two North County supervisors weren't budging on several key components, nor were 2nd District Supervisor Janet Wolf or 1st District Supervisor Salud Carbajal.
Several tie votes resounded one after the other, and finally, after seeing tension among colleagues rise as the stalemate went nowhere, Carbajal called for a break. After caucusing with Wolf, the two decided progress had to be made. Unless they compromised, the rules wouldn't be updated, because a tie vote is a no vote. The two headed back to the meeting, went forward with their compromise, and the updated Uniform Rules became reality.
While credit is due to Wolf for her role, it was a prime case of Carbajal making things come together. "He knows the art of compromise," Wolf said later. "He has an ability to bring people together."
By most any account of those who follow county politics, Salud Carbajal is a force to be reckoned with. He's got deep pockets and the personality to fill them. Everyone likes him, it seems, and he is a friend to all.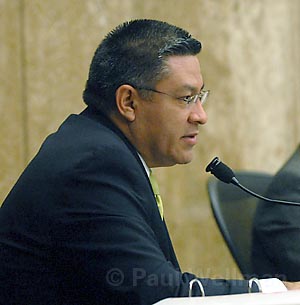 The September 25 meeting was just one example of Carbajal's willingness to cooperate for the sake of progress, and just one example of why people, almost in droves, are jumping onto the Carbajal bandwagon. Although only in his third year as supervisor, Carbajal-whose district includes Carpinteria, Summerland, and Montecito as well as Santa Barbara's Mission Canyon, Riviera, Eastside, Westside, and downtown neighborhoods-is making a name for himself as a leader, a listener, and a political stalwart in Santa Barbara County. By most any account of those who follow county politics, Salud Carbajal is a force to be reckoned with. He's got deep pockets and the personality to fill them. Everyone likes him, it seems, and he is a friend to all.
But is he? Can he really be everything to everyone? And will this likeability one day push him up the political food chain to a higher office?
The Rise of Salud
To really know Carbajal, it's important to step back and look at where he came from. Born in Mexico, Carbajal moved with his family when he was five years old to Bagdad, a small copper mining town in western Arizona. His father worked the mines while his mother, who suffered from arthritis, stayed home with their eight children. When Carbajal was in sixth grade, the copper mine closed and the family moved to Oxnard, where Carbajal spent his junior high and high school years while his father worked in the fields.
In Oxnard, the Carbajals lived in the projects of an economically depressed neighborhood. It wasn't uncommon for the teen to hear about a stabbing nearby or a heroin overdose around the corner. A neighbor and close friend of his just recently got out of prison.
"The police were there constantly," Carbajal said over lunch last week at El Zarape, a Westside Mexican eatery not far down San Andres Street from his West Islay Street home. "It was a tough neighborhood."
His parents, despite their tight financial situation, always believed in giving. When immigrant relatives or friends came to town, the Carbajals would help in some way or another, whether by loaning money or giving them a place to sleep and eat for a few days. "Seeing that help was inspiring and reaffirmed what it is to be a good human being," said Carbajal.
In school, Carbajal adapted quickly and made friends with all sorts, from the jocks and thugs to the studious and rich. His wealthy friends who lived in nice houses and wore nice clothes would sometimes visit in their nice cars. It was a glimpse into a world Carbajal thought he could attain but didn't yet have.
"It was an inspiration, not so much for material things, but a challenge and a test for myself," he said. The first step was getting a proper education. "I always thought a college degree was either for the rich or for the smart," Carbajal explained. "And I didn't consider myself either."
"He's always been very motivated, and always strived for different things. He's very driven in terms of the goals he sets for himself." -Frank Barajas
But that motivation not only paid off-Carbajal was accepted to every university he applied-it made others notice as well. Frank Barajas, now a professor of history at CSU Channel Islands and the godfather of Carbajal's daughter, met Carbajal in the eighth grade playing football at the Oxnard Boys Club. The two reconnected at Oxnard High and became close friends. While some of his peers dropped out of high school almost as soon as they had begun-and even more were taking just the basic classes needed to graduate, with no sense of what it took to get to university-Barajas said Carbajal was very focused, even for someone from a family with no university experience. His determination in taking college prep classes spurred Barajas and many other classmates to pursue degrees.
"He's always been very motivated, and always strived for different things," Barajas said. "He's very driven in terms of the goals he sets for himself."
Carbajal headed to UCSB, where, as a Latin American and Iberian Studies major, he began to develop his social and political outlook on life. "UCSB opened up my eyes to the world," he said. "I was oblivious to understanding the world as it is."
While at UCSB, he met and married his wife, Gina, and the two had their first child. It's also where he initially got into public service. He joined the U.S. Marine Corps Reserve-which included two years of active duty during the Gulf War, though he was never sent overseas-and worked as an assistant to a quadriplegic man. He also was a family service advocate and group home counselor at Devereux and worked for the county's Public Health Department for the drug and alcohol division's master plan. If you're noticing a trend, there's a good reason: Every job of Salud Carbajal's has been in public service.
Carbajal's political rise started when he met Naomi Schwartz-the supervisor who held the 1st District seat for the 12 years prior to his term-about a year before she took office. He had come to talk to her about issues concerning Santa Barbara's low-income, Latino community. "I was really impressed with him and with his thinking," Schwartz said. "I tucked him away in the back of my mind." That is, until she was elected.
After winning office, Schwartz asked Carbajal if he knew any Latinos who'd be interested in working for her, someone who could connect with the 1st District's large Latino constituency. He called back with an answer: "I would be interested." Returning from an out-of-town meeting, Schwartz called Carbajal to say that the only time she could meet would be immediately and at the airport. "He said, 'Sure, I'll be there,'" she recalled. "He was always one to step up." His hard work, quick learning, and ability to take on any task are what most impressed Schwartz when he first began working for her 15 years ago. And, said Schwartz, those traits are a large part of his success today.
The Unopposed Man
Perhaps the greatest indication of Carbajal's strength today is the fact that he is running unopposed in his reelection bid for the 1st District seat, which he won handily in 2004 by defeating Carpinteria's John Gostovich with roughly 65 percent of the vote. Running unopposed is significant because it almost never happens, especially in the politically charged and active 1st District. No candidate in any county supervisor race has gone uncontested since Tom Urbanske faced no opposition in 1998 for the 5th District seat. County officials don't know if it's never before happened in the 1st District, but the available records show that it hasn't happened since at least 1980.
"The fact that he has no opponent absolutely bowled me over," said his mentor, Naomi Schwartz, who, despite also being a popular supervisor, still had to run three campaigns to stay on the dais.
Carpinteria City Councilmember Joe Armendariz, perhaps the only person in the county with enough political power to unseat Carbajal, hardly even considered running against him. Armendariz, whose political clout with conservatives comes largely from being head of the County Taxpayers Association, even told Carbajal that he didn't think anyone could bring enough of an alternative choice to Carbajal to come close to winning.
Of course, having significant financial support helps. Carbajal, who has $383,729 in cash on hand according to the latest report, raised more than $300,000 in one December 2007 fundraiser alone, a strong signal that any potential challengers might want to just stay home this time around. "How many folks can go out and do that?" asked 5th District Supervisor Joe Centeno, astounded at the dollar amount raised in one party. A flip-through of Carbajal's contributor list reads like a nonpartisan who's who of Santa Barbara: from politicians such as Goleta Mayor Michael Bennett, Santa Barbara Mayor Marty Blum, and Helene Schneider and Grant House from the S.B. City Council, to actors Jeff Bridges and Rob Lowe, to conservatives Sally Jordan, Dallas Clark, and former sheriff Jim Thomas.
With no opponent, many people anticipate Carbajal could play kingmaker, using some of that cash to contribute to Doreen Farr's run for the 3rd District seat this summer. And why not? Carbajal is keenly aware the 3rd District race is a pivotal one, heightened because of the county's redistricting process in 2010, and he's looking forward to having another progressive partner on the board. "It sure would be nice to be on the majority," said Carbajal. "I'm relishing the opportunity for Doreen Farr to come on the board so we can have a change. : [Then] more often than not, I can be in the majority."
Carbajal admits he caught a "little bit of flack" for giving $20,000 to Wolf during her 2006 supervisorial campaign but said he doesn't plan on giving as much financially to Farr's campaign as he does time. As for the rest of the campaign cash, Carbajal plans to use it on nonprofit events, to buy literature for the 1st District, and to cover his expenses for attending conferences, meetings, and programs he's invited to.
Some are interested to see how Carbajal would act should a progressive take office in the 3rd District. "I'm of the opinion that you don't know what someone's really like until they're in the majority," said Andy Caldwell, a board watchdog who represents COLAB, the Coalition of Labor, Agriculture, and Business that wields much power in the conservative North County. "Overall, we don't know what he's going to be like until he gets into the majority." Which is to say, there is no hiding in the majority of a five-person board, especially if your constituent base is so far-reaching. That makes you the potential swing vote, the supervisor who can grant wishes or shatter dreams.
Not that being in the minority is a cakewalk. Take it from former 2nd District supervisor Susan Rose, who spent time in both the minority and majority. "It's difficult. The things you care about lose a lot" in the minority, she explained. In the majority, "it's more likely you can initiate projects or ideas," Rose said.
Could He Be Better?
While the board majority usually sets policy, supervisors can still make noise in the minority. Former 3rd District supervisor Bill Wallace effectively fought pro-development advancement by trying to point out flaws in the positions of the majority supervisors. Many say Carbajal hasn't stretched out his neck quite so far. In trying to be everything to everyone, some say, he gets out of the way and tries not to rock the boat even when the boat might need a shove.
As well, some left-leaners are concerned Carbajal is tip-toeing toward the right in an attempt to please everyone he can. Others see him as more conservative than his core supporters. "He does what it takes to keep his base happy," Caldwell said, claiming Carbajal sometimes sacrifices his principles in votes to preserve his reputation.
Recently, Carbajal was honored by the Santa Barbara Industrial Association for his "leadership and support" of the business community. "That didn't, I'm sure, go over well with some of his base who don't like anything the Santa Barbara Industrial Association stands for," said Carp's Armendariz, who is the executive director of the politically conservative association.
"My actions speak and my decisions speak for my values, and I can tell you there's nothing conservative about them." – Salud Carbajal
But Carbajal refuted emphatically any of the claims that he was leaning conservative. "The proof is in my actions," he said, gunning off a list of policies and initiatives he was in favor of. "Was I conservative when I voted for the children's health insurance item? Was I conservative when I voted to protect the oak trees? Was I conservative when I tried to bring language translation equipment in, which was voted down? Was I conservative when I voted for mental health? For the people who say that, they've got to be specific." Carbajal observed that last year he was recognized by the very left-leaning social justice nonprofit PUEBLO, and will be honored this year by the Jewish Federation and the Hispanic Chamber of Commerce. "My actions speak and my decisions speak for my values," said Carbajal, "and I can tell you there's nothing conservative about them."
No matter what people have to say about Carbajal's politics, there is no question they all agree on one thing: He's a good, honest person, a hard worker, and a good listener. "His personality is pretty much what it was back then: friendly, easy-going," said his old friend Barajas, not the only one interviewed to describe Carbajal as "affable." His Type A personality and endless energy means every one of the dozens of emails the supervisor receives each day gets answered personally by Carbajal within a 24-hour span, no matter the day, no matter the time. He's willing to talk to anyone requesting a conversation, willing to meet with anyone requesting face time. And he gets people to compromise.
"He's got a non-polarizing way of dealing with the issues," said Bill Palladini, president of the Montecito Association. Schwartz took it a step further. "One of his hallmarks is his desire and work, regardless of the controversial issue, to bring people together to find a mutual viewpoint. Government is supposed to fulfill that role, and he does."
Carbajal explained his approach. "If you provide that environment, people are willing to have respect for you and appreciate you enough to meet you halfway on issues," he said. "There's a time and place for everything. I'm as partisan as others, but there's a time and place for it. We in local office are afforded that distance. I have yet to find a pothole that is a Democrat or a Republican."
One forthcoming policy pothole in Palladini's backyard that may put Carbajal in somewhat of a hot seat is the placement of state-mandated housing. Carbajal has been quite vocal to the state that it can't take a cookie-cutter approach to requiring a certain number of units in a county where there are extenuating circumstances blocking such development. It's a stance that pleases many of his constituents, particularly those in plush Montecito. But Susan Petrovich, a lawyer for Hatch & Parent and a Montecito resident, feels that Carbajal should shoulder a greater burden to accommodate affordable housing. "I don't believe Montecito has bellied up to the bar with affordable housing," she said. Carbajal has argued that the 1st District has many coastal constraints and that it's essentially built-out. And, true to form, Carbajal explained that community members are already well engaged in the dilemma and determined to come up with solutions.
Pride in Service
The buzz around town is that Salud Carbajal will at some point run for higher office, whether at the state or federal level. He is already well connected in both realms, and readily admits he has friends and constituents encouraging him to seek higher office. "I would say timing is everything," he said. "Certainly, there are other venues to make a contribution in that would be great, exciting, and challenging, whether it be at the state or federal level. No matter what decision I make, my ambition is tempered by the priority I place on my son and family. [His daughter is now in her twenties.]As exciting and challenging and rewarding as it would be to be in Sacramento or elsewhere, the timing has to be right for me. It has to feel good."
Anticipating he'd be asked about accomplishments, Carbajal brought to lunch a three-page, bullet-point list of successes he's had since taking his seat in 2004. Carbajal highlighted the ones he deemed really important, resulting in more than 90 percent of the list being marked in yellow, a certain sign of how highly Carbajal values his work.
But there was one project he just couldn't stop talking about: securing $1 million in county funds for a health insurance program for uninsured children. Together with 5th District Supervisor Centeno, Carbajal fought hard during the June 2007 budget talks to get the initiative funded. They did, and, as a result, the number of children enrolled in the Healthy Kids Program, which provides insurance to the under- and uninsured children, nearly doubled. "It's a wonderful piece of social policy," said former 2nd District supervisor Rose.
The program, run by the Santa Barbara Regional Health Authority, is at work to eliminate the number of uninsured children in the county. A 2005 Children's Health Initiative report stated that as many as 16,000 children-14.1 percent of all underage county residents-lack insurance. The supervisors received an update on the program, and Carbajal was more than elated at the results. "Things like that remind me of how important my work is and how special an opportunity it was," he said.
The project forced Carbajal to look back to when he was a kid under Medi-Cal. There was one clinic in the neighborhood, but to deal with his asthma and allergies, they had to visit the hospital. "I remember coming across some public servants who were stellar, the best at letting you keep your dignity," Carbajal said, pausing as he began to tear up while reminiscing. "And there were others who had no business in public service."
Carbajal tries to live up to the stellar ones. "County government in particular has a role in providing a safety net for the most vulnerable," he explained. "My life experiences no doubt play a part in the priorities I'm pursuing."
So it remains to be seen what the future holds for Carbajal, both on the board and in his future political aspirations. But one thing is for sure: Carbajal will coast into a second term as the 1st District Supervisor. And, at least for now, he does so with a lot of people at his side.