Arts & Entertainment
Academy of St. Martin in the Fields, presented by CAMA.
At the Arlington Theatre, Wednesday, March 26.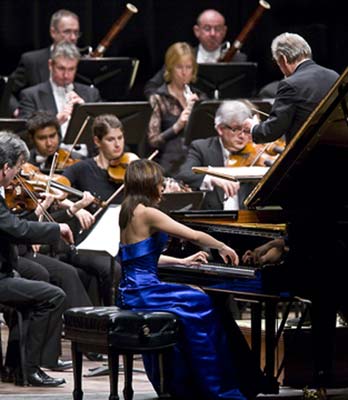 When the news came that legendary pianist Murray Perahia, slated to both conduct and solo with the Academy of St. Martin in the Fields, called in sick, two people-one a stalwart and the other a neophyte-came to the rescue. The orchestra's founder, Sir Neville Marriner, stepped in to lead the charges, and a 21-year-old wunderkind, the Chinese-born Yuja Wang, acquitted herself with aplomb as the piano soloist.
Much as we missed Perahia, the substitutions were anything but a letdown. Marriner commanded the orchestra he knows so well with all customary gleam and muster, and Wang was simply a knockout-dazzling in her technical virtuosity and possessed of lived-in musical wisdom not to be expected of a young woman barely out of her teens.
Fittingly for this piano prodigy, the main musical subject of the evening was Mozart-a composer who was already halfway through his creative life by age 21. That was Mozart's age around the time he wrote his "Paris" Symphony, which opened the concert. Neatly framing the program on the other end of this pleasingly 18th century-oriented evening was Haydn's "London" Symphony, No. 104 in D, with Mozart's Piano Concerto No. 24 in C Minor, and a splash of Mendelssohn for 19th-century measure.
On the "Paris," the orchestra brandished its sonic fancy in a winning way, while heeding the call of restraint and classical decorum. Marriner drew warmth and propulsion from them, by turns. This music was alive, before our ears at this moment, and in this hall. Next, Wang, a sensation in the making, emerged in a striking, iridescent blue gown and proceeded to demonstrate technical command and interpretive sensitivity on Mozart's Concerto. For an encore, she busted out with a showpiece that left the crowd in awe, Mozart-Volodos's "Rondo alla Turca," a pyrotechnical piano arrangement that seemed to defy both gravity and the physics of human fingers. But that was a stunt piece: Her Mozart Concerto work was proof of a deep musicality to keep tabs on.
After intermission, the orchestra's eminently solid string section took the spotlight for Mendelssohn's Sinfonia No. 10 in B Minor. Haydn's "London" was perhaps the strongest overall performance of the evening, with the weight and wit of his late-period symphony balanced beautifully right up to its buoyant and slightly skewed finale. Its sneaky flourish was a perfect nightcap to this fine orchestral encounter.