Theater
The Persians, by Aeschylus.
At Victoria Hall Theater, Friday, March 28. Shows through April 12.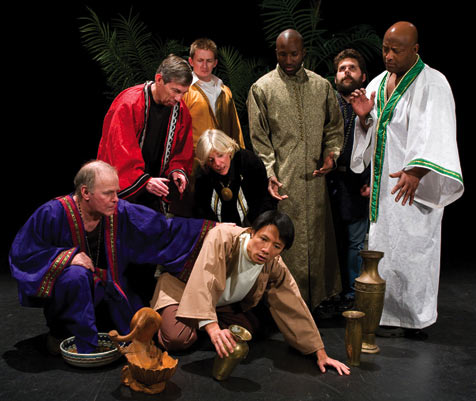 The fall from greatness as a result of excessive pride is a frequent theme in Greek tragedies, but the Persian characters are not. Yet Aeschylus' contemporaries knew exactly who King Darius and King Xerxes were from the historical battles fought in the 5th century bce. To the audience watching Ellen McLaughlin's modern adaptation of The Persians (2004), the foreign names could hardly conceal the universal truth of the human experience.
The actors playing the modernized chorus first appeared casually, strolling in and donning the robes of the Persian elders. Although they chanted together for much of the performance, when they spoke as individual members of the chorus they were given unique characters: Jerry Oshinsky's "State" was reasonable, Mark Anthony Lee's "Treasury" impulsive, and Justin Stark's "General" pugnacious, for instance. But when Queen Atossa (Deborah Helm) took center stage adorned in a brilliant golden dress, they became her silent confidants. Widow of King Darius and mother to King Xerxes, Atossa emanated a mournful, lonely presence, and was troubled by ominous dreams. Upon receiving news of the Persians' loss at Salamis, the Queen exerted a stoic public persona. As Atossa, Helm's stance remained powerful as she endured the herald's (Edward Lee) agonizing account of death and disgrace of the Persian army. This elaborate and impassioned speech culminated in a description of the liberated Greeks and concluded with the grim thought that among the Persians, "happiest are those who died quickly."
Ed Giron's dramatic appearance as the ghost of King Darius was very effective. The imposing Giron and the lithe Helm, now dressed in a suppliant's black garb, shared a tender moment, reminiscent of Odysseus' encounter with his mother's spirit in the Underworld. Instead of blaming the vengeful gods, Darius lamented his son Xerxes' impetuous decisions for causing the sacrifice of his kingdom. The rhetorical question posed at the beginning, "Might we go too far?" was answered unambiguously by the end of the play.
The original music composed by Michael Roth accentuated the discordant mood of the play, although the chorus's chanting efforts fell short of harmony. The play is performed without intermission and is thoroughly engaging (despite the long speeches), largely because of the wonderful synergy of the entire cast and the clear choices made by its enthusiastic director, Giron. Perhaps staging The Persians at an outdoor amphitheatre space would deepen the tragedy's pathos.