Living
Paint It Blackbird
Of Clothes, Art, Peeps, and Pigment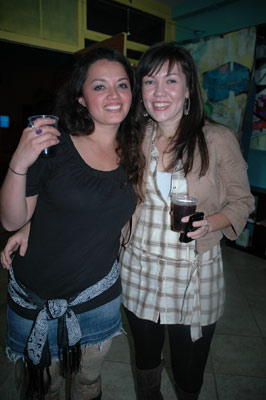 When I first discovered the little shop Blackbird hiding out on the still relatively undiscovered oasis of hip Parker Way, I was instantly smitten. First and foremost, Blackbird is an independent, locally owned shop that is not on State Street. The cute clothes had something to do with it, too, as did the equally adorable owner Patricia Mera, but the art on the walls-cool, edgy, a little shocking, and perfectly in keeping with the goods on the racks-made the most lasting impression. Though one could easily mistake that art as an extension of the merch, I think it's more accurately the other way around.
This sense was confirmed-and then some-last Saturday night. The occasion was one of Blackbird's monthly art shows, this one featuring "People who don't exist," and it all began innocently enough: schmoozing, boozing, a little bit of shopping (gotta do my part to support local artists, right?). Most of the inventory had been cleared, so the art-in the form of pieces hanging on the walls, as well as a large-scale video installation and live music, not to mention the anatomically correct, ummm, Georgia O'Keefe-inspired soap-could take center stage.
Murmurs about a performance built, and, before long, we were herded outside, two cinder-block towers our focus. Now, being a borderline Little Person, I make it my practice to weasel my way toward the front for any show (call me crazy, but I'd rather check out the action than a bunch of strangers' backs), and this one was no exception. So, I stood a mere few feet away as Christopher Deetz and Phil Danner took turns swinging hammers at the blocks and watched as paint began to spill forth. I was hypnotized. Until Mera reached for me, saying, "Bathroom!"
And this is how it came to pass that I found myself in the restroom, Mera on her knees, furiously scrubbing various Technicolor spatters out of my jeans, before leaving me to "get personal." No, I was not inspired to make a new mold for the aforementioned soap (although it's possible that is what some unsuspecting bathroom intruders may have concluded). I was left alone to remove the enormous light blue blob highlighting my crotch. I was laughing too hard to be very effective, which was just as well: Dane Larson burst through the door shortly, in a similar state, and I left him to it (after taking his picture, of course). I left when the mops came out some time later, smitten as ever, although, as my battle-scarred jeans can attest, this time the impression was far more lasting.
4•1•1
For info, check out myspace.com/blackbirdsb.