Living
Sanchez Press Conference on Arrests
Cheif Warns Killers, Lectures Media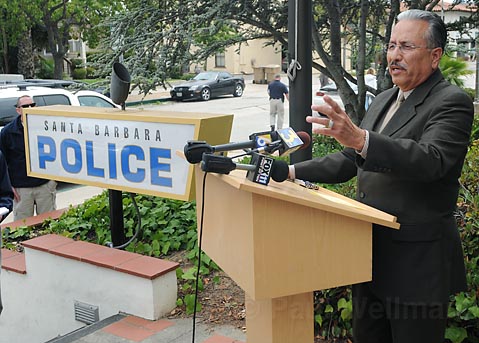 Santa Barbara Police Chief Cam Sanchez appeared on the police station steps to announce the arrests of seven young men on charges related to the murder of 16-year-old Lorenzo Valentine Carachure in July 16, 2007. Carachure and two companions were attacked at the Westside intersection of San Pascual and Ortega streets by a large group armed with clubs and knives who arrived at the scene in a large red pickup truck, police said. The three victims were unarmed. The people in both groups were described as gang members or associates.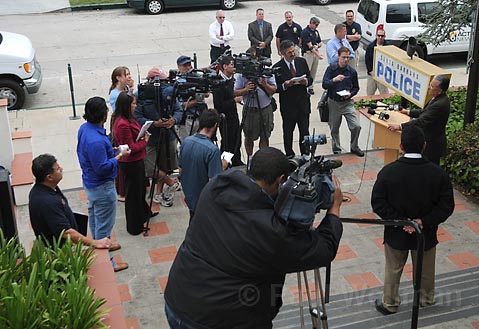 Three adults were among those arrested on Tuesday, May 5. They are Robert Joseph Martinez, 21 years old; Carlos Diaz, 19 years old, and Emilio Mora, also 19. Four teenage boys, all currently 16 or 17 years old, were also booked on charges including murder, attempted murder, and conspiracy.
Sanchez said that hardworking investigators had "promised the families" that they would bring to justice the guilty party. "When crimes are committed, we're coming after you," said Sanchez, looking into the TV cameras. "If you decide you're going to be a gang member, and kill people, and assault people, we're going to find you every single time." He noted that there is no statute of limitations on murder.
Sanchez would not relinquish details of the investigation or other facts of the case. He used the occasion of the arrests to lecture about gang crimes.
"The entire community is upset," he said, "on both sides of town. The Latino community has told me to that I'm not tough enough on gangs. They can't even go to the market: without being asked where they're from," he said, referring to the notion of gang affiliation being based on living on either Santa Barbara's east or west sides. "They're tired of it. I'm tired of it. It's shameful," Sanchez said. "It's shameful to see young men killing and assaulting each other only because they live on the other side [of town]."
There are lots of reasons people become gang members, Sanchez said, but "what they don't get is that when they become a gang member they bring along their families, siblings, and friends."
The chief responded briefly to a question about whether advanced surveillance technology was used in the investigation. "I sure we're smart enough to take advantage of whatever is out there for us to utilize," he said, enigmatically. "When you are looking at months and months of investigating you pull out all the stops. [Especially] when you're talking about a 16-year-old person; it's really upsetting."
Sanchez reiterated a familiar lecture to reporters about the dearth of coverage for positive things that Santa Barbara youths are doing. "You rarely hear about the 1,600 to 1,700 young people in our Police Activities [League] who do the right thing – go to school, graduate, go to college – who are involved in positive activities and doing good things every day. We need to celebrate and hear those names in front of the camera and not the three I read today."
Following the press conference in English, Sanchez delivered his message in Spanish for Channel 38.