Living
Santa Barbaran Cycles and Surfs for Charity
By Road and By Sea
Protecting the environment is an important job, and people choose many different ways to do it. Some volunteer for organizations like the Sierra Club and Surfrider Foundation, while others get jobs with government agencies and environmental law firms. Mike Conway, an active member of the Santa Barbara Chapter of the Surfrider Foundation, decided to take his love for the environment a step further. Teaming up with Scott Paynton, one of his professors from his college days at Humboldt State University, the duo will ride bicycles-carrying all of their own luggage and surf gear-the 550 miles from Ft. Bragg (leaving May 15) to Santa Barbara (arriving May 27). Sponsored by a plethora of green businesses, they hope to raise awareness about environmental issues while raising money for the American Cancer Society. They have dubbed their expedition Bike and Surf California.
Conway and Paynton were planning a bike ride along the coast this spring to "ride and surf and be away from everything," said Conway. Then, inspired by Conway's work with Surfrider, the pair decided to add the element of environmental awareness to their trip. "I wanted to do something nonprofit," he said. "My dad died of cancer, so we decided to do something to benefit the environment [which] is directly related to the health of the planet and its people. : The American Cancer Society is looking at a problem and looking for the best way to solve it, but what they don't realize is that the way to solve a problem is by addressing the surrounding problem-the environment."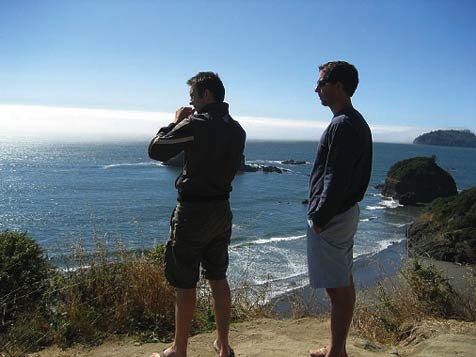 The journey will be an arduous one, covering approximately 60 miles per day. In addition to the tight travel schedule, the two will make time to surf and set up camp. Aside from the physical demands of this odyssey, Conway and Paynton have already achieved quite a feat by getting nearly 20 sponsors on board. "We're not a nonprofit corporation, we're not pros, and we're not well-known activists, but we're being sponsored by people all over the world." Some of their sponsors are locally based businesses, such as Simple and WaveTribe.
One way the pair will be helping the environment is that the trek is 100 percent carbon free. Taking into consideration the amount of resources that surfers expend while driving and looking for surf and surfing on equipment made from petrochemicals and toxic chemical processes, Conway and Paynton have done everything to ensure that they are not following in this vein. As part of the completely self-sufficient journey, the surfboards will be carried on trailers behind the bicycles. The custom-shaped surfboards are made from green materials, including biofoam and hemp fiberglass. Even the food they eat will be low impact, as both men are vegetarians and will live on a diet of organic grains and vegetables.
"At this point, it's not just about Santa Barbara, it's about the whole state and helping people who have cancer," Conway said. "There has to be a balance between helping the environment and helping people." Although Conway eventually wants to head up his own nonprofit corporation, right now he is happy to be making an impact. "I want to help people. We want to turn this into an event and do it every year."
4•1•1
For more information or to donate to Bike and Surf California and the American Cancer Society, visit bikeandsurfcalifornia.com or myspace.com/bikeandsurfcalifornia.