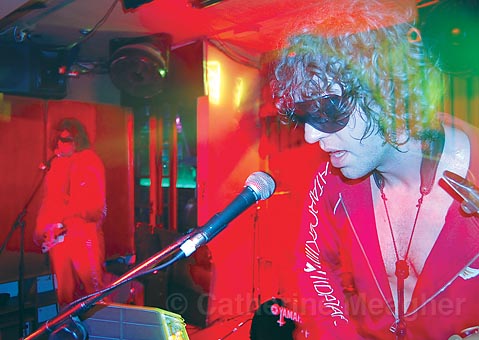 State Street's Sandbar was packed full last Wednesday with a crowd of young hipsters sporting trendy mullet haircuts, fedoras, and super-low V-neck shirts. They were there to see Datarock, the up-and-coming Norwegian discopunk band. Those in the know struck at the chance to witness a live Datarock show at an intimate venue and engage in synchronized dancing, a little crowd surfing, and a lot of clap-alongs.
"Some of you might ask Datarock why we're here. Because this is our favorite place in the whole world-we love this place!" lead singer Fredrik Saroea, aka Rock Steady Freddy, shouted into the crowd. If love can be measured in great rock beats, glam guitars, and an impressive vocal range, Saroea-looking like a young Jim Morrison dressed in a red tracksuit-sure did show it.
Often thought of as an electro-glam rock band, Datarock actually have their roots in post-punk. All night long their high-energy antics channeled '80s party stars the Happy Mondays. A few confused-looking folks in the audience seemed not to know what had hit them; perhaps they'd been stunned by all the camera flashes, or kicked in the head by Datarock's very own crowd-surfing saxophonist/tambourine player.
All four performers were decked out in the Datarock uniform: oversized sunglasses and a red tracksuit sans shirt. Well past midnight the band dove into their feel-good hit, "Fa-Fa-Fa." Then, things got even more interesting: a broken guitar string led to an extended drum solo and finally into a karaoke rendition of "(I've Had) the Time of My Life" from Dirty Dancing. The band ended the night by laying their instruments onstage and joining the crowd at the bar.
On tour with their new EP Belmont Woods, Santa Barbara favorites Kissing Tigers opened on Wednesday night, playing a little too heavy to be a shoegazer band but striking the melodious and floating chords typical of the genre. Good rhythms, consistent-almost electro perfect-drumming, and an impressive togetherness were highlights of their set. The release date of their new EP with Loud and Clear Records is still unannounced.