Living
Bicycle Empowerment
Bici Centro Builds Santa Barbara's Bicycle Culture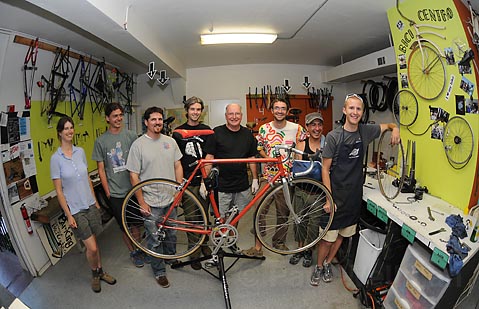 Santa Barbara is a community with a significant number of bicycle commuters and enthusiasts. On any given day, a variety of cyclists can be seen cruising up and down the community's many bike lanes. From neon spandex-clad athletes speeding by on the latest in biking technology to budget-minded commuters who are happy to get from point A to point B without incurring the high price of fuel, Santa Barbara plays host to all kinds of two-wheeled travelers. Some-including the pro-bicycle activists at the Santa Barbara Bicycle Coalition-would argue that bicycles should be a larger slice of our transportation pie graph. That sentiment was shared by enough people to facilitate the opening of Santa Barbara's first bicycle collective. Located at La Casa de la Raza Community Center on the East Side, the aptly named Bici Centro (if your knowledge of Spanish is really limited, that means Bike Center) brings inexpensive parts, expertise, and a welcoming environment to people who might not otherwise know much about bicycles.
Since the inception of the first "safety bicycle"-the two-wheeled, rear chain-drive variant used today-in 1885, there has been an ebb and flow in the popularity of the bicycle, usually in sync with economic health. After an initial bicycle craze during the 1890s, the advent of the automobile caused it to become relegated mainly to recreational uses. Brief spikes in popularity were seen during the Great Depression and during other times of economic downturn, such as the fuel shortage of the 1970s. It stands to reason that today bicycles are increasing in popularity as a serious means of transport, especially due to the related pressures of $4-per-gallon fuel and acute concern about global warming caused by excessive greenhouse gas emissions. "Arguably, the most important thing you can do to reduce your carbon footprint is to ride a bike instead of drive a car," said Ed France, a 2005 graduate of UCSB's Environmental Studies program who is Bici Centro's lead mechanic, and essentially the program's director. "Right now, about 4 percent of Santa Barbarians ride bikes. People at Bici Centro would like to see that number double."
France started Bici Centro as a once-a-month open bike repair shop in a back room at La Casa de la Raza, but this past December, he signed an agreement with the Santa Barbara Bicycle Coalition to bolster the program's educational outreach capabilities. Now, adult and youth bicycle repair classes are open to the public, as well as volunteer-assisted open shop hours on Thursdays and Saturdays. By reaching out to the community, Bici Centro attempts to get people more interested and involved in cycling by offering bicycle resources to those who might not otherwise have them, giving those folks the empowerment to fix their own bicycles.
'Arguably, the most important thing you can do to reduce your carbon footprint is to ride a bike instead of drive a car.'
-Ed France
With a huge and growing collection of donated scrap bikes, new and used parts, and tools, Bici Centro has the resources of any bike shop, but with the option for the shop's users to work off use of shop space with small donations or volunteer hours. A dedicated corps of volunteers made the opening of the collective possible by donating time and money to the events and educational programs before there was any official funding available.
One of the programs offered is Earn-a-Bike (EAB), which allows area youth to learn how to build and fix their own bicycle for free. In an era when many children don't necessarily grow up riding bicycles, the main emphasis on the youth program is rider safety. Kids can't take their custom-built bikes home until they've passed an intensive safety course. "There will be a lot more kids riding bikes, and riding bikes safely, as a result of this program," said France. He also unfolded his plans to partner with the City of Santa Barbara and the School District to open multiple after-school programs. "We're talking about seriously expanding youth bike programs in our community," he said, noting that youth outreach is one of the most important parts of Bici Centro's future goals. While it costs participants a few dollars or volunteers hours, the adult classes give valuable skills to people who can't afford or don't want to pay a bicycle mechanic to keep them rolling. Starting with a bare frame, the class puts a bicycle together piece by piece during several weeks.
Inside the Center
Being an economically, and to some extent environmentally, motivated bicycle commuter myself, I decided to take a trip down to La Casa de la Raza to see Bici Centro for myself. My '80s vintage Bianchi-which regularly ferries me back and forth between The Indy's downtown headquarters and my home in Isla Vista's student ghetto-was in need of a little TLC, so I figured I could pick up a few tips on how to better maintain the azure Italian mount. Walking in the front door to the shop on a Thursday afternoon, the place was abuzz with activity. A group of kids stood near some couches in the corner, comparing notes as France assisted a young man who was trying to repair his bicycle. Beautiful Spanish guitar music and singing wafted in from a room next door, and a couple of volunteers were busy organizing the myriad parts in the collective's two storage rooms. "The education program for adults has gone really well," said Wilson Hubbell, a regular volunteer and one of the instructors of the adult course. We walked past a long row of "parts" bicycles, eventually finding the class prize-a partially rebuilt racing bike that they've been working on, one week at a time.
What struck me most about Bici Centro was its welcoming atmosphere and the diversity of people hanging out there. It is truly an organization that enjoys broad community appeal-some may benefit economically from it, while others with fancier bicycles and more time to spare can enjoy getting involved and lending a helping hand. In any event, it is something that builds a community institution that will most likely be a boon to the alternative transportation movement and the environment.
4*1*1
Bici Centro is located at 601 East Montecito Street. Shop hours are Thursdays 4-8 p.m. and Saturdays 1-7 p.m. Adult classes are held every Wednesday from 7-8:30 p.m. Youth class schedules will be announced soon. For more information, call 617-3255 or visit bicicentro.org.