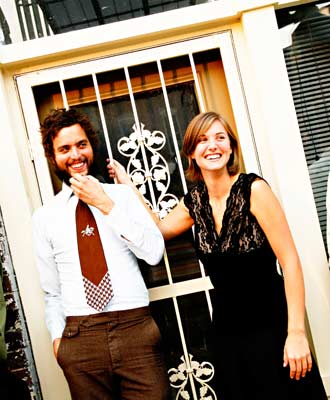 In listening to the everybodyfields' latest release, Nothing Is Okay, one gets the sense that they are being led on an emotional exploration. What masquerades as an album is in fact a musical communication that took place between the ensemble's two songwriters, Jill Andrews and Sam Quinn, while their relationship was falling apart. The end result of their dialogue was the release one of 2007's truly standout albums-as well as a musical pairing that grew stronger despite the duo's personal strife.
"That whole album was about just trying to keep it together with someone you really care about," confessed Andrews. "It was a way of expressing how you feel about someone through song when you can't say to them what you really mean in a regular conversation, either because they aren't listening or you don't have the strength anymore. : The album's essentially that-a conversation between two songwriters."
Putting such an exchange into words is one thing, but sharing it with the world is quite another. The duo embellished their compositions with the instrumentation and harmonies that the songs demanded, but the key to the exercise was in being true to their material. And that is something Andrews is proud to bring to the live arena-no matter how uncomfortable it might make her feel at times.
"Sometimes I will be singing a song and I just can't believe that I'm singing about this in front of all these people," laughed Andrews. "But the music that I love-and the music that makes me feel something really strongly-is when it is truthful. When I was writing my songs on the album, I was pouring my whole heart into it, and I really think that listeners can tell when you are being true to yourself."
Despite what the events surrounding Nothing Is Okay might suggest, Andrews has always romanticized music. Part of that might have been started when John Denver, Kenny Rogers, and the Oakridge Boys played out a soundtrack to Andrews's childhood road trips with her family. Or maybe it stems from looking up to people like Joni Mitchell as a youngster. But being a musician was never something Andrews consciously elected to do.
"It was something that I fell into more than anything, I think," explained Andrews. "It's been a lot of hard work, but I never made a conscious decision that I was going to do this. I didn't learn how to play guitar until I was 19, and I never really learned to play other people's songs-which is kind of weird, I know."
The partnership between Andrews and Quinn first began seven years ago when the two were counselors at a summer camp. Andrews was impressed by Quinn's unique penchant for spending evenings around the campfire with his guitar. When summer faded and college began, the two began writing songs in each other's dorm rooms before finally forming a band. In their five years of existence, the everybodyfields have released three albums and seen the lineup expand from a trio to a five-piece.
"It's been a very natural progression to go from a quiet acoustic band to something a little more dynamic," Andrews said. "We started off with a Dobro player and members switched out, and we now have electric guitar and pedal steel and have even added a drummer. We're still quiet compared to other bands, but we can weave our dynamics a lot more with the expanded instrumentation."
With Nothing Is Okay generating more and more interest in the everybodyfields, the band has found itself in a state of constant touring. And while that has allowed the ensemble to continue broadening their musical horizons, they admit that the experience has left them with less writing time than they might have liked.
"We're on the road so much that it's difficult to find time to write," Andrews said. "For me, it's nearly impossible, although, if I had my own hotel room every night, it might not be. We've got some time off coming, so we're going to try and focus on writing then. I hope so, because you can't just sit there and work out a song while everyone else is in the room watching Animal Planet."
4•1•1
SOhO (1221 State St.) hosts the everybodyfields on Wednesday, July 2, with Jim Bianco. Call 962-7776 or visit sohosb.com for details.