Outdoors
Wildfire Burns Above Goleta
Flames Visible from Santa Barbara; Evacuations Ordered for La Patera and Glen Annie Canyons; Other Residents Warned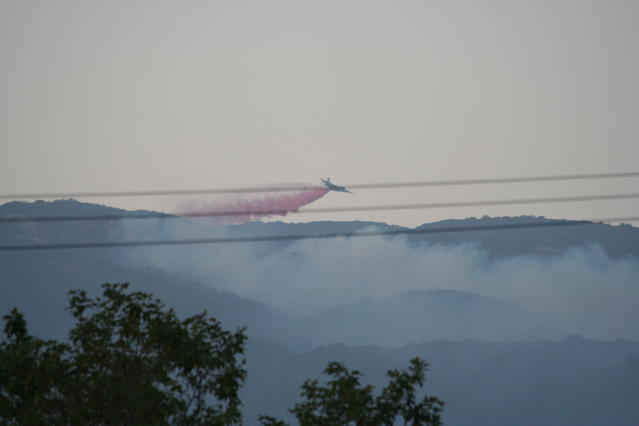 At about 6 p.m. tonight, July 1, a fire began in heavy brush near the top of the Santa Ynez Mountains somewhere south of West Camino Cielo Road and about four miles west of the San Marcos Pass. At 9:50 p.m., residents of La Patera and Glen Annie canyons were ordered to evacuate, and an evacuation warning was issued for all residents north of Cathedral Oaks Road between Fairview and Glen Annie roads.
Flames and smoke have been visible throughout the Santa Barbara metropolitan area as the blaze moves toward the canyons above western Goleta. Helicopters and air tankers were active early in the evening, but were called off when the skies darkened with the oncoming night. There was an early threat to Windermere Ranch, but firefighters were able to protect the structures there. About 200 firefighters are currently battling the blaze, which is being called the Gap Fire and has burned about 50 acres so far.
As of 9:45 p.m., no homes were officially threatened. The evacuation order issued for La Patera and Glen Annie canyons was thought to only affect a few small ranches. (However, residents who leave will not be allowed to return, and those not currently at home will not be allowed access.) Additionally, the road was closed for a time at Glen Annie and Cathedral Oaks and a temporary fire attack station was established at Dos Pueblos High School. A shelter has also been established at San Marcos High School for residents and their pets. As of this dateline, Independent sales associate Laszlo Hodosy, a resident of El Encanto Heights, said that the fire appeared to be touching the top of La Patera Canyon. Like many of his neighbors, he has been watching the fire since it started.
Santa Barbara County Fire Department spokesperson Captain Eli Iskow stated that residents "don't really need to stay up and worry themselves. They just need to have their phones available." This is due to favorable wind conditions: While 20 to 25 mph winds persist out of the north and northwest, these are considered mild sundowners and are tempered by a slight onshore ocean breeze. As well, the weather is cool compared to recent weeks.
That being said, the evacuation order (for La Patera and Glen Annie canyon) and advisories (for everyone north of Cathedral Oaks between Fairview and Glen Annie roads) are due to fears that more serious sundowners may kick up as the evening progresses. If the fire gets worse and there are more evacuations ordered, the fire department will initiate a reverse 911 calling program, whereby landline phones and registered cell phones will be called with information about how to react.
In the meantime, residents should check the County of Santa Barbara's website for specific information related to the fire and the the county fire department's websitefor general information on preparing for fire and evacuation. As well, stay tuned to Independent.com for more reports.