Arts & Entertainment
Alison Krauss and Robert Plant
At the Santa Barbara Bowl, Wednesday, June 25.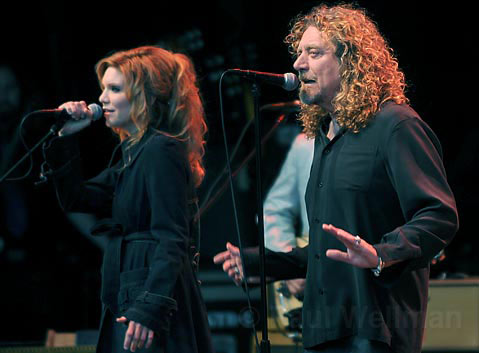 If you've spent any time tracking the career of T-Bone Burnett, you're probably not surprised at how magnificently this concert succeeded. Not that his record is perfect-far from it, as those who attended a disastrously banal and needlessly eclectic show he did at the Lobero several years back will attest. Other projects, like an NPR Radio Christmas Show, the film Brother Where Art Thou, and the whole career of his former wife Sam Phillips, prove that Burnett's crazy risk-taking produces some unusual genius. And the audacity of this pairing, bluegrass master Alison Krauss and grass-fueled rocker Robert Plant produced a kind of pure ear candy when recorded. Live though, it proved moving, gorgeous, and something close to profound.
Held together by Burnett's twanging guitar and a host of killer musicians, as well as sterling song choices and paradoxically simple-yet-grandiose arrangements, the show featured the automatic thrill of two iconic presences from two very disparate worlds. When Plant and Krauss sauntered onstage, their audience boiled up like mercury in a thermometer. But the real joy of it was the sustainable high this unlikely couple supplied. From the easy, poppy, harmonic numbers, the dream team segued into a funny, laid-back version of Zeppelin's "Black Dog." But the high-point came in the middle, after Burnett performed his own "Feathers and Masks," then moved into the swamp psychedelia turf of "Let the Bons Temps Roulez." He then ceded the floor to Krauss's rendition of "Trampled Rose," a keening aria of melancholy sweetness. Not long afterward, Plant pounced, but the real dealmaker was the duo's version of Plant's "Please Read The Letter," which, in this remake, sounded like The Everlys raving from a far more perfect world.
The best aspect of the evening was its unremitting generosity. Instead of selfishly clinging to the tenets of the Raising Sand project, each of these performers's careers was explored for their audience's musical delectation. Just when it seemed the evening was a little light on good ole' rock, the band tore into a reworking of Townes Van Zandt's "Nothin'." Any show that can mix gospel and nihilism without patronizing anybody is near miraculous and probably only T-Bone Burnett could have made that magic blend swing.